For this week's Jerry Sunday, we look back on a time when it was all coming to an end. The writing was on the wall, and if 1994 didn't confirm it, 1995 certainly did. And on June 21-22, the Grateful Dead performed their final shows in the state of New York at the Knickerbocker Arena (The Knick) in Albany.
The Dead had performed over 300 shows in New York State alone since their first in 1967, but the last two in Albany would serve as a curtain call for a band that treated the state as a second home, musically speaking. After all the shows and runs at Madison Square Garden, Radio City Music Hall, Fillmore East, Paradise Garden, Capitol Theatre, Nassau Coliseum, Rich Stadium, the Carrier Dome and more, and these would be the finale, even if it was not announced as such.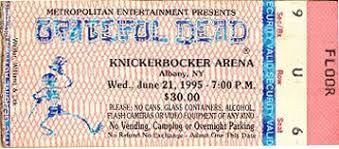 The June 21st show would offer up the final "Row Jimmy," "Man Smart, Woman Smarter," "Supplication Jam" and "Morning Dew," and what a "Morning Dew" this was. Fans were in tears as the ballad played, one fan saying "all difficulties disappeared for a few precious moments and we were all treated to a beautiful, final rendtion from the boys." Listen or watch the full show below and judge for yourself.
Setlist: June 21, 1995
Set 1: Hell In A Bucket, Loser, Take Me To The River, Row Jimmy, Broken Arrow, Promised Land
Set 2: Scarlet Begonias-> Fire On The Mountain, Women Are Smarter, It's All Too Much, Playin' In The Band-> Drums-> Space-> Easy Answers-> Morning Dew
Encore: U.S. Blues
The next night would be the final show in Albany, at The Knick, and in New York State for that matter. The tour would head to Washington, D.C., Auburn Hills, MI, a few more stops in the Midwest before the final show at Soldier Field in Chicago, IL.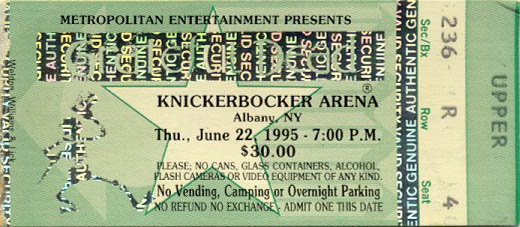 This show features an incredible "Franklin's Tower," clocking in at 18 minutes, a near-record for its final version ever. The final "Help on the Way" and "Slipknot" preceded the set closing jam, as did an emotional "It Must Have Been the Roses." Early in the second set, "Estimated Prophet" -> "Terrapin Station" combine for 30 minutes followed by 25 minutes of "Drums" and a "Silent Way" jam ahead in "Space." Final versions of "All Along the Watchtower," "Black Peter" show up later in the set, with an encore of "I Fought the Law" to close the run.
The Grateful Dead made their mark on the Empire State through nearly 30 years of performances, one that lasts in every corner of the state to this day. Revisit those final shows, 25 years later.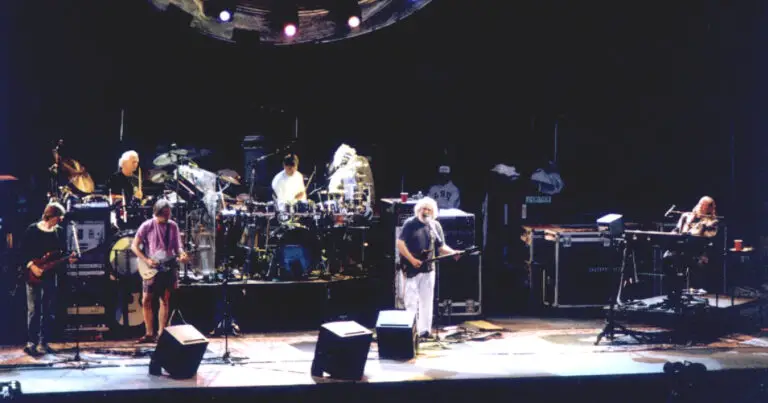 Setlist June 22, 1995
Set 1: Touch Of Gray, Walkin' Blues, It Must Have Been The Roses, When I Paint My Masterpiece, So Many Roads, The Music Never Stopped Help On The Way-> Slipknot!-> Franklin's Tower
Set 2: Samba In The Rain, Estimated Prophet-> Terrapin Station-> Drums-> Silent Way Jam-> Space-> All Along The Watchtower-> Black Peter-> Around & Around
Encore: I Fought The Law