Thin Lear, an indie folk-rock singer-songwriter from Queens, just released his new single "A Simple Phrase" from his debut album Wooden Cave, which will be released on July 24, 2020.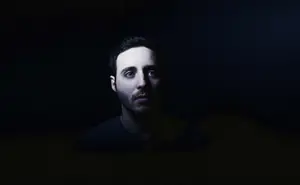 This dream-like ballad premiered on GoldFlakePoint, who called it "delicate and hypnotic." The song is deeply emotional and moving, and the instrumentals deliver this same intensity as well as the lyrics do. The song has a somber tone while still maintaining a beautiful arrangement. This is Thin Lear's fourth single of this year, and will be featured on his upcoming album Wooden Cave.
The track's ethereal feel may come from Thin Lear's inspiration: a dream. "I woke up with the whole thing one day, ideas for arrangement and all," says Thin Lear, also known as Matt Longo. He expresses that "before [he] slept, [he] was thinking a lot about how insecurity operates," and when he woke the "chorus was just ringing in [his] ears." Although the song is about something so upsetting, the instrumentals are hauntingly beautiful, disconnecting the listener from the song's negativity.
Longo's inspiration for Wooden Cave came from the story of Netta Fornario, a woman who left all she knew to pursue magic and healing on a small island in Scotland, where she died inexplicably. Longo wanted his album to be "a set of songs existing on a sonic and lyrical island of their own" that would be for outcasts like Netta. He recorded the tracks at different studios around the city with various artists, making each song even more of its own personal island. The album took him two years to complete and has been a complete "labor of love."
Wooden Cave is set to release on July 24 by EggHunt Records. Preorder the album on Bandcamp here, and follow Thin Lear on Instagram.