Need some fresh moe.? Well you're in luck. For This is Not, We Are, moe.'s first studio album in six years, the band will release individual tracks over the next few weeks, leading up to a June 26 release date. Released so far are "Crushing," "LL3," "Jazz Cigarette," "Who You Calling Scared?," "Dangerous Game," "Skitchin Buffalo" and the latest track, "Along for the Ride," have been released and can be found below.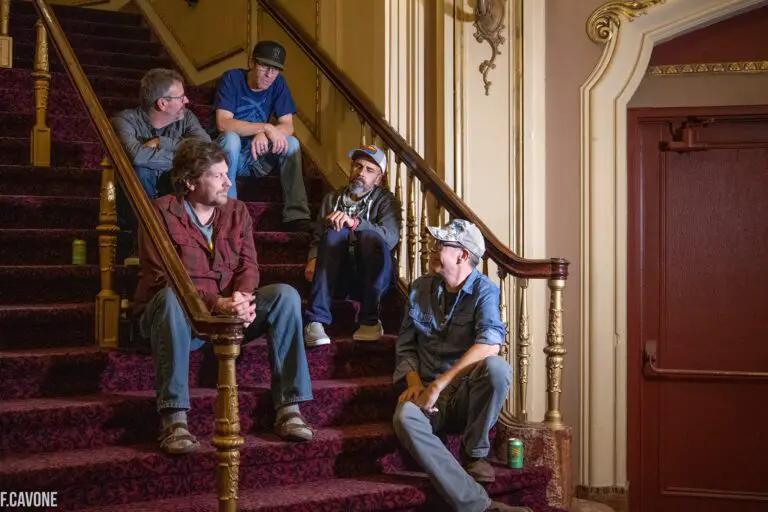 This is Not, We Are, which is available for preorder as a digital (only) album, will be released on June 26.
"We kind of went back to our roots a bit," Derhak says. "We just wanted to do something that made us feel inspired like we had felt when the band first started. But it also has everything that we've picked up along the way, all the good baggage – and maybe some of the bad – that we've dragged along for the past 30 years."

Rob Derhak
Additionally, moe. has shared video via Relix of the live debut of "LL3" from February 2, 2018 at the Capitol Theatre in Port Chester. Read our review of the band's return from hiatus following Rob Derhak's successful battle with cancer.
Just released on June 9 is the video for "Jazz Cigarette," a xylophone-heavy jazz odyssey that was filmed from studio sessions.
Released on June 11, "Who You Calling Scared" is a Derhak-penned tune, with Garvey singing lead. Derhak explained to Relix:
"The song is also a tribute to some of the funk and fusion guys that I discovered when I was younger, like Rocco Prestia from Tower of Power. When I sat down and tried to sing and play the basslines, I realized, 'This is never going to happen. I can't sing and play those bass lines at the same time.' So I recruited Chuck to sing the song for me. He was a little reluctant at first but then he jumped on board."
The latest track, "Dangerous Game," written by Al Schnier, gives us two takes – one from the studio spliced with a live version from the song's debut at the State Theatre in Portland, ME on February 16, 2019. Schnier explains about the song:
"This song came from me watching and reading a little bit too much news these days. I don't want to say that this song is political in nature; it's more about the personalities of the people in power and maybe the cult of personality and those things we all contend with. I don't want it to come across as some leftist, liberal rant against the current people in power. It's more a song about my personal concerns about anyone who would be in a position of power."
The latest track, "Skitchin' Buffalo," looks back at moe.'s early days in the Queen City. The performance from Observatory North Park in San Diego on March 7, 2020 can be seen below, along with insight on "Skitchin' Buffalo" from Derhak as shared to Relix:
The song looks back on the group's early days. Rob Derhak was prompted to write it following a conversation with Mike Norris, the singer for Monkey Wrench, one of the band's early contemporaries. Derhak recalls, "The first time I had ever heard of 'skitching' was when I was hanging out with him and it was icy and snowy in Buffalo on some winter night. We were on our way home and he grabbed onto the bumper of the back of a car that had stopped at a stop sign and then just got in a squatting position and the car took off. He hung on and it's basically like water skiing off the back, except you're holding onto the bumper. He called it 'skitching' and we called it 'bumper sliding' where I grew up, and he thought it was funny. He held on and kept getting dragged. His belt buckle was completely scratched up and it looked like he was completely shiny and we were laughing about that incident. And then later, I was like, 'This is what the song can be, about the memories of Buffalo.' Basically, I took a bunch of memories of fun stuff we did when we were in college and playing in the band and I put it into one incident. One thing after another."
The last track to be shared prior to release, "Along for the Ride," gives fans a mix of studio and live takes, the latter pulling from their February 28, 2020 performance at Revolution Hall in Portland, OR.
Vinnie Amico spoke to Relix about the Derhak-penned song:
"Part of it changed before we got into the studio. The whole slow part that gets kind of spacey, coming out of Chuck's solo, changed over time. That wasn't there and we morphed it into that, which ended up making the song a little more interesting because all of a sudden we go into this different part, different tempo, different soundscape. Production-wise, it's one of the coolest parts of the whole album."
moe. 2021 Summer Tour
June 24 – Birmingham, AL – Avondale Brewing
June 26 – Pelham, TN – The Caverns
June 27 – Black Mountain, NC – Pisgah Brewing
June 29 – Wilmington, NC – Greenfield Lake Amphitheatre
June 30 – Raleigh, NC – Lincoln Theatre
July 1 — Rocky Mount, VA – Harvester Performance Center
July 1-4 – Scranton, PA – Peach Music Festival
July 9 – Portland, ME – State Theatre
July 9-11 – Marshfield, MA – Levitate Music & Arts Festival