The third and final time the Grateful Dead performed at the Carrier Dome was on October 20, 1984 and featured one of the most blistering "Jack Straw" versions ever.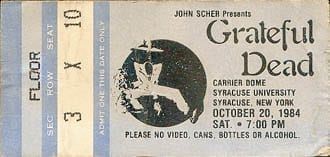 The October 20 show was smack dab in the middle of their 1984 fall tour, and the final show on the East Coast before heading to San Francisco for the remainder of the year.
A first set opening with "Bertha" -> "Greatest Story Ever Told" found a great groove in "Ramble on Rose," which was followed by the first of a few requests from Bob Weir for the audience to 'take a step back,' heard quite often during this era of the Dead. The "Bird Song" clocks in at just over 11 minutes, and is followed by the aforementioned powerful "Jack Straw."
The energetic show features resounding versions of "Shakedown Street" to open Set 2, which led to non-stop dancin' in the rafters. During "Turn on Your Lovelight," fencing on stage right fell, leading to fans spilling down onto the Carrier Dome field.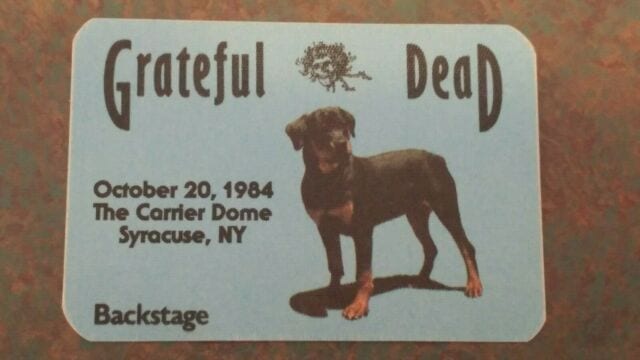 Leaving the show on the mantra of "Revolution" ('You know its gonna be, alright') set the crowd out on a high note, for it would be the last Dead on the East Coast until March, 1985 in Hampton, VA. Of course, leaving the Carrier Dome (up until recent renovation began) meant the wind would push on the backs of fans as they egressed, which can be either cathartic or unsettling, depending on your mindset at the time.
Check out photos of the Grateful Dead at the Carrier Dome pre and post-show from James R Anderson here and check out an extended breakdown of the show from Visions of Dylan.
Set 1: Bertha-> Greatest Story Ever Told, West L.A. Fadeaway, CC Rider, Ramble On Rose, My Brother Esau, Bird Song, Jack Straw
Set 2: Shakedown Street-> Samson & Delilah, He's Gone-> Smokestack Lightning-> Drums-> The Wheel-> The Other One-> Black Peter-> Turn On Your Love Light
Encore: Revolution