The American jazz trio The Bad Plus confirmed their 2020 spring tour following the release of their second album, ACTIVATE INFINITY, which was released in October of 2019. The spring tour will include a multi-show residency at Village Vanguard in New York City for six consecutive days.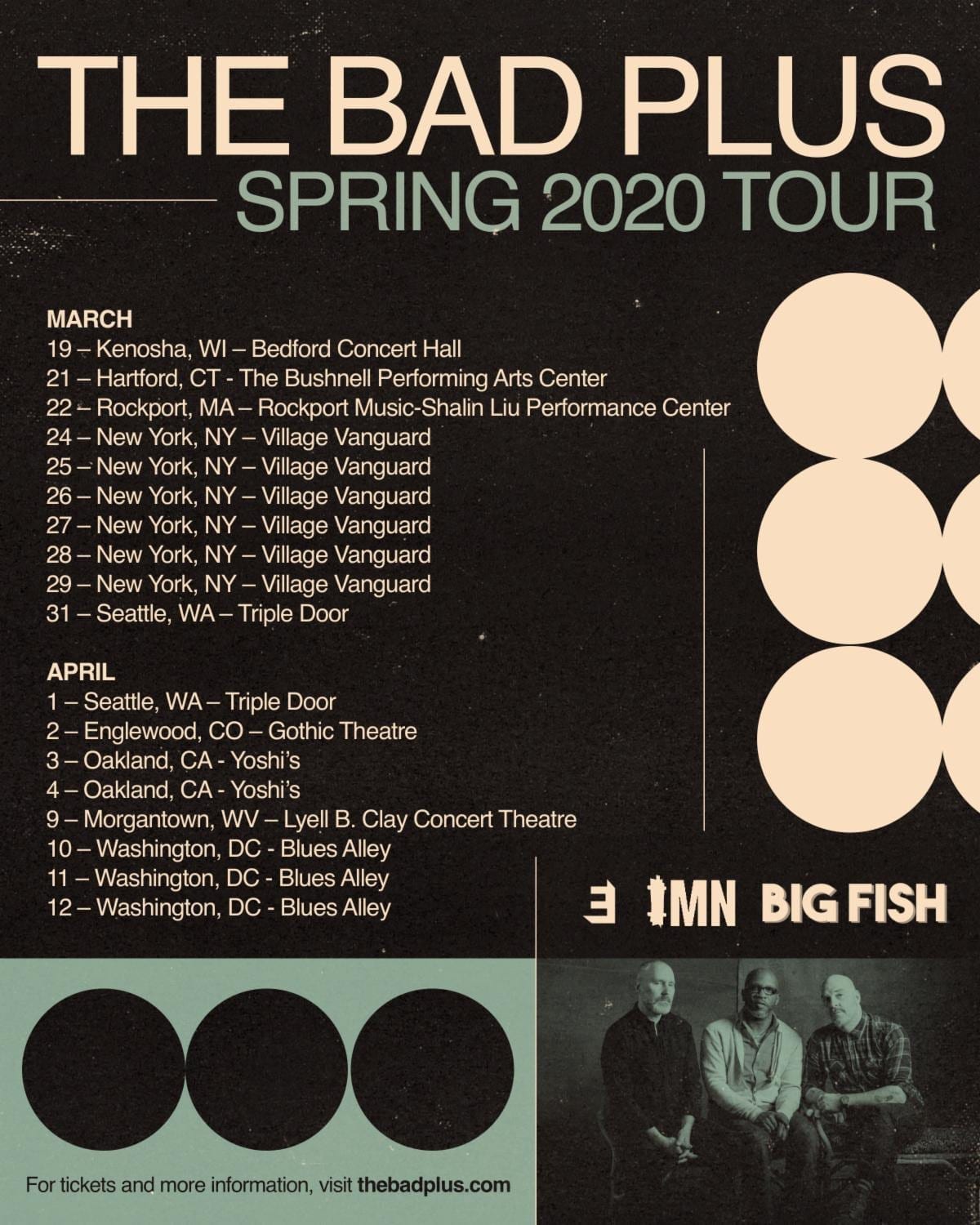 The tour will begin on March 19th in  Kenosha, WI at the Bedford Concert Hall and will wrap up on April 12th in Washington, DC at the Blues Alley. The tour will include multi- show residencies not only in New York City but also in Oakland, CA and Washington, D.C. as well. The New York City residency is taking place at the Village Vanguard on March 24th through the 29th. The Oakland, CA residency will take place at Yoshi's on April 3rd and 4th. Washington's residency will take place at the Blues Alley on April 10th through the 12th. 
The Bad Plus is made up of bassist Reid Anderson, drummer Dave King, and pianist Orrin Evans, hailing from Minneapolis, MN. Their newest album ACTIVATE INFINITY was produced by The Bad Plus themselves and engineered and mixed by Andy Taub at NYC's Brooklyn Recording back in May of 2019.
 For more information on The Bad Plus and their 2020 spring tour visit their website.
The Bad Plus 2020 Spring Tour dates:
March 19th – Kenosha, WI – Bedford Concert Hall
March 21st – Hartford, CT – The Bushnell Performing Arts Center
March 22nd – Rockport, MA – Rockport Music-Shalin Liu Performance Center
March 24th – New York, NY – Village Vanguard (8:30 pm & 10:30 pm)
March 25th – New York, NY – Village Vanguard (8:30 pm & 10:30 pm)
March 26th – New York, NY – Village Vanguard (8:30 pm & 10:30 pm)
March 27th – New York, NY – Village Vanguard (8:30 pm & 10:30 pm)
March 28th – New York, NY – Village Vanguard (8:30 pm & 10:30 pm)
March 29th – New York, NY – Village Vanguard (8:30 pm & 10:30 pm)
March 31st – Seattle, WA – Triple Door 
April 1st – Seattle, WA – Triple Door
April 2nd – Englewood, CO – Gothic Theatre
April 3rd – Oakland, CA – Yoshi's (8:00 pm & 10:00 pm)
April 4th – Oakland, CA – Yoshi's (7:30 pm & 9:30 pm)
April 9th – Morgantown, WV – Lyell B. Clay Concert
April 10th – Washington, DC – Blues Alley (8:00 pm & 10:00 pm)
April 11th – Washington, DC – Blues Alley (8:00 pm & 10:00 pm)
April 12th – Washington, DC – Blues Alley (8:00 pm & 10:00 pm)