Copenhagen-based tech startup WARM have launched WARMCharts.com, an alternative to mainstream charts like Billboard and Rolling Stone. With a goal to change how artists are discovered, WARM uses a scoring system different than that of existing charts, giving artists a better chance at breaking through.
By introducing transparent music charts, WARM hopes for a system where everyone gets a fair chance. WARMCharts uses a 1 for 1 method – one airplay on the radio equals one count. With no obscure scoring system, an audio fingerprint technique collects all airplays from more than 27,000 radio channels worldwide into one chart.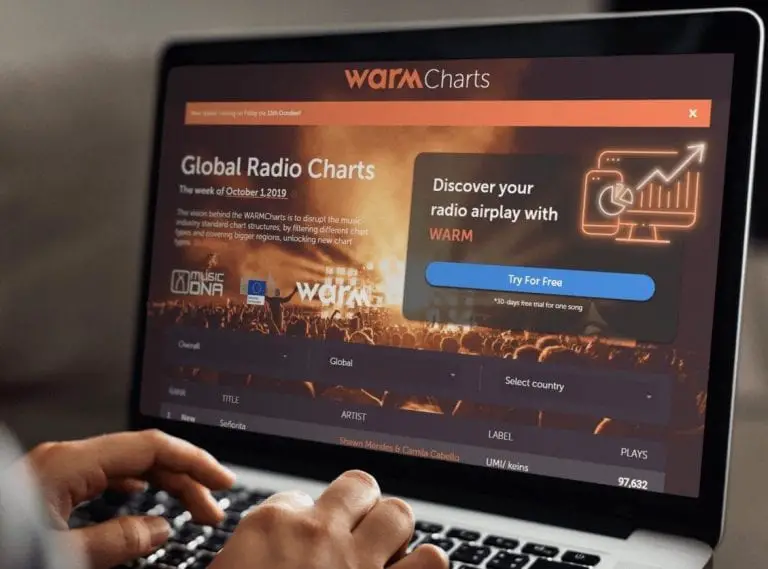 From the above image, notice that Lizzo, who has the No. 1 spot on the Billboard Hot 100, is actually just only in the top 10 of most radio airplays worldwide based on the 25,000+ radio stations WARM monitors. Likewise, Ed Sheerans " Don't Care" (ft. Justin Bieber) and "Beautiful People" (ft. Khalid) are ranked 11 and 14 on the Hot 100. However, WARMCharts reveals that those tracks are actually the two out of three songs with most airplays worldwide.
An alternative to current music charting system, WARMCharts offers a unique formula that can level the playing field and offer another method for artists to garner insight into their rise in popularity among fans. CEO of WARM, Jesper Skibsby, discussed his vision in "No one told us we had a radio hit in Poland!," via Medium, and spoke with NYS Music to discuss how the platform will become a utilized system.
Pete Mason: Noting that WARM Charts is a new ranking system for airplay, how does it hope to become a trusted, reliable source that is used by marketing companies and labels?
Jesper Skibsby: We have an extremely solid music recognition and audio fingerprint technology running WARMcharts as well as the largest coverage of radio channels globally. This means that everything is updated automatically, without any manual interference. This makes the charts equally fair and reliable to anyone. The charts are completely transparent, as we are counting plays, instead of having an intransparent weighting/scoring system. We are launching close to 35 new and different charts, e.g. "Global Rock", "North American Electronic" and "Scandinavian Jazz", this mean many more charts will be relevant to many more artists, bands and labels, and in the end this will hopefully mean that many more will start using WARMcharts as a trusted source, and as an extended and much more accurate chart structure. 
Pete Mason: How did WARM first come together? What caused the creation of the site, in addition to changing how artists are discovered?
Jesper Skibsby: The idea to create WARM was brought to life based on my personal frustration, of signing a band to a major label in Denmark, and then experiencing that results outside Denmark were not relevant to my, at the time product manager. It was clear to me that there was a very big missing link in the music industry, called radio data, which clashed with the "local office major label mentality" of primarily looking at local data, in each country. There is a fight between the independent sector wanting and needing global radio data also from smaller radio, as they are often the ones supporting the indies and upcoming segment, and the major label sector, primarily working with local data principles, for then to share this between the offices. I also quickly understood, that a major label A&R in country A, can have difficulties to convince another A&R in country B and C, to prioritize a new artist or band. From an indie perspective, you should want to find your emerging markets and engaged audience regardless of where they are. Music is globally available instantly, with the help of streaming, but the majors are still primarily focusing on local data.