Simple ingredients, assembled one at a time, in careful order add up to more than the sum of their parts. In the kitchen: eggs, flour, water, sugar and heat become cake. Musicians are no different as guitar, drums, and bass join together to become a collective far greater than the sum of their parts. In musical costume, the creative behemoth known as Pigeons Playing Ping Pong, dressed as chefs for their performance of "Stop Making Cake," sliced a mashup of originals, garnished with Cake and Talking Heads covers for night two on their Halloween run through Boston, New York, and Connecticut.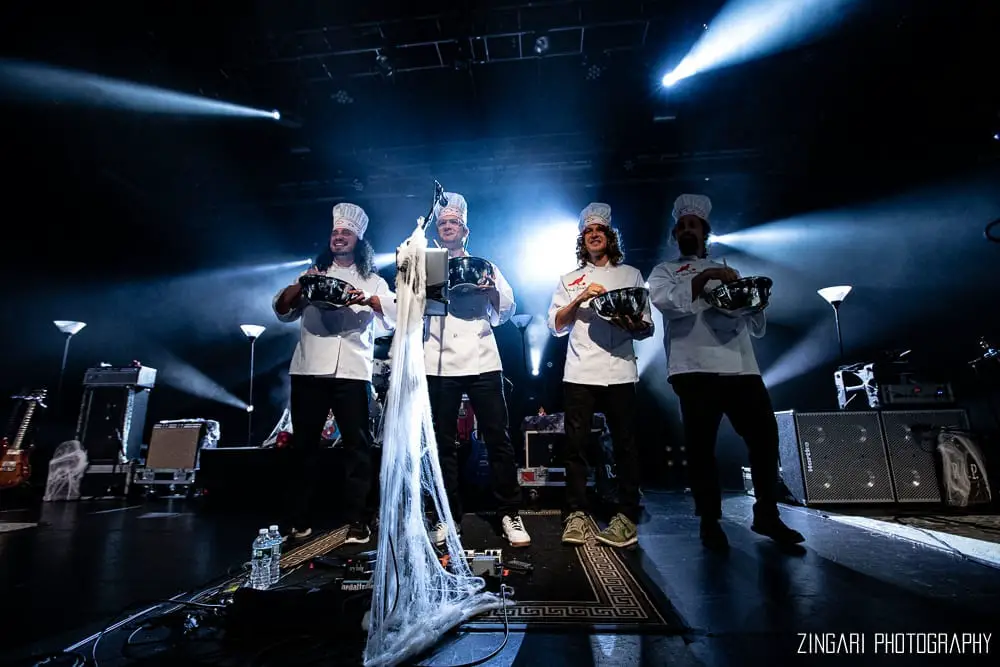 "Macho Man" Andy Frasco & the UN, dressed as their favorite 80s wrestlers, got the crowd going early with a high energy opening set of fun covers and originals, along with a heavy dose of Andy and his shtick. He's hard not to love, funny as hell, backed by great musicians with a singular desire to party and have a good time. He delivered. Some set highlights included covers of "Baker Street," "Two Tickets to Paradise," "Bulls on Parade," "Tom Sawyer," "Killing in the Name," and original "Change of Pace." Music is just a a part of Andy's show, as he came down from the stage several times to either smoke a joint with some folks up front, crowd surf, or, best yet, a crowd-surfing pillow fight on an air mattress with Ernie Chang, the UN's saxophonist.
Andy's quote of the night, "I may not be as good at music as everybody else, you know, I'm not the best, but I like to have a good time." It's just this type of self-awareness that makes his shtick authentic and his show worth seeing. Bravo, sir.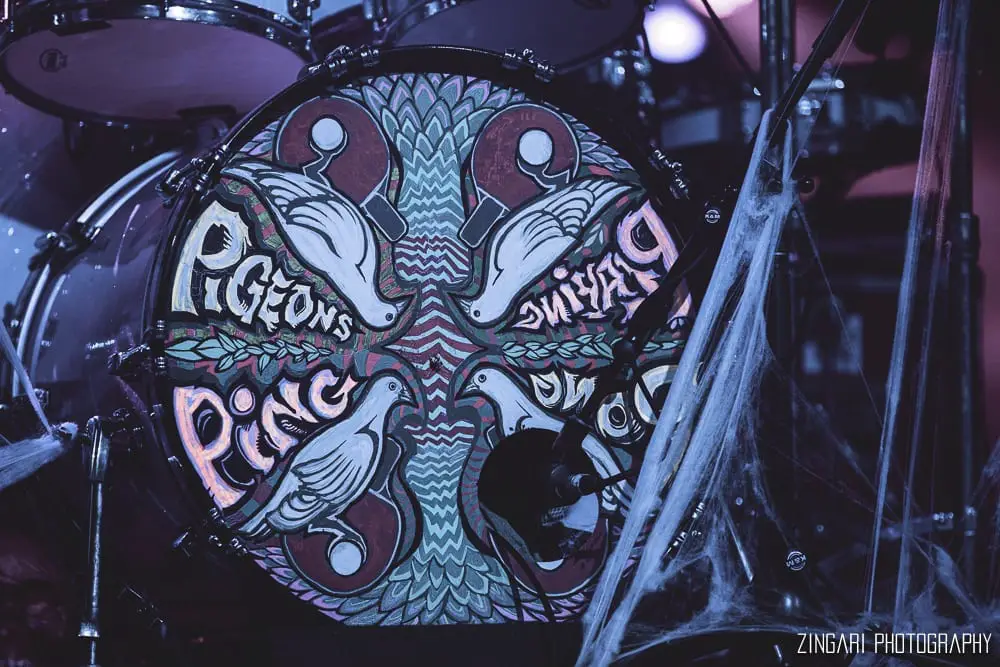 Pigeons Playing Ping Pong in matching chef jackets and hats took the stage shortly after 10:30; the adoring crowd received their "kitchen staff" eagerly: "Scrambled Byrne" Greg Ormont, "Frank Sinatra" Jeremy Schon, "Chef Gator" Alex Pretropolis, and "Baker Ben" Carrey. "Too Long" got the kitchen party going before the band added a few extra ingredients, The West End Blend(er) Horns, for "Burning Up My Time" > "Love You Madly" (Cake) > "Burning Up My Time." Accompanied by Jeremy Schon's dizzying solos and Greg Ormont's chicken scratch guitar, the rhythm section of Ben Carrey on bass and Alex Petropolis on drums drove the crowd into a frenzy all night. Just to highlight that point, the first set drum solo featured Chef Gator playing not only his drum kit, but an assortment of mixing bowls – with a mix of spatulas, whisks, and wooden spoons. "Julia" sandwiched the first Talking Heads cover of the night with "Flowers" to close the 75-minute set.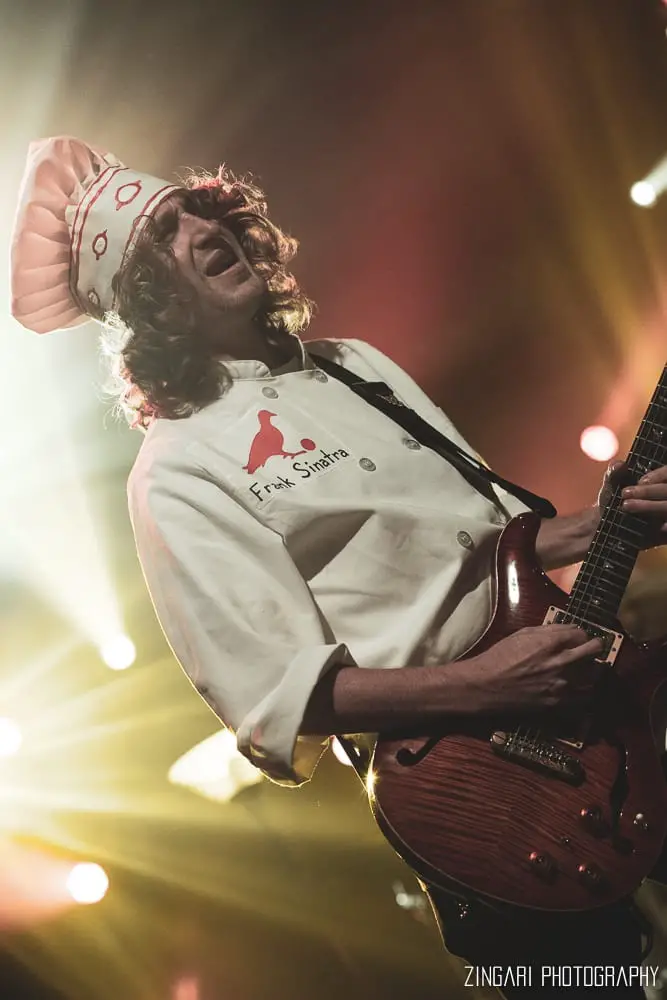 After a moderate 20-minute break, PPPP returned with "Henrietta" to whip the crowd up some more. The next ingredient was a cover of "Burning Down the House," which was a highlight cooked to perfection. Just like its first set counterpart, Ben was still way up in the mix, dropping consistent bone-rattling bass-bombs mixed with frenetic beats that kept the crowd moving. The West End Blend horns continued to be in and out, adding beautiful layers of trumpet and trombone solos to the Cake, served up by Pigeon, especially during the "Horizon" > "Sheep Go to Heaven" > "Horizons" combo that ended the set. "Ocean Flows" in the encore slot gave the crowd one more chance to boogie down after several moments of raucous applause.
It's always a pleasure to share increasingly bigger rooms with this band, as they continue to grow and please their adoring Flock. Pigeons Playing Ping Pong has a unique creative edge that keeps their fans coming back time after time. Enjoy.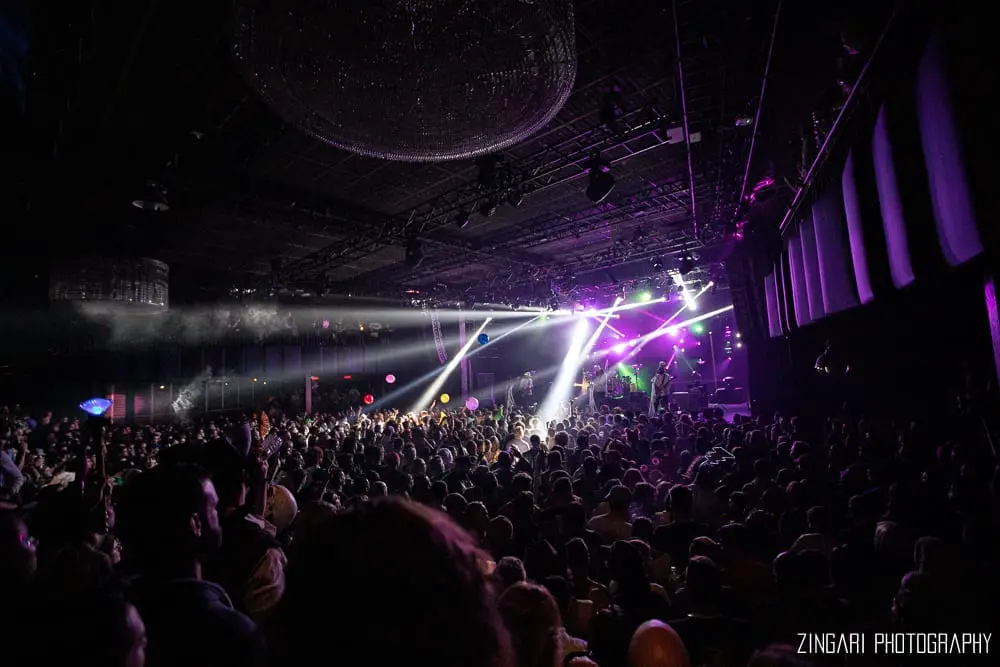 Setlist via Phantasy Tour:
Set 1: Too Long, Burning Up My Time*> Love You Madly (Cake)*> Burning Up My Time> Sunny Day> The Distance (Cake)*> Sunny Day, The Liquid*> The Great Curve (Talking Heads)*> Upfunk> Drums> Upfunk, Julia> Flowers (Talking Heads)*> Julia.
Set 2: Henrietta, Naive Melody  (Talking Heads)*> Porcupine> Burning Down the House (Talking Heads)*> Porcupine*, Lightning*, Crosseyed and Painless >Horizon*> Sheep Go to Heaven (Cake)*> Horizon.
Encore: Ocean Flows.
*w/ West End Blend Horns