The holidays are fast approaching, and if you're not ready, a listen to Big Band Holidays II will surely get you looking forward to the final months of 2019. The sequel to the critically acclaimed 2015 release from the Jazz at Lincoln Center Orchestra with Wynton Marsalis features original arrangements of holiday classics, and are joined by an all-star assortment of guest vocalists, including Veronica Swift, Denzal Sinclaire, Catherine Russell, Audrey Shakir, and the Queen of Soul herself, Aretha Franklin.
There are familiar classics ("Cool Yule," ft. Catherine Russell) and newer songs ("Rise Up Shepherd and Follow," "(Everybody's Waitin For) The Man with the Bag"), all kicked off by a brassy rendition of "It's the most Wonderful Time of the Year."
A solo piano rendition of "O Tannenbaum," featuring the late, great, Aretha Franklin, has never before been released and serves as one of her final recorded performances. Her brief and passionate take on the classic was a surprise performance during the 2015 edition of Big Band Holidays.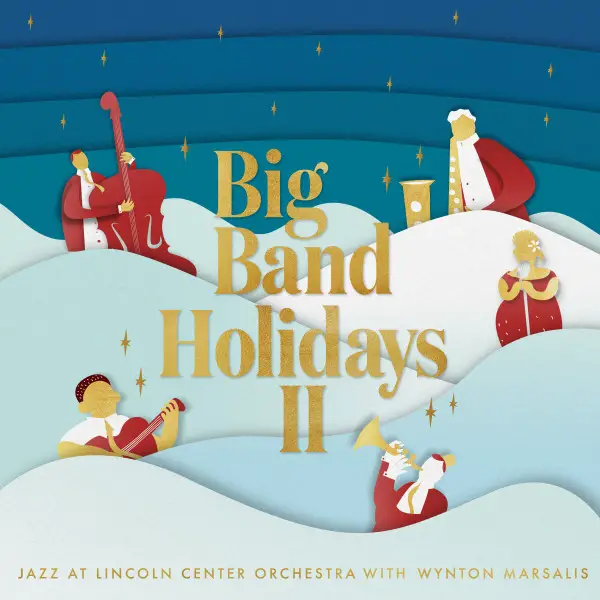 A jazzed up "We Three Kings" featuring Denzal Sinclaire, and "What will Santa Claus Say? (When He finds Everybody Swingin')" is fast moving with Carol Russell on energetic lead vocals. "Silver Bells" with flute and bass highlighted, and the smooth instrumental "Snowfall" nicely varying the tempo of the album.
The upbeat "Brazilian Sleigh Bells" has a Bossa Nova beat that speeds things up, making for one of the most energetic holiday songs you'll encounter. "Silent Night" starts out heavier and bolder than familial versions, before soothing vocals from Sinclaire and Audrey Shakir, who trade verses before joining together in the final minutes.
Listen to the original album below, and enjoy the holidays this season with these fresh takes on classic songs.
Key Tracks: O Tannenbaum, Brazilian Sleigh Bells, Silent Night