Sweden's enigmatic hard rock band, Ghost, and Texas based, Nothing More brought The Ultimate Tour Named Death to The Oncenter War Memorial Arena in Syracuse, NY as part of their North American Tour.
Nothing More always puts on a fantastic show whether you've seen them once or ten times. Every performance is extremely high energy that seems like organized chaos, and this event proved no different. Frontman Jonny Hawkins took to the stage in his hoodie and began scaling up the iconic Scorpion Tale. With deep red stage lighting the remaining band members took to the stage before opening up with the explosive track "Let 'em Burn."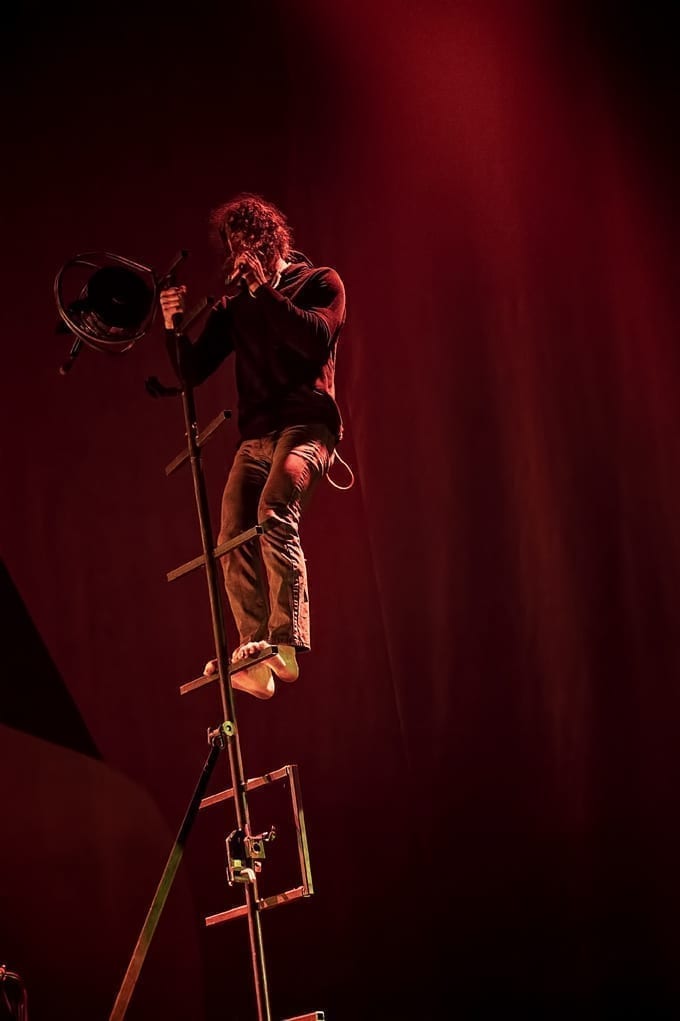 While only having a nine-song set, Nothing More played some of their major heavy hitters. "Don't Stop," "Go To War" and "This Is The Time" were all performed with an incredible amount of energy alongside more emotive numbers like "Jenny," which is a song about Hawkins sister and the struggle with addiction. "Fade In/Fade Out," one of Nothing More's most powerful songs was performed beautifully, which had many members of the audience tearing up.
Highlights from their set was a cover of the Skrillex track "Equinox," mashed up with Queen's "We Will Rock You" making for a pleasantly surprising and epic performance. Jonny Hawkins went absolutely nuts rocking back and forth on top of the Scorpion Tale drenched in sweat.
Ending their set with "Burn The Witch," was the most memorable part of their performance, having all members of the band play an epic drum solo in sync together. Hawkins went absolutely nuts again on the drums, which was the perfect finish for Nothing More's performance.
Nothing More set list: Let 'em Burn, Don't Stop, Go To War, Jenny, Fadein/Fadeout, Ocean Floor, This Is The Time (Ballast), First Of The Year 'Equinox (Skrillex)<We Will Rock You (Queen),' Salem (Burn The Witch).
---
A Ghost show is kind of like a satanic mass. They started the set with a large black curtain draped in front of the stage while church hymns played. It made you feel like you at a traditional Sunday Mass. That was until the curtain dropped and the bands beautifully designed cathedral set was displayed. White stairs leading up to the drummer and keyboardist were positioned, with a large backdrop of stained glass cathedral style windows with pictures of different era "Papas" displayed.
As the introduction, "Ashes" began to play the Nameless Ghouls took place on-stage dressed in form fitting black outfits and silver masks as the music transitioned to the beginning of "Rats." Cardinal Copia made his entrance dressed in his crimson suit.
Cardinal Copia is one of the most charismatic frontmen in the rock/metal genre, and this was on full display in Syracuse. Six of the 20 songs performed were from the bands latest album, Prequelle, including the singles, "Faith" and "Dance Macabre." Seven songs were performed from the band's 2015 album, Meliora. Among those were the hits: "From The Pinnacle To The Pit," "Cirice," "Devil Church," the Grammy winning track "He Is," and the 'super heavy, heaviest song we have' according to Cardinal Copia, "Mummy Dust."
Ghost recently released a two track EP, Seven Inches of Satanic Panic – and performed both tracks "Kiss the Go-Goat" and "Mary on a Cross."
From a guest appearance by Papa Nihil on the Saxophone for "Miasma," to Cardinal Copia riding out a tricycle, the show was filled with dry humor and jokes that flowed so well with the bands performance. Watching Ghost perform is almost like watching a musical.
Ending the night with "Square Hammer," Ghost proved once again why they are one of the fastest rising hard rock bands in the world. The stage presence and interactions with the crowd connect on a personal level regardless if they're playing in a small theater or a massive arena. Ghost is able to combine their stage lighting, fog machines, and the band's incredible synergy for one fantastic show.
Ghost Set list: Ashes, Rats, Absolution, Faith, Mary on a Cross, Devil Church, Cirice, Miasma, Ghuleh/Zombie Queen, Helvetesfönster, Spirit, From the Pinnacle to the Pit, Ritual, Satan Prayer, Year Zero, Spöksonat, He Is, Mummy Dust, Kiss the Go-Goat, Dance Macabre, Square Hammer.
Ghost
Nothing More