Ask Jimmie Vaughan what he thinks of what the Fabulous Thunderbirds have done since he left the band in 1990, and he chuckles. "I don't know what they've done. I'm busy worrying about myself."
The T-Birds may have been his highest profile gig outside of Family Style, the one double-Grammy winning CD he recorded with his late legendary brother Stevie Ray Vaughan, but he's won two Grammys since then as a solo act and plays the Suffolk Theater in Riverhead, New York on Friday, July 12 and Darryl's Place the next day touring on the release of his latest CD, Baby, Please Come Home.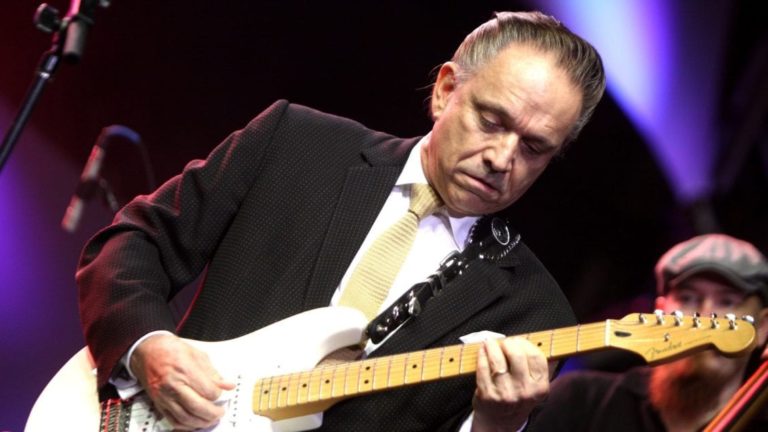 The Chicago Tribune summed Jimmie up adroitly when they said, "Jimmie Vaughan is one of the great guitarists of the last 30-40 years, though you might not know it – he's not about calling attention to himself. He's about substance and economy rather than excess and showmanship."
While his guitar work with the T-Birds fused the swamp blues sound of Slim Harpo and Lazy Lester with a gritty bar band rock that made the songs "Tuff Enuff" and "Wrap It Up" pop chart hits more than three decades ago, his current style rests comfortably in the retro R&B songs he covers on the new album.
The originals of all 11 numbers were first released in the 1950s including Chuck Willis's "What's Your Name," Fats Domino's "So Glad," Jimmy Reed's "Baby, What's Wrong," and T Bone Walker's "I'm Still in Love with You." As diverse as that sounds, the arrangements consistently feel like they were recorded in the Duke/Peacock label's Houston studios between 1947 and '54. Vaughan's guitar playing throughout is elemental, retro perfect, on point, prickly and as unlike his late brother Stevie Ray's sound as Chuck Berry is to Jimi Hendrix.
It is unavoidable that Stevie's history-making legacy would cast a huge shadow over everything Jimmie has done since his brother died in a helicopter crash in 1990 a month prior to the release of Family Style. Jimmie Vaughan says the pain even today of having to put out that album after his brother's passing is indescribable.
"We were together every day in the studio. We had a great time. We went to New York, Memphis, Dallas. We had a good time with each other, and we enjoyed it, and we had a fabulous record. We were looking forward to it coming out, and then that happened. I don't even know how to describe it. I don't know what to say still."
Listen to any one of Jimmie's solo albums back to back with one of Stevie's, and it makes you wonder how two brothers four years apart in age and living together growing up could be so different. The common thread was Jimi Hendrix.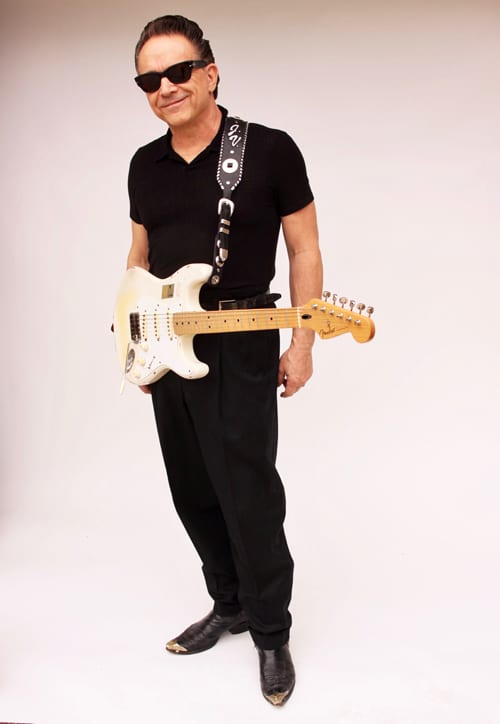 "We both loved Hendrix. I found the 45 of "Purple Haze" in the garbage can at a TV show. It was a promotional copy that they had thrown away. So, I got it early on before it came out. If you're already into Muddy Waters, and you hear Hendrix, it's exactly like Muddy Waters had a kid who went into outer space and came back and knew stuff nobody else knew. But it's still Muddy Waters.
"I could do "Purple Haze" and "Foxy Lady" with the band I was in. They were all 21, and I was 15, (in 1966). Stevie was there on that set, and then somebody would challenge him. Stevie had to outdo me in his mind. He was my little brother, and sometimes little brothers have to try harder than big brothers."
Stevie would go on to become the biggest influence in helping blues cross over into the mainstream since Hendrix himself, eclipsing his brother's popularity by a huge margin. And when they recorded Family Style, it was that process that added a capability to Jimmie's talents that finally would turn him into a solo recording artist four years after Stevie died. The biggest boost to Jimmie's solo career came from handling vocals for the first time.
"I never had any vocals training. It wasn't my goal. So, when I got to Family Style       with Stevie, (producer) Nile Rodgers said, 'Stevie's gonna sing his songs. What songs are you going to sing?' I said, 'Well, I wasn't really thinking of that.' He said, 'Well, you gotta sing.' So, I said ok. I had to do it. That was a good way to start for me. and I've been singing ever since."
Jimmie's vocals on Baby, Please Come Home are a perfect complement to his extraordinary guitar playing.
Eric Clapton who lost three members of his entourage in the same helicopter crash that killed Stevie, invited Jimmie to perform at five Royal Albert Hall blues concerts in London soon after the accident. I was working on my Buddy Guy biography at the time and spent an evening with Jimmie, his mother, and the Beefeaters guards in their pub in the Tower of London. The Brits made this American blues journalist feel like royalty. The good cheer was palpable, but it was as if Jimmie were inside a bubble apart from the goings on. I didn't know what to say to him. "Well, neither did I. I didn't know what to say to you or anyone. So, it's just what I had to do, and actually it was the best thing for me at the time to play which is what I've always done anyway."
It was four years after Stevie's passing before Jimmie released his first solo album Strange Pleasure including the song "Six Strings Down" dedicated to his brother. It was produced by Nile Rodgers and featured Dr. John on bass. Career highlights since then have included a special guest appearance on Bo Diddley's 1996 album A Man Amongst Men, playing guitar on the tracks "He's Got A Key" and "Coatimundi." He played a member of the fictional Louisiana Gator Boys led by B.B. King in the Blues Brothers 2000 film and earned a Grammy for Best Blues Album for his 2001 release, Do You Get The Blues?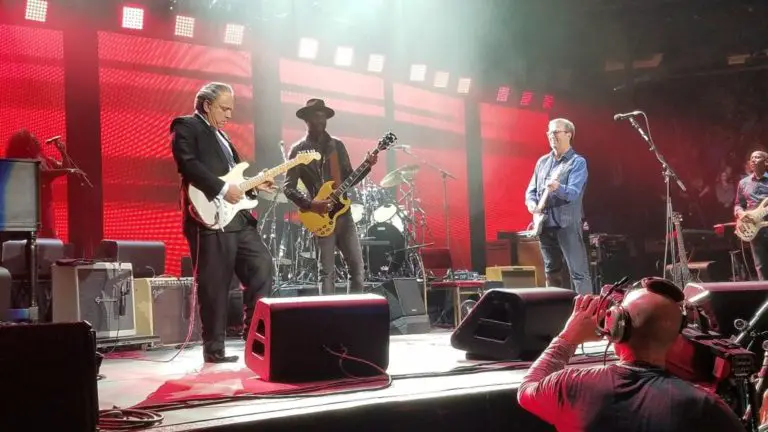 In the new millennium he's recorded with Omar Kent Dykes' On The Jimmy Reed Highway, Lazy Lester's Blues Stop Knockin', toured with Dylan in 2006, and joined Gary Clark, Jr. for the encore of Clapton's show at Madison Square Garden on May 19, 2017.
If you read between the lines, you could get the impression that Jimmie' career is about the guitar licks where his brother's was about the glory."The thing about Stevie and I playing so differently is just that he would do the Hendrix thing, and he would do Albert King and Hendrix incorporated into his style. He stole their riffs and put it into his playing and did it so well, that it became part of his thing.
"I already was doing a different thing. So, if Stevie were here right now, it would be interesting to see how he played, but when you're young and you're out there having a good time and – "
He pauses.
"This is not to take away from Stevie's playing. I don't want you to think that. I'm just trying to explain why he did all that."
One has to wonder where Jimmie would be today if Clapton hadn't pulled him back out on stage. "I'm grateful that Eric got me to play 'cause I didn't know what to do and how to handle a group at the time. I had left the Thunderbirds, and I was just in turmoil. Like, what do you do with all this information? Where do you put it? Where's my place in it? You know what I mean? So, anyway, that was my first outing, and I've been playing ever since. So, I think I was good for me that Eric got me out of the house and away from myself."