Shira Yevin, better known as Shiragirl, upset The Vans Warped Tour atop her pink tour bus in 2004, so much that the following year she was given her own SHIRAGIRL stage to curate the amazing female talent in the industry. Since, she has been drawing fans with her edge and overwhelming personality – full of energy. So infectious that she has shared the stage with Joan Jett, NOFX, and Rancid, whom she is currently working on her upcoming album with. 
"I'm Stoked to be playing the Warped 25th Anniversary in AC. I lived in Brooklyn for a long time, but I am originally a Jersey Girl, little known fact, so it's pretty cool to be here.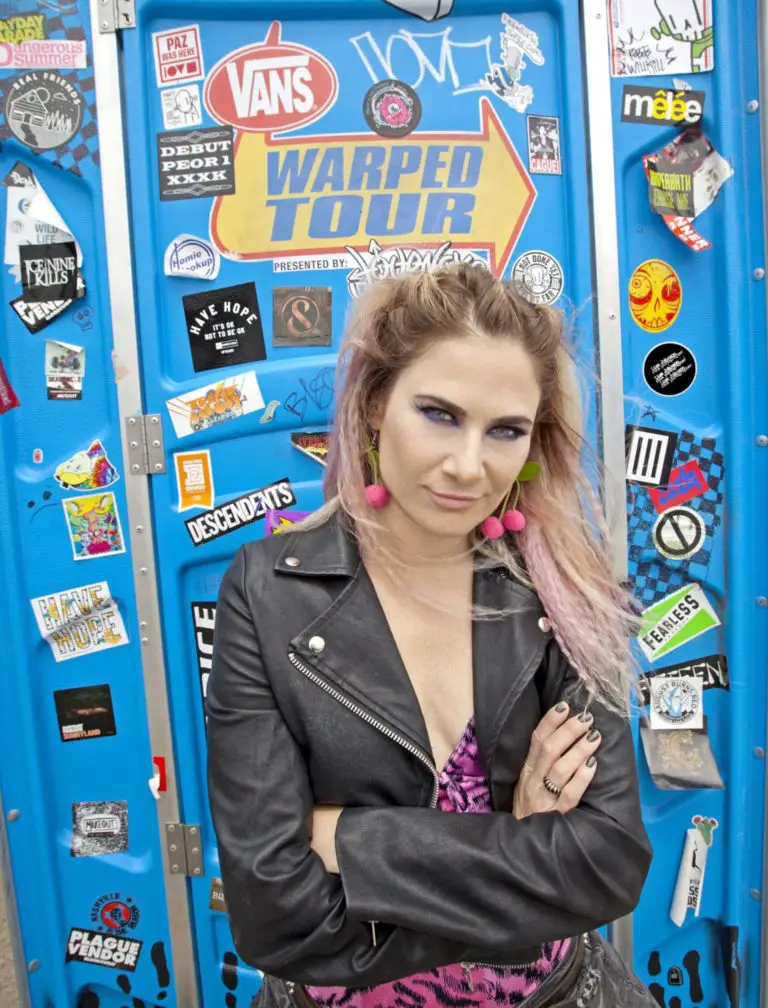 I've played in a lot of awesome, fun Jersey shows and obviously all the Warped Tours over the years. In Jersey we would do a lot of basement shows and in New York it's about the clubs. I love New York City, it's my favorite city in the world."
Shiragirl just released a new single on Tuesday, July 2, called "Nothing to Loose" off their upcoming EP, Andi Underground. Produced by Rancid's Tim Armsrong, the album weaves a mysterious concept loosely inspired by Alison in Wonderland. "It's a dystopian tail where black mirror meets the runaways," said Shiragirl. The album was recorded at The Boat studio, mixed by Cameron Webb and mastered by Andrew Alekel. Shiragirl features co-performers Raine Palladino and Leanne Bowes.
Finally, Andi's crew hacks the system and takes down the 
filter software, and all that it upholds: social control, apathy and compliance. Now the people are free to see reality how it 
really is, rise up, empower themselves, and most importantly, do as they please.


Depicting "Creepin" – Andi Underground (To Be Released July 19).
"This is the character Andi Underground," as she pulled a pair of anime-esque stickers out of her bag and showed me. "It's about this girl that runs away from home and falls into an underground world and decides she needs to save everyone. I've always loved Alice in Wonderland. There's a lot of different ways you can spin it; a lot of metaphors."
The record is also inspired by our current political climate. "I feel that as much as we escape into TV and movies talking about futures, it is here already. Technology controls our lives, there's a lot of things happening in the news where one could say we're already in borderline dictatorship. There's a lot of scary things happening so the record is an artistic way to make a statement about what I think, or dangers of the cultural norms that grow from being so technology based."
"I think its hard in the social media day and age you have to put everything out there, you have to be on it – on it- on it. It's hard to live in the moment with that, but constantly sharing content, music, videos and sharing, speaking to the fans and being connected to the fans. It is so cool to meet people after the show, just to feel like we made their day better is a great feeling."
"It's amazing to see how the tour has grown and affected so many people," said Brooklyn's Shiragirl. "To be apart of this is a huge honor – there are so many amazing bands. We are super stoked to be apart of the final chapter. Last year we were lucky enough to bring back the stage for the final full cross country tour. I just have nothing but great things to say about Kevin Lymann. I wanna be like him when I grow up."
---