Brooklyn based funk outfit, Lettuce, has been one of the pioneers in modern funk and jam music. The band's skill and taste, combined with their ability to blend historic and popular music aesthetics together puts them in the spotlight for aspiring bands. The spotlight is nothing new to Lettuce and they are perpetually growing a global fan base. In fact, members Adam Deitch (drums/percussion), Adam "Shmeeans" Smirnoff (guitar), Erick "Jesus" Coomes (bass), Nigel Hall (keyboards/vocals), Ryan Zoidis (saxophone) and Eric "Benny" Bloom (trumpet) have been doing this for 25 years, scoring Grammy's and working with some of the biggest forces in music such as Ahmir "Questlove" Thompson, Kanye West, and Stevie Wonder, to name a few. It's no wonder the glamor for more original Lettuce music after a three-year wait was at an all time high. That time has come with their new album, Elevate.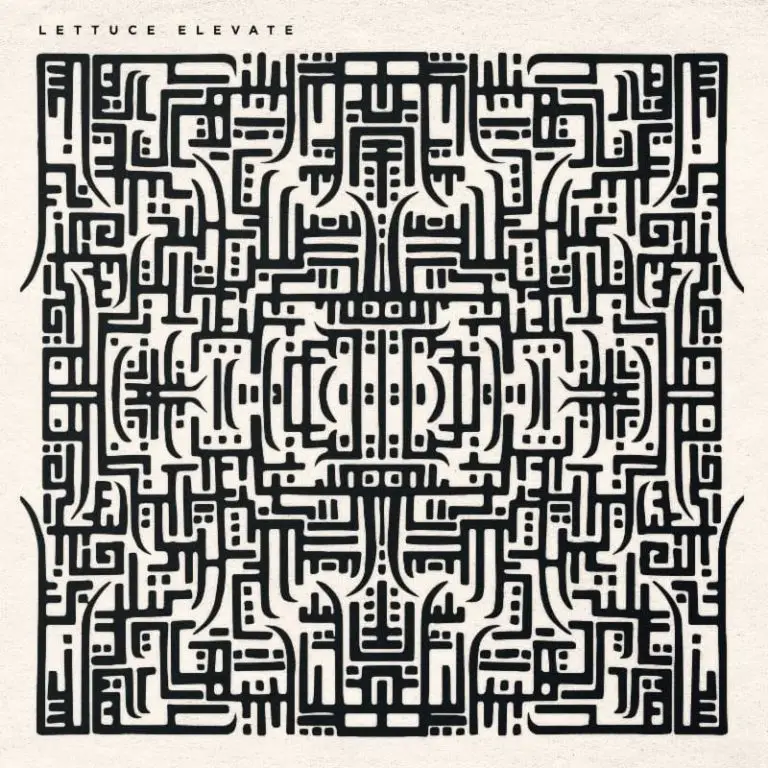 The opening track, "Trapezoid" walks the listener in slowly, offering a close listen at the eccentric synth patches featured. Soon enough, a dark, unrelentingly 'dub' bass shatters the ground underneath the lush combination of squeaking synth, ambient whistles and palm-muted guitar. Deitch's live drums are performed with machine-like technical skill. That is, until the unmistakably Lettuce horn lines kick in. Absolutely huge melodic phrases are composed with ease into tighter chorus hooks and are climaxed right before a colossal bass drop. While there is a chance that mashing up elements of trap, dub, funk, ambient and hip hop could go wrong, Lettuce navigates each mood change with confidence and expertise. The band's grasp of their song's structures at large is most easily seen by their ability to essentially re-write "Trapezoid" at the end of the album in "Trapezoid Dub." There's much more music to go before that arc is completed, but it is something to keep in mind when considering the magnificent flow of the album.
Something Lettuce does as well as anything else is write true funk tunes. "Royal Highness" is a great example of this, with simple yet effective instrumentation coming together with well-organized rhythmic grooves blooming into a great dance tune. This instrumental leads in for the 60's Ethiopian funk song, "Krewe," which features arguably the best sax solo on the album. This track has a nice blend of high-energy rhythm with darker but upbeat instrumentation; an intriguing juxtaposition.
The cover of Tears for Fears' "Everybody Wants to Rule the World" is a fresh take on a classic tune. Lettuce brings the song out of its comfort zone, adding a swing, along with a more compelling instrumentation. The vocals make their debut here and do a great job of adding flavor and depth to the song, outside of simply holding down the famous melody. The bass really shines and punches along the deep end, supporting the layered vocals and the occasional soaring flute line.
Flourishing trumpet fanfares and melodic horn phrases find their rhythmic soulmate in "Larimar." The bass heaves along with a parallel guitar line, yielding a thick baritone guitar feel without sacrificing density. This song hits in two halves; the first half being a funk groove with attitude, which transitions into a cheekier outro groove. The instrumentation remains largely the same keeping the experience of the song isolated, but still very unique in its progression. "Love Is Too Strong" is a blues rock song, heavily influenced by the gospel and blues of the 60's, but with some more 70's styled mixolydian guitar solos and tones. The vocals are a highlight here as well, offering a strong, resonant lead melody with a raspy blues aesthetic, with accents and emphasis being added by a backing gospel choir.
There's a lot in this album in the way of genre, evinced by the Brian Eno/J Dilla inspired ambient hip hop instrumental, "Purple Cabbage." Lettuce flexes their creative muscles here. The output is an atmospheric soundscape, which acts as the backdrop for an echo-laden layering of guitars to sputter around an unmistakably potent beat from Deitch. The horns, which maintain a strong presence throughout the album, remain front and center for much of the tune, stabbing right at the heart of the melody hidden in the backing soundscape the band creates. Running at just over nine-minutes, this song is steeped in timbre of all sorts. Listeners will be able to find something completely new with each listen.
To be clear, this is the case with the album as a whole. Such a diverse selection of songs can be tough to wrangle into one concise piece of work, yet Lettuce does just that. The band transforms constantly from the start to end. Their final song "Trapezoid Dub" is a different version of the first song on the album, which is hardly noticeable unless looking at the track titles. Once you notice though, it becomes apparent that the framework for both tunes are the same, but Lettuce has managed to create an entirely different listening experience. A shining example of the band's ability to adapt and reimagine.
They change, while remaining just enough of the same Lettuce, that fans have known for all these years. The improvisational aspect is not lost among the composition, and the experimentation takes front seat just long enough for each tune (and the album in general) to have an unexpected but fulfilling arc. It's not enough to say, "keep an eye on Lettuce." Rather, this album marks the opportunity to appreciate their determined foray into seemingly unrelated genres and pull out exactly what pieces best fit their sound. Mesh those into tracks that are not only stunning, but also a whole lot of fun.
Key Tracks: Purple Cabbage, Krewe, Larimar