The New Mastersounds will hone in on Brooklyn Bowl Friday, May 17 and Saturday, May 18 for two nights, back-to-back, in honor of their 20th anniversary of creating music together. The intimate yet energetic venue encapsulates the explosive nature of the band – that is, if their kinetic energy can be jam packed into such a short window.
Each night will host two evening sets and a Saturday matinee. Friday will feature support from Lamar Williams Jr. on vocals, saxophonist, Jason Mingledorff and Mike Olmos on trumpet on top of the Leeds-based quartet. Doors at 6 pm. Set one at 8:45 pm and a follow up set at 10:15 pm.
Saturday brings on a support band, Control The Sound, for an all ages show with doors at noon. Later on, The New Mastersounds reignite for a recurrence of Friday's collaboration, mirroring an identical lineup and set times.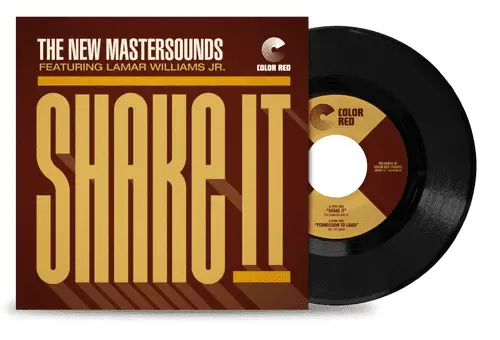 Check out "Shake It" HERE
The time to celebrate is now. The band's vast accomplishments and endless discography is complimented by the recent 7" record release. A-side's "Shake It," featuring Brooklyn Bowl guest Williams Jr. and B-Side's "Permission to Land," featuring Jeff Franca are quintessential NMS, horn-driving and grooving from the start. Written and recorded in Denver, CO, the record was put out by guitarist's Eddie Roberts own label, Color Red. The release coincided with the two-night appearance at House of Blues New Orleans earlier this month during Jazz Fest. Respectively so, it would only be appropriate to give New York the same courtesy.
---
More inside The New Mastersounds:
From Leeds, United Kingdom, to the heart of American soul, The New Mastersounds are intuitive to a sonic mold created by their audience. Over the past 20 years, NMS have emerged as one of the prominent bands in a new-funk scene. Elevator-esque consciousness fuses with razor-sharp funk and syncopated drums that results in a dancing frenzy.
The band's short instrumental songs, what drummer Simon Allen, refers to as a post-Grateful Dead jam band scene with a "snappy, quirky funk," stretches across the pond. Distinctive as Tatton's Hammond organ itself, the band shimmers, shines and grooves beyond belief. NMS are hard to stump, fueled by necessity, gritty grooves and the deep rhythms that leak through the cracks of a late-night dance club rage. New generations of people flood, in an overwhelming word-of-mouth craze.
NMS engages the audience directly and harnesses their energy. All of this translates to a unique concept that Allen refers to as "believing in the groove." By stripping the groove down and keeping it going, it makes the music consistent. Suddenly, fans hip to the groove burst out in dance. NMS generated this loop-like feel of today's electronic music to give listeners something to hold on to.
At its core, NMS found a common interest in Black American music in the 1960s spun by DJs in Leeds. EDM Electronica was hip and the band quickly began to add this ammunition into their arsenal.