Elton John's Farewell Yellow Brick Road tour ushered fans into his retirement at the Times Union Center on March 1, 2019.  On a stage framed with bricks featuring images recalling Soul Train, Billie Elliot, The Lion King, and various album covers, the scene was set to remind us: Elton John is not only a legend, but quite possibly the legend of our time.
But in case that wasn't enough reminder, Elton John took the stage by humbly walking upon it in the dark, sitting at his piano, and playing "Bennie and the Jets" for the first performance of the night.  While Elton was adorned in rhinestones and his signature square glasses with glitter, it was his voice, immediately on pitch and demonstrating the familiar clarity from his earlier years that immediately grounded everyone in the Times Union Center with the reality of his legendary status.
Over 15,000 fans screamed, danced, and sang along as Elton John moved through his hits with grand visuals on the screen behind him. During the third song, "I Guess That's Why They Call It The Blues," the juxtaposition of the love songs' words with images of multigenerational partners at different stages of engagement with one another was striking. Couples sun bathing, grocery shopping, eating meals flashed on the screen behind Elton John as he crooned about "time on my hands / could be time spent with you." The reality of love in all its mundane daily living was visually represented alongside the romantic lyricism of his songs.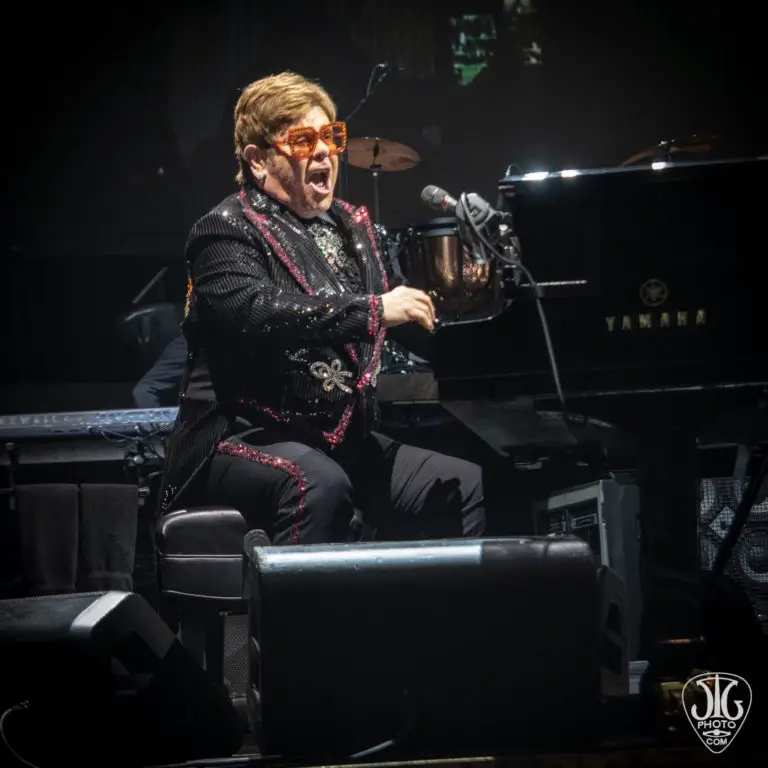 Similarly, "Border Song," originally recorded by Aretha Franklin, was marked by visually striking loops of pictures urging acceptance of diversity. Elton John mentioned composing songs with Bernie Taulpin, and the confidence Franklin gave them by choosing to record their song. He also casually mentioned sharing a birthday with the great jazz artist.
The visuals, while moderately interesting and created by some rather well known artists (David LaChappelle made the video accompanying "Daniel"), offered a bit of distraction from the general lack of movement on stage. And while the videos added value as the night progressed, they really weren't necessary. Elton John himself was the show, sitting at a piano singing.
"Tiny Dancer" followed a similar theme, using video loops of people at different normative life experiences throughout LA. Elton John's words, again in a sense at opposition to the songs lyricism, seemed to urge listeners to see more to the story than a romanticized vision of being human.
Elton John spoke to the audience quite amicably, engaging fans by sharing his process of writing songs that story tell.  From "Indian Sunset" to "Rocket Man" and "Take Me to the Pilot," the artist became increasingly energized, sharing what the stories of the songs meant to him, and also the boundaries of music writing. The length of certain stories, such as "Daniel," presented obstacles to the songwriter, who admitted he cut off the last part of the story when composing the song as "it was too long." But in doing so, he lost part of the meaning for his audience.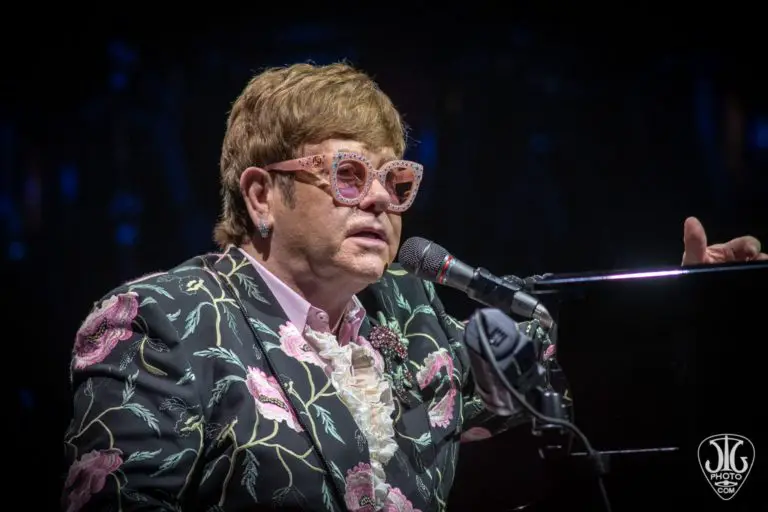 Elton John didn't shy away, however, from explaining the stories using the visuals on the screen behind him.  "Someone Saved My Life Tonight" featured Captain Fantastic in a cartoon shot into a pinball machine and bouncing around pills and drugs. He openly shared that this song was "the most personal on that record, and my favorite." He humbly shared his experiences with addiction, and urged fans to get help rather than live in shame.
The band made full use of the three percussion sets for "Levon," pushing the fast paced song with guitar licks fresh and stone hard as rock can possibly get. One percussionist on the bongos dramatically interacted with the crowd, pulling fans into a dancing frenzy as the high-energy song peaked.
And just as quickly as the band would bring the energy up, Elton John would offer rests, in quieter songs like "Candle in the Wind."
The musician will be 72 later this month, but didn't seem to need a break during his almost three hour set. The only break offered was a brief interlude of darkness marked by the sound of wind, blue and purple lighting and sound effects creating the atmosphere of a storm. When Elton John reappeared minutes later, his costume had changed into black coat jacket embroidered with peonies, pink sunglasses sparkling with jewels, and salmon trousers striped with glittering rhinestones down the side. Ruffles peaked out of the sleeves and neck.
The band came out and offered an intense version of "Funeral for a Friend," which felt more like a rock orchestra than a piano man accompanied by a band. The full sound included cymbals, piano and sparkling guitar accompanied by heavy drumming.
From that point on the concert ripped through hit after hit, bringing fans to a high-pitched excitement.  Elton John's nimble hands still played the piano at the same pace as when they were young, and his clear voice found its pitch with seeming ease.  It was amazing to think of this as a farewell tour, as the band members, while also in their later years, demonstrated a youthful exuberance and passion for the songs.
Elton John explained, though, that he had enough applause to last a lifetime. "I won't forget you guys," he promised fans, and thanked folks for purchasing his CDs, tapes, and even eight tracks. He noted it was fans' willingness to attend his shows and buy tickets that had fueled his energy for sustaining his career. But his family, including his two young children, was at home and missing him as well.
Elton John's humility is remarkable. He used his platform to further his Elton John AIDS foundation, started after his recovery from alcohol addiction in the early 1990s. He thanked the musicians, past and present, for contributing to his on going success. Seasoned musicians Davey Johnstone (guitar, vocals), Nigel Olsson (drums, vocals), Matt Bissonette (bass, vocals), John Mahon (percussion, vocals,), Kim Bullard (keyboard), and Ray Cooper (percussion) were all personally praised by the artist, who sang out each name and shared the spotlight with his band members.
Elton John stood up after almost each song and faced the audience, arms wide open, and hands shaking, almost hugging the audience as cheers and clapping filled the air. The crowd sang along to "Crocodile Rock," dedicated to his fans, and "Saturday Nights Alright for Fighting" before encores of "Your Song" and "Goodbye Yellow Brick Road." Covered in yellow confetti, the crowd moved almost in reverie by the end of the night, closely connected to the past memories of these iconic tunes by the present performance.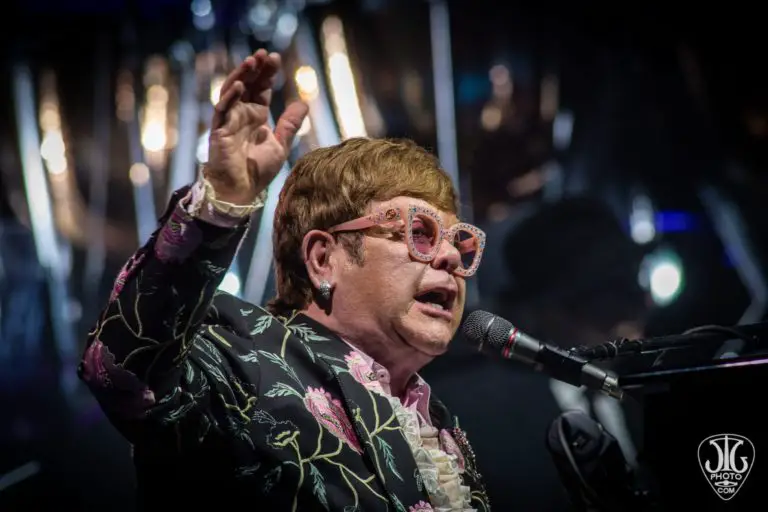 That might be one factor that adds to the legend of Elton John: he somehow seems to agelessly span the years, connecting us to "when rock was young," as he sang. And we were young, too.
Let's hope it is just a "see you later" tour, and not quite a farewell for now, Sir Elton John.
---
Setlist: Bennie and the Jets, All the Girls Love Alice, I Guess That's Why They Call it the Blues, Border Song, Tiny Dancer, Philadelphia Freedom, Indian Sunset, Rocket Main, Take Me to the Pilot, Someone Saved My Life Tonight, Levon, Candle in the Wind – Funeral for a Friend / Love Lies Bleeding, Burn Down the Mission, Daniel, Believe, Sad Songs (Say So Much), Don't Let the Sun Go Down On Me, The Bitch Is Back, I'm Still Standing, Crocodile Rock, Saturday Nights Alright for Fighting. Encore: Your Song, Goodbye Yellow Brick Road