Syracuse punk band Bridge Under Fire is doing the unorthodox. They are releasing four new songs from their new EP through four different record labels. NYS Music is premiering the L.R.S. Records single, "Self-Unemployed." Check it out below.
Bridge Under Fire is a Syracuse-based punk/hardcore band with a discography that includes two full-length albums, two EPs, a split 7″ single and several compilation contributions. The new untitled EP has been released in four parts across four labels and through four different media outlets.
Syracuse labels, L.R.S. Records, Aux Records, Moron Manor Media, and Counter Culture Cassette Company each released one song from the band today.
Band leader and L.R.S. Records owner, Mark Turley, described the project this way:
After releasing our last full length in 2017, the band was discussing other options than just writing more songs to be an EP or album.  We decided to write singles rather than songs that fit together content-wise onto an album.  The results were interesting and different than what we've done so far.  Through L.R.S. we had these relationships with the other labels and thought this would be a different way to release our music.

Mark Turley
To celebrate the release of the new music, Bridge Under Fire will host a show at Spark Contemporary Art Space in Syracuse on Feb. 22. Also on the bill that night is Sympathy Band, Talk Wrong and Dimladia. For more information on this show, visit promoter After Dark Presents' website. To check out more of Bridge Under Fire's work, visit their Bandcamp page here.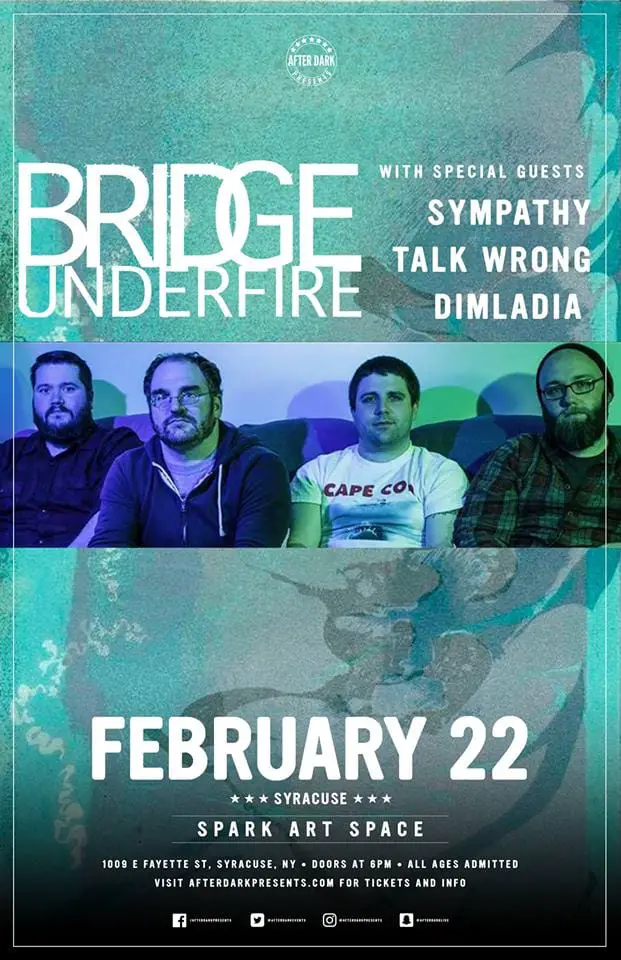 Turley also hosts a weekly podcast called Long Range Sarcasm (L.R.S.) with Nick Oliver. It is available on iTunes and Google Podcasts. The podcast features news and music from the L.R.S. stable of artists as well as other Central New York musicians.
Bridge Under Fire's brand new single, "Self-Unemployed" is available below as a NYS Music exclusive release. Check it out.