Bethel Woods Center for the Arts has announced plans to commemorate the 50th anniversary of the 1969 Woodstock Music and Arts Festival Aug. 16-18.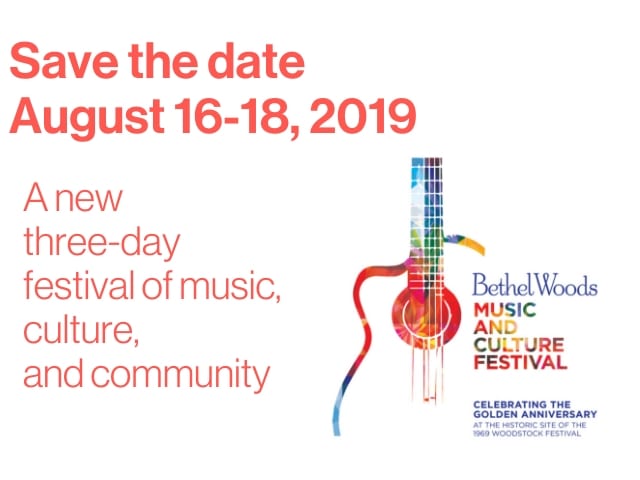 Bethel Woods Center for the Arts will be the home of the Bethel Woods Music and Culture Festival Aug. 16-18. The Sullivan County venue is the site of the original festival produced by Michael Lang in 1969 which drew an estimated 400,000 people to the secluded Catskills town.
Music acts have not been announced, but the weekend is being billed as a pan-generational event that will feature live music from prominent and up and coming talents and TED-style talks from leading futurists and technology experts.
In December of 2017, Bethel Woods was awarded nearly $700,000 through the New York State Regional Economic Development Council to be used towards a 50th anniversary celebration.
As the stewards of this historic site, we remain committed to preserving this rich history and spirit, and to educating and inspiring new generations to contribute positively to the world through music, culture, and community.

– Darlene Fedun, CEO, Bethel Woods Center for the Arts
Michael Lang, who produced the original Woodstock as well as the ensuing anniversary concerts in 1994 in Saugerties and 1999 in Rome, has hinted at plans to put together his own commemoration of the historic festival though no details have yet emerged. He will not be involved with the Bethel event, which is being presented by Live Nation Concerts and INVNT, a branding and live storytelling agency.