About three quarters through the Fall/Winter 2018 tour, power-rock trio lespecial brought their unique style of genre bending jams to Putnam Place and joined me for a conversation about who they are, where they've been, and what's coming up next. The show at Putnam Place was a much-anticipated stop for the region since their set at Adirondack Independence Festival this past summer where lespecial played a high energy set that enraptured the audience and grew the regional fan base significantly. The heavy grooving trio is composed of Luke Bemand (Bass/Synth/Percussion/Vocals), Jonathan Grusauskas (Guitar/Synth/Sampler/Percussion/Vocals), and Rory Dolan (Drums/Sampler/Percussion/Vocals.) The three childhood friends, who grew up in Connecticut and are now based in New York and Boston, have a lifetime of experiences to draw on in their creative process. Individually they are musical powerhouses, and together they won't be stopped.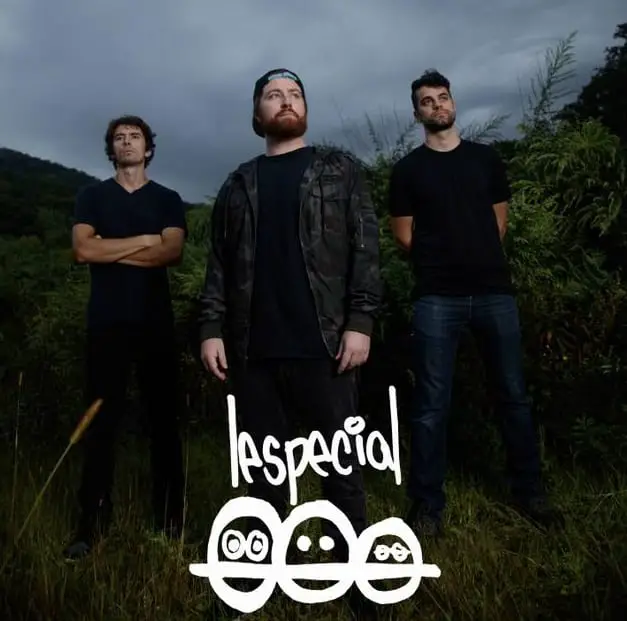 Emily VanderWiel: This fall/winter tour has been quite extensive so far and you've covered a lot of ground since September. What have been some highlights of the tour so far?
Luke Bemand: The Lespectacle show we do every year is usually a highlight for us, it's our Halloween show, we collaborate with our friends at The Reliquarium and do an interactive art space. This year we did it at their space in Rhode Island where we had two stages.  Some of our favorite producers and bands were there; Freddy Todd, Bella's Bartok, we collaborated with our friends Supersillyus and that for us is our big yearly event. It's the eighth year we've done it… so that's always fun. It's stressful and insane but it's fun and we've done it in Brooklyn the last five years so being closer to Boston, Rhode Island and Connecticut is cool for us.
EV: I saw some video from Lespectacle, there were a lot of nice pro shot videos.
LB: Yeah! That was all this guy!! (pointing to his brother and lespecial road warrior Sean Bemand)
LB: Another fun one was Jacksonville with Moon Hooch, and we just announced a show in Burlington, VT with them on December 29 at Higher Ground. Looking forward to that, those guys are really cool, with our friend Honeycomb too.
LB: Honeycomb is a beatboxer from Northampton and we've collaborated with him for a couple years, playing festivals in the Northeast but we hope to collab a lot more.
EV: There's been a lot of new material popping up at shows, do you guys have a new album in the works?
LB: We have a ton of new material, we have enough for a new EP or a new album. We've been putting out a lot of live clips of our newer stuff. We have a new track with Zion I that we've been working on and playing out at shows. We have a lot of different things in the works, but the focus has been on touring and with playing out so much it's hard to get in the studio, but we've been rehearsing, together a lot more and writing a lot. The easiest place for people to hear our new stuff is to come out to a show. Definitely within the next year we'd like to put out a new EP or a full-length album.
EV: The tour has been covering a lot of ground, so there is certainly a lot of opportunity for fans to get out and see the new material at shows… it looks like you guys are busy straight through New Year's?
LB: Yeah! Next week we are in Baltimore with Pigeons Playing Ping Pong, at Rams Head Live… that'll be cool and then we are back up to Hartford for more of a hometown show in Connecticut at Arch Street Tavern and then our New Year's run is going to be Pacific Standard Tavern in New Haven, The Snow Barn in West Dover, VT…which is an awesome place, we did it last year, played two sets and it was a lot of fun, and then Aqueous on New Year's Eve in Buffalo. Now with Moon Hooch show in Burlington added, it will be four shows in a row.
EV: You guys will probably be ready for a break after that?
LB: (Laughs) There's no breaks!
EV: What a great way to ring in a New Year though, that many exciting shows back to back…
LB: Totally, those are really exciting. It's fun because it's a couple headlining shows and then a couple supporting shows for bands that we like and that we enjoy playing with. Then January we are going to be headed out to Colorado and we are going to be announcing a whole bunch of other January dates, so there's no real breaks. People will say "how was the tour?" and it's like, wait? It's not over yet! It's just never stopping, which is both good and bad. We don't do a full on two-month tour but we will play for a couple weeks and be off for a week and play for a couple weeks so it's cycles that kinda keep going. It keeps the wheels going, we keep writing on the road.
EV: As far as the song writing goes, do you all write? How does your creative process work?
LB: It's definitely a collaborative process, one of us could come up with an idea for a song, like maybe Jon will have a riff for a song or something like that and we take it to practice and then we kinda add our parts. There's never anybody that says here's a song and this is your part, and this is your part, etc. The whole writing process is very much that somebody can bring an idea to the table and then everyone… it's the ideas that build. So there's that give and pull when there's no band leader and we write our music as a trio.
EV: The show you guys have booked for tomorrow night is a cool concept. Can you tell me a little about that?
LB: So, it's at the Brighton Music Hall and it also happens to be Jon's birthday. What's cool about it is that we are doing one set of originals and one special 90's "Headbangers Ball" set. Balkun Brothers are playing with us and doing a Nirvana set… pretty excited about this show because we all grew up listening to this music.
EV: You're finishing the year out strong, ending one hell of a tour with a show with Aqueous in Buffalo!
LB: Yes, we are for sure looking forward to that, love those guys. It should be a good time! It's not the end of the tour though, we will be announcing some dates out west soon so people should definitely keep an eye out for that.
EV: Thanks for chatting with me guys and I know I will be catching a few of these shows along the way and I will definitely see you at The Town Ballroom! Have a great show tonight!
Lespecial is one of the hardest working bands out there right now and there is so much opportunity to get out and see what they can do. Next up is a special show for Luke Bemand's Birthday at Pacific Standard Tavern, followed by The Snow Barn in West Dover, VT, Higher Ground with Moon Hooch & Honeycomb, and ending the year with Aqueous at The Town Ballroom.   2019 tour info is available on their Facebook page.
Check out this MKDevo recording of "The Vessel" from the Brighton Music Hall in Boston, MA on 11/17/18.