Nestled along Tuscarora Lake between the Madison County college towns of Cazenovia and Morrisville, the Blue Canoe is a charming Adirondack style family restaurant. On Friday, November 30, this off-the-beaten-path venue was packed as it hosted Blaine Holcomb, a Nashville singer-songwriter born and raised in Hamilton and a graduate of St. Lawrence University.
Holcomb was in the area for a hometown-ish show, celebrating the release of his self-titled debut CD and did not disappoint. Holcomb is a young artist with a flair for modern country, yet has a truly high classic country IQ. His reverence for country royalty — George Jones, Merle Haggard, Johnny Cash, Waylon Jennings, George Strait — is evident in his writing and he makes it well-known that these people are his music idols.
Holcomb entertained the standing room only crowd at the Blue Canoe with an almost three-hour set; his only breaks taking place between songs when he signed CDs for the many in attendance. If there's one thing Holcomb is, it's appreciative. He has spent the better part of the past few years in residency at Nashville's famed Tootsies Orchid Lounge, and in that time, has learned the skill of entertaining. He's not above taking requests but makes sure he sprinkles classics into his set to let everyone know his roots.
His set reflected the modern country charts, with covers from Eric Church, Keith Urban and Chris Stapleton, but also paid tribute to the legends, covering his idols, George Jones and Merle Haggard. Holcomb's take on Jones's "He Stopped Loving Her Today" and Haggard's "Mama Tried" had the crowd engaged and would have done the original artists proud.
Speaking of Holcomb's roots, his visit to Erieville on Friday was a testament to that. He holds his family and friends close and makes sure to fit in a local show whenever he is in town, whether it's at the Blue Canoe or Ray Brothers BBQ in nearby Bouckville. His maternal grandmother sat at a table stage left the majority of his set while his mother worked the crowd selling CDs. Many fellow St. Lawrence alums and former bandmates were also in attendance.
A highlight of the night was a ballad Holcomb wrote in honor of his grandfather, who he spent much time fishing with in his youth. The song, "Keep Your Line in the Water" is an emotional ode to an influential man that Holcomb held close and brought tears to the eyes of many in attendance.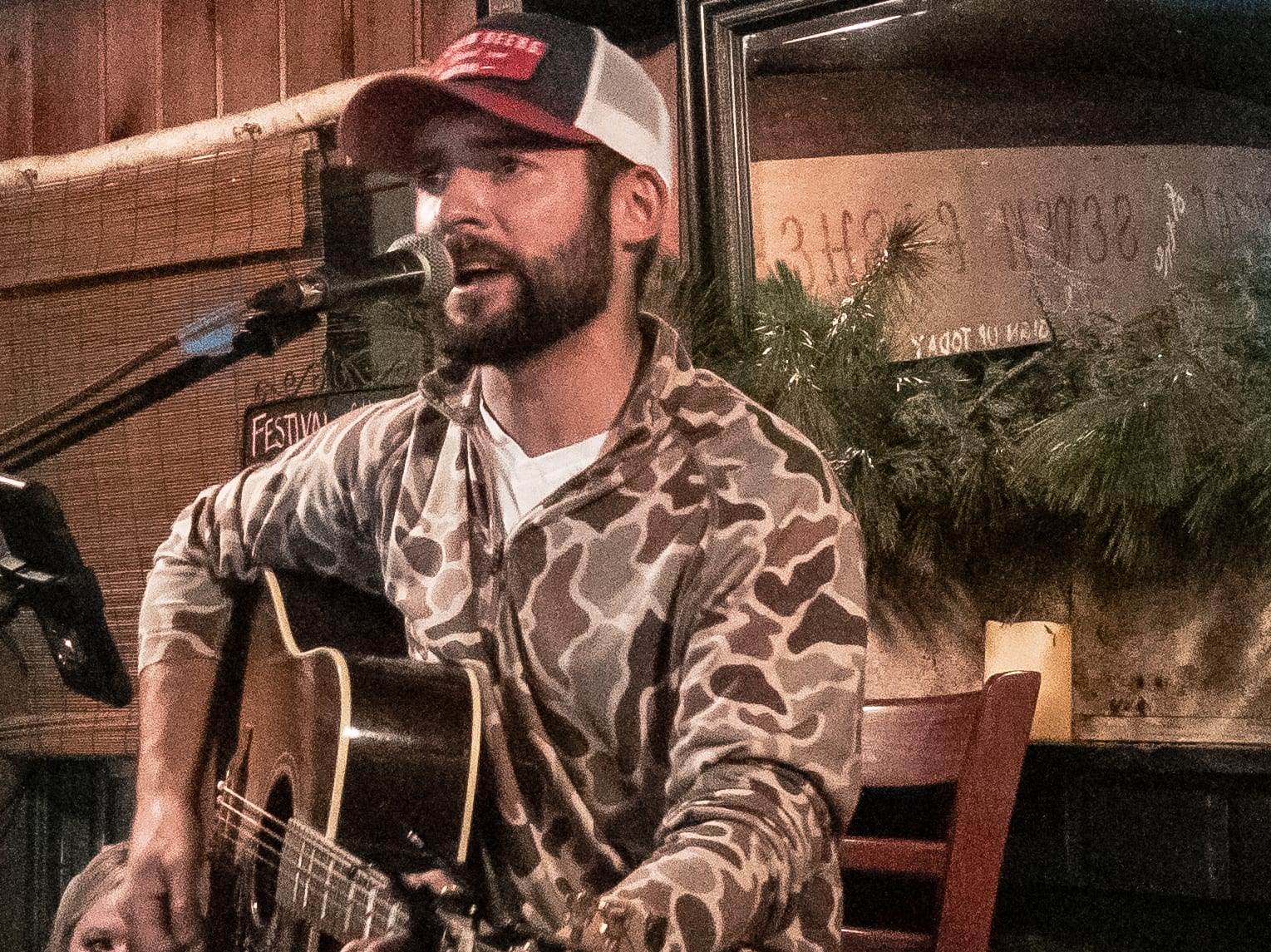 Holcomb paid tribute to friend Daryle Singletary, who he'd met in Nashville, describing the affable nature of the man as he introduced his cover of Singletary's song "Spilled Whiskey" that is included on Holcomb's album.  Singletary died earlier this year at the age of 46.
He tried ending his set several times throughout the night, but bowing to the crowd kept extending the set for "one more" song. One more song wound up being five more songs ending the night with rousing covers of Garth Brooks's "Friends in Low Places" and Johnny Cash's "Folsom Prison Blues," with his fans singing along and begging for more.
Blaine Holcomb is a unique presence in this new world of country music. An old soul housed in a young body who isn't afraid to mix the classics with the new. You can pick up his new album at his website here or at his shows. He returns to Nashville this week to continue his Tootsies residency. You can catch him live there or through the Tootsies Live Cam here.