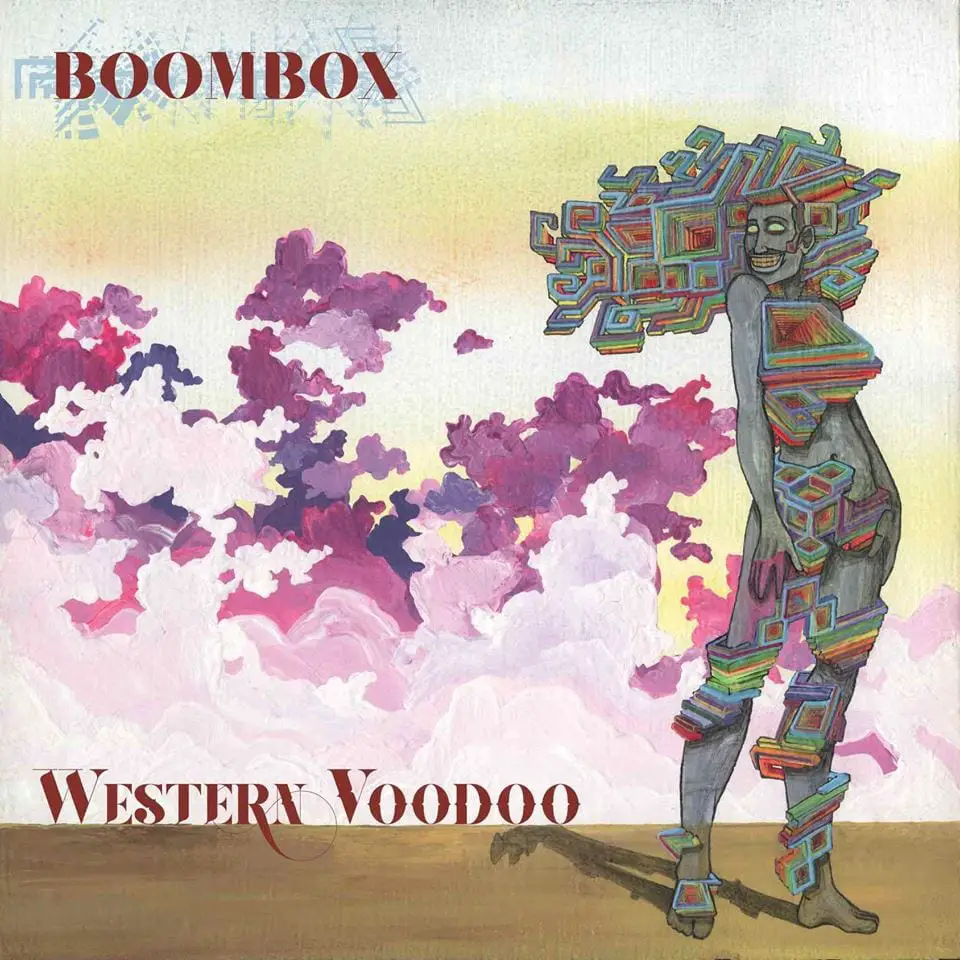 It's been a busy two years for the EM musical maestros BoomBox since the departure of original member Russ Randolph in 2016.  Founder Zion Rock Godchaux put the time to good use with the addition of new musical partner DJ Harry and the creation of exciting new material that comprises the newly released Western Voodoo.  This is the Muscle Shoals, AL based duo's 5th LP and was recorded right outside of their hometown at Rat Nial studios.  Godchaux describes the new tracks as a bit of a departure from their earlier material, "All of the rhythms, melodies, and frequencies add up to these healing properties. I hope people feel rejuvenated and re-focused on some level when they hear us. That's Western Voodoo."
This is readily apparent on the album, and is specifically noticeable on the LP opener "Castles".  The trance-like intro sets the stage for the entire album.  The track kicks off into a great EM synth hook that precedes Godchaux's haunting vocal.  The groove on the number is so infectious, I found myself unconsciously moving in my chair, as if movement was a mandatory prerequisite to enjoying the jam fully.
Another highlight to BoomBox's latest effort is the 5th track on the LP "Selling Fun". It combines funky bass with the classic 80's beats including synthesized horn accompaniment which is reminiscent of the early years of that decade's dance music.  Groovy guitars help accentuate Godchaux's lyrics which tells the story of a pusher working the street "selling fun" on his little piece of the dark city.  The rhythm is atypical of the gritty subject matter and is thoroughly upbeat which is in stark contrast to the dark lyrics of the song.
BoomBox's hometown of Muscle Shoals, Alabama is famously known for Rick Hall's historic FAME Studio and it's famous Muscle Shoals Rhythm Section, commonly referred to as the "Swampers".  These gifted musicians backed a variety of rock and soul artists throughout the sixties, including legends Wilson Pickett,  Aretha Franklin, and the Allman Brothers Band.  While the "swamp sound" is much different than the EM beats of BoomBox, you can hear these jam influences in tracks like "Easy Operator" which features a laid back enjoyable guitar riff that completely balances out the number.  This relaxed vibe is also reflective of Godchaux's musical pedigree, a result of being the progeny of two members of the Grateful Dead.
This is definitely a band to see live in concert.  They boast a killer light show that fits their grooves perfectly.  Both Zion Rock Godchaux and DJ Harry are at the top of their game while performing live in front of an audience. BoomBox's next outing will be a very special "hometown show" at the Brass Monkey in Florence Alabama on November 30th.  They will continue to tour the US in support of Western Voodoo throughout the remainder 2018 and into early 2019.
Key Tracks: Castles, Selling Fun, Easy Operator