It is said when a Hobo dies, "They caught the Westbound."
Lean in, Hobos; one of our own traded in his ticket for a seat on that locomotive ghost. This one hurts.
To say Andy Goessling lived a life of music would be an understatement. Music was how he communicated. He was never considered a man of many words. In fact, many of the online testimonials include the comments, "We never talked much," or "I only spoke with him for a moment." He wasn't much for words. But the words he did speak, became etched in one's mind like a poignant moment in a movie forever embedded on that reel tape. I cannot count the times I stood or sat with Andy in silence beyond a hug and a kiss hello. Andy was the quiet observer. His presence was enormous.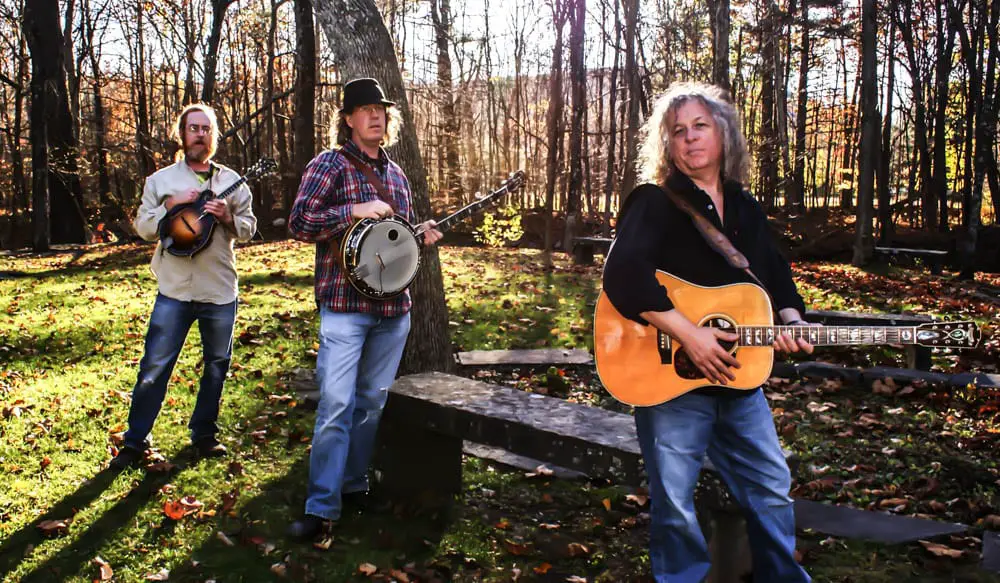 Andy loved antiquing. In every town across the U.S., he would find time to visit the antique shops. Mostly, he'd shop for antique instruments. Countless friends recall Andy being a master negotiator when it came to the ancient tools of the trade.
Longtime friend, former band mate, and neighbor, Jeff Barg (Bovine Social Club) recalls meeting him in the 1980's and their friendship flourished ever since. Andy mentored him via text when it came to instruments.
"Andy had a knack for finding old instruments in thrift and music stores. I would find stuff and send him pictures. He would tell me what they were and what they were worth. He vibrated on that plane where the instruments would find him," said Jeff.
Quoting Mark Twain, "A gentlemen is someone who knows how to play the banjo and doesn't." Perhaps Andy would play on those words, or perhaps he would take spirited jabs at his longtime friend and band mate, Tim Carbone (Railroad Earth). Andy would tease that a gentleman never plays the violin. However, in spite of his silly antics, Andy just recently picked up playing the violin, the last of his instrumental conquests. Tim has always regarded Andy as being the inspiration, but ultimately, in the end, it was Tim that inspired him.
Upstate NY musician and friend, Kevin Maul (The Nellies) met Andy through his knack of antiquing. Twelve years prior, Kevin's one-of-a-kind Dobro had been stolen. One day in Buffalo, Andy had come across this unique Dobro and sensed something wasn't right. Kevin recalls his monumental experience:
"He called up Beard guitars, the maker of this Dobro, and they told him that it had been stolen…He got my phone number and contacted me. He had said that maybe we would meet up at a festival someplace and he wouldn't want to have me come up to him and say 'hey that's mine'. He was very nice about the whole thing." Kevin continues to play his lost, but since found Dobro, today.
Andy was a member of several bands over the years: Kings in Disguise, Blue Sparks from Hell, Secret Admirers, Sleeping Bee, Shockenaw Mountain Boys, and most notably, Railroad Earth. His early musical years were largely shaped by his geographic location.
Hailing from New Jersey, there is a little known cream-of-the-crop group of artists living in proximity to each other. He'd find himself noodling for endless hours on back porches, or front porches, or at a party, at the local roadhouse bars, farms, studios, and just about every Amen Corner he could find. While on the road, he played everywhere and with anyone. It could be 5 a.m. with the sun dawning on the horizon, but Andy could be found at some campsite at some festival tapping his toes to the beat of his fingertips hitting the frets. It never mattered to him how large the stage was or how small the crowd. Andy was happy with an instrument clutched between his palms. His collaborations were countless. He's played with so many musicians, it's too numerous to list, but suffice to say, the six degrees of separation applies here. Playing was his gig.
Andy met John McEuen (Nitty Gritty Dirt Band) because he tracked him down and sent him and email out of the blue. I recall Andy telling me that the music of the Nitty Gritty Dirt Band was some of the earliest songs he learned how to play. Five years ago, Andy did what many of us fail to do and that is having the confidence and courage to put ourselves out there – he simply asked John if he could join them for a set in New York City. John remarked:
Two nights later, the ever-grinning Andy Goessling showed up. As the show progressed, whenever I nodded towards him for a solo, there it was – always grabbing the right tool for the job. A master catcher of hot notes no matter what I threw at him. Audience applause showed their appreciation for his solos… I soon started planning a recording with Matt Cartsonis for Chesky Records and Made in Brooklyn came together… the one thing I was not sure of, one I considered essential, was if Andy could make the sessions. He did!  And this time he brought the zither. The way he played made the listener feel as if you had tuned in notes from a distant past on a strange and beautiful sounding instrument…He raised our bar. Following the album, I called on him whenever the show budget would allow, and he came and did it again – made us better.Lucky we are to have known and played with the great Andy Goessling.
Andy was the unassuming jokester, full of off-the-cuff, witty one-liners. I was fortunate enough to have caught a show Andy was playing with John. At the end of the show, with the intention of greeting fans, he instead gravitated toward me – he always found solace and comfort in the warmth of old friends. We began to speak, albeit briefly, when all of a sudden, another band member blurted out across the lobby, "Hey Andy!" I had just teased Andy that we should relish in the one sober moment we've had in the ten years we've been friends. The timing was perfect. Andy looks to his music buddy square in the eye and with deadpan face, he proclaims, "We're having a moment, man." And then, he laughs. The kind of boyishly cute laughter that is astoundingly infectious, especially endearing because Andy would chuckle after all his own jokes.
There are endless adjectives used to describe Andy, and they are all true. He was talented, gifted, kind, humble, genuine, peaceful, gentle, introspective, and humorous, just to name a few. But these words barely scratch the surface of Andy's personality. Andy, the man of few words, spoke via his own actions.
I'll never forget one day in January, Andy and I watched Mavis Staples from the side of the stage as we often did at festivals. He could have stood with anyone else, yet he stayed with me as I squealed and gushed over the amazing Mavis Staples. Most would consider my outward displays of fangirlism rather annoying, but not Andy. He savored the joy music brought others, even if it wasn't his own. I sensed my own expression was one he felt, too. Hours later, he found me in the crowd of 10,000 or so and it was dark.
Without a word, he reached in his pocket and handed me a folded piece of paper.
Perplexed, I began to open the folded paper and as I did, it dawned on me what Andy had just done. For once, it was Andy that had left me speechless.
He had given me the Mavis Staples set list.
He proceeded to say he didn't think he'd find me, so he was going to keep it in his guitar case to give to me when he saw me at another show. Andy's considerate gift will forever be cherished and dear to my heart.
That is the kind of human this world lost.
For a man that was not much for words, there are two that would stand out the most: authentic and thoughtful.
The ripple effect of his kindness extends beyond the music he used as a tool for joy or healing, or communication and that makes it difficult to imagine a world without Andy. I'm grateful I shared a sliver of time with him on this plane. Andy lived the good life, and while we wish he had one more night on the road, souls of his caliber are needed elsewhere, somewhere in the ethereal realm where he heals from the great beyond. He was an immeasurable blessing for all of us.
We are now left with the deafening sound of his silence and a blindingly brilliant shaft of white light illuminating down on Andy's now vacant space on stage. Andy deserves that warm applause.
Andy, please come out…and take a bow.