The WinterWonderGrass Music Festival has been an exciting treasure of Colorado and California for several years. Being an all-ages, community-centric event, with a variety of craft beer, cider, and local foods, it has earned the love and admiration of many who have attended. Not to mention that it features world-class bluegrass and roots artists who add musical entertainment to the mix. However, what was once thought to be an event almost entirely composed of local residents, WWG has made its first steps to expand its amazing winter lifestyle celebration to the east coast. After an impressive seven years in Steamboat Springs, Colorado and five years at Squaw Alpine Meadows in Lake Tahoe, Stratton, Vermont will be the first Northeast destination to experience this thrilling combination of high-quality artists and authentic partners/vendors from December 14-16.
Founder of WinterWonderGrass, Scotty Stoughton wished to make his vision of community, family, philanthropy and leadership into a fantastic display of music, craft beer, and cuisine appreciation. When asked about what WWG truly stands for and the motivation to create such an immensely popular communal event, he responded:
The inspiration behind WinterWonderGrass is to recreate the magic of ending your snow day at the base of the hill surrounded by family and friends, reminiscing about the days turns, while sipping a beer and listening to acoustic music. I learned to ski at Bromley, and those moments and memories are never far from my spirit. Living in the West, I have observed the expansion of ski towns and mountains, and I have a deep desire to recapture the true essence of the sport and communities that were built around mountain adventure!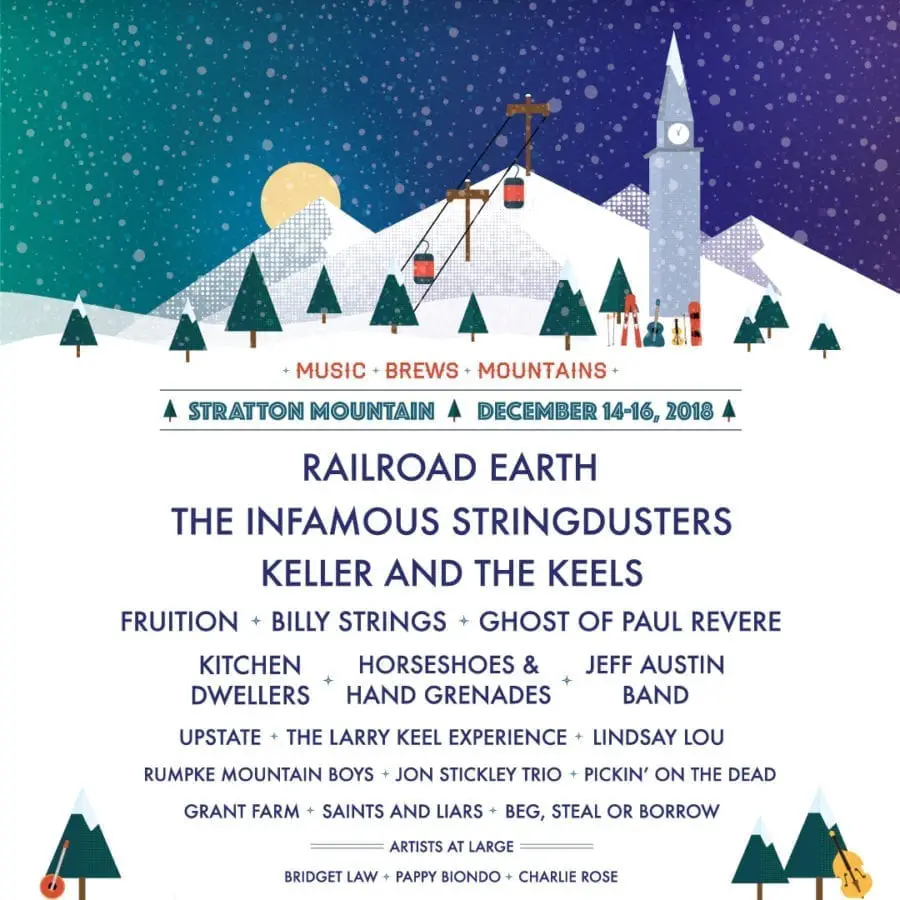 Out of the 20+ bands performing on four stages over the course of three days, Railroad Earth and The Infamous Stringdusters have already been announced to kick off the extravagant grassroots festival. The layout of the event itself is conveniently designed to accommodate all attendees, music lover or otherwise.
The outdoor main stage is flanked by three heated beer halls, where side stage acts deliver inspired performances, often joined by guest musicians. The audience then has a variety of delightful options to move from the main stage, to the toasty beer halls, to the coffee bar, kids zone and to on-site sponsor activities. This journey of winter music and spectrum of drinks is shaping by the day to include more attractive performers and contributors to make it an event you do not want to miss.
For further information on General Admission, VIP, and Ski Pass details, check out the WinterWonderGrass Music Festival website here and be set for the Northeast and Vermont's very own December debut of this iconic celebration.