Josh Holtzman is the co-founder of Cobblestone Live and General Manager at Buffalo Iron Works. For a complete review of Cobblestone Live 2018, see Jared Lindquist's article, "Cobblestone Live Hosts Successful Second-Year Festival." Visit the Empire State Music Podcast for all interviews, including an on-site discussion with Turkuaz' drummer, MIchelangelo Carubba, at this year's Cobblestone Live! festival.
It's Saturday, July 28, a breezy, sunny summer day in Buffalo, New York, where the second annual Cobblestone Live! Music Festival is well underway. Amidst the heavy foot traffic, intoxicating smell of a food truck's grill, and overwhelming sound of music flowing through the air, a busy Josh Holtzman, co-founder of Cobblestone Live! dismounts his Trek bicycle and radios to his colleagues, "team, this is Josh, be advised I'll be offline for a bit for a quick interview." Holtzman joins me to discuss the history of the Cobblestone district, the origins of the festival, partnership with the Child Advocacy Center, and plans for the future of Cobblestone Live!
Andy Hogan: Even five years ago, would you have imagined the Cobblestone District would one day host a major music festival?
Josh Holtzman: Honestly, this area was really only known for the [Key Bank] arena. Most people only knew of it because they saw the Sabers play here. Now, it's really starting to turn around. We have the Lockhouse Distillery, music venues, the comedy club…it's fantastic down here. 
AH: What can you tell me about the history of the area?
JH: The district itself is over 100 years old. Iron Works, the building, is 102 years old. Originally it was used for manufacturing; from steel works, machine works, iron works, etc… This was the industrial hub of Buffalo…even down the street a little bit, where the old first ward is, those were all factory and blue-collar workers that pretty much built everything we have today.
AH: How did the music festival come together? What was the jumping off point?
JH: it was early on last year. I've always wanted to throw a festival. Obviously, we have the venue, and we do 200+ shows a year, but we really wanted to throw a festival that was good for the community and is really something unique for Buffalo. Truth be told, I sent a quick text to Cory from Lockhouse and was like, "Hey dude, what do you think about closing down the streets and throwing a festival?" So, it went from something that sounds cool, to the actual reality of putting together a committee, we hand-picked our staff, and laid out the blueprints for what is Cobblestone Live.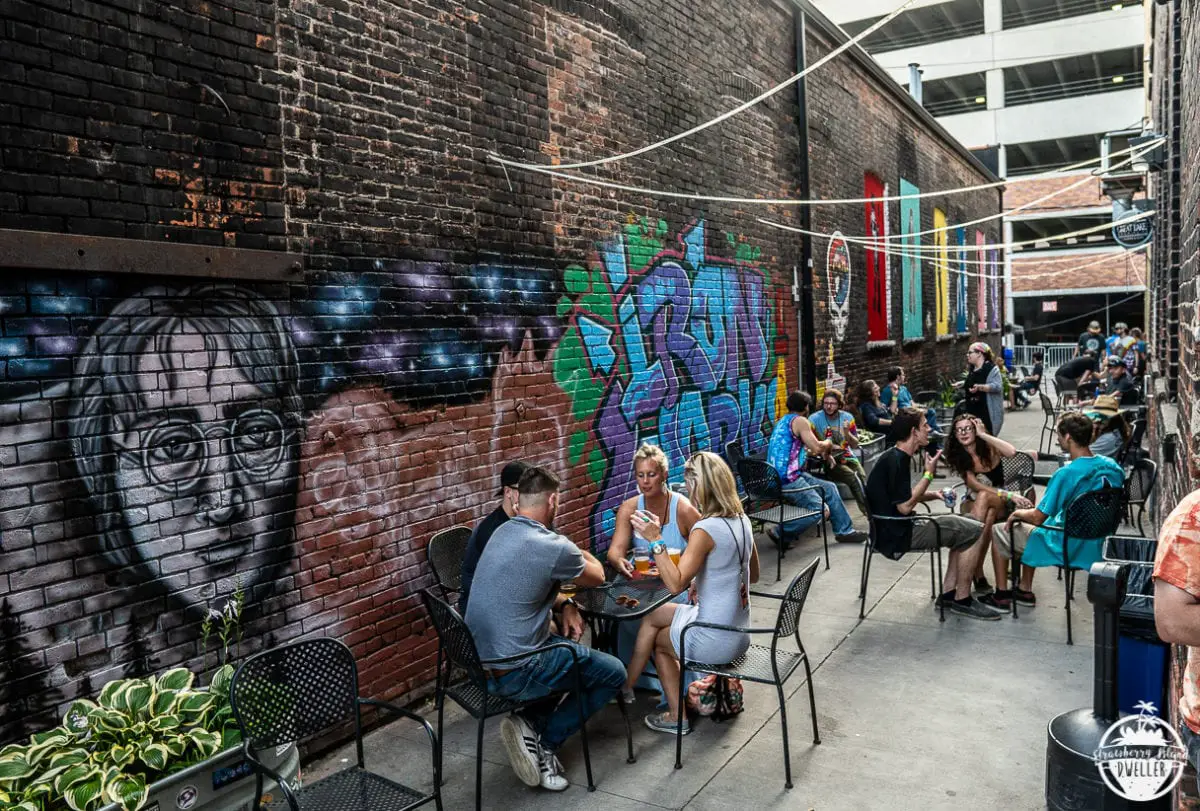 AH: Last year, in your first year as a festival, to have the line-up you did was really quite something. You guys had Moon Taxi, Aqueous, The Hip Abduction, and Real Estate to name a few. This year's line-up is just as strong, if not stronger, with Aqueous returning, plus Turkuaz, Chicano Batman, The Sheepdogs, and Broken Social Scene. What else has changed aside from the line-up?
JH: We added a lot of non-music programming, and festival experience. We also wanted to make sure that we did increase the line-up, and still get bigger bands. One of the main things we added was an additional stage, so now we have two outdoor stages, instead of one. I think that brings a really cool balance to the festival with people being able to go back-and-forth. As you've seen, we have alpacas down here, we have a dunk tank, we have some really cool vendors and graffiti artists. It's just really a cool vibe right now.
AH: There's even superheroes walking around!
JH: That's right! Comic-Con is in the house.
AH: In your mind, what does the process of crafting a festival line-up look like?
JH: For me, it starts as a fan first. Any artist I book, I'm a fan of. I really like what they stand for, and their music. The other side is really building a vibe that will encompass everything we're going for. You don't want to put too many artists of different genres together so that it's not going to flow, but, you can have fun with an eclectic line-up and really set it up so that it's an exciting time for everyone. So, it's a little bit of business and pleasure at the same time.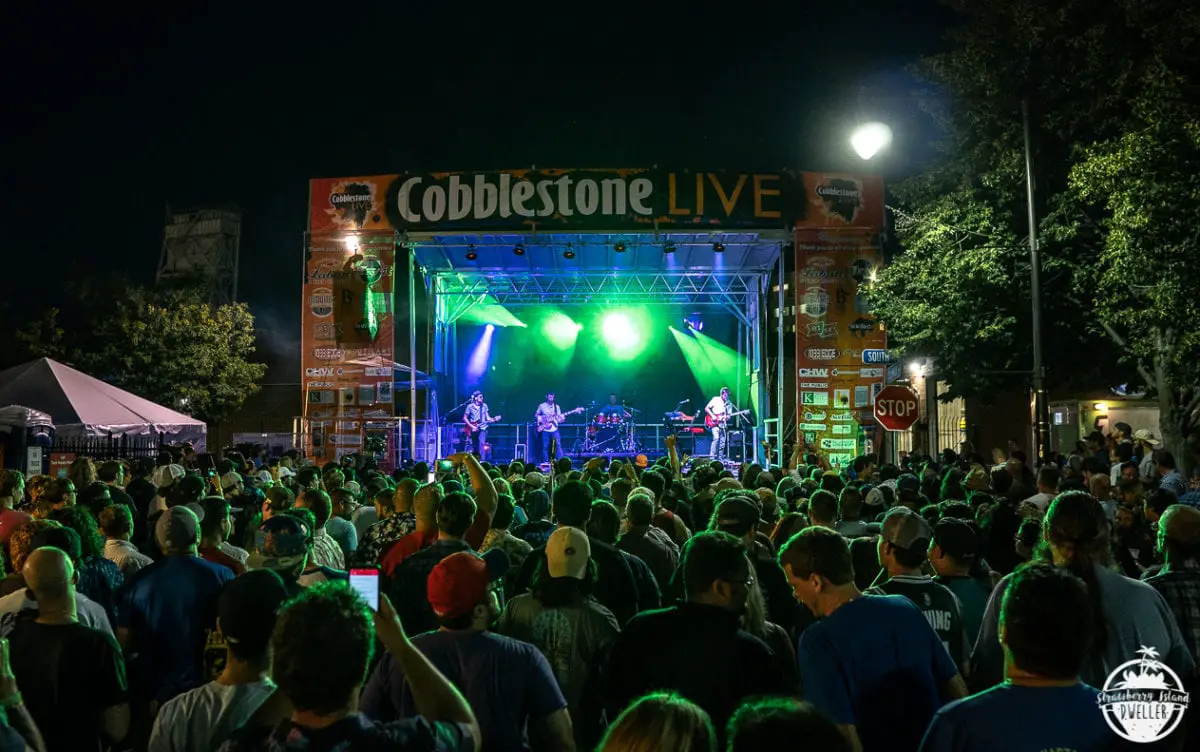 AH: Moving forward, as I can imagine this will be a long standing tradition, what are some other goals you have for the festival in the future?
JH: Looking down the road, we obviously want to keep raising awareness of the festival, and keep adding non-music programming. Down the line we're looking to add more outdoor stages, too. I don't want to say for sure that we're going to go for three days, but eventually it may get to that point. You know, it's just about having fun doing what were doing, and having the city catch on, to come on down and to have a great time.
AH: The other thing I wanted to ask you about is your partnership with the Child Advocacy Center; what can you tell me about them, and their relationship with the festival?
JH: It's really important to everyone who is involved in this festival to give back, in one way or another. We're not doing it for ourselves, we're doing it for the community. What they do over at the CAC is very, very tireless work. They are helping to stop child abuse and it's something we can all get on board with. Whether any of us were affected by it or not growing up, it still hits home and we're going to do everything that we possibly can to raise money for them, while having a good time doing it. I think this is the first of many years we'll be working with them, and honestly, we owe a lot to them. They provided all the volunteers for this entire event — nearly 100 people for two days, along with getting the sheriffs to donate their time to help us out.
AH: I know you're a busy guy, so I won't keep you too much longer, but I'm curious, what's the one thing about planning a festival that people may not think about, but you may be losing sleep over?
JH: You know, it's a lot, to say the least. I think one thing that people may forget is that the people who are doing this are doing it from their heart, they really care about it and it's not just a money grab. I think that goes unsaid for a lot of things, but it's a team that built all of this, and it's really important that we're doing it for Buffalo. We're here having a great time, but we're going to keep doing what we do for everybody out there.
This interview with Josh Holtzman was originally intended to air on Empire State Music Podcast, though due to unfortunate audio/technical issues, the conversation was condensed into written word.