Tedeschi Trucks Tuesday is the new unofficial title of the Wheels of Soul Tour, as every NY performance has fallen on this humble day of the week. July 10 ushered Tedeschi Trucks Band along with support from Drive-By Truckers and The Marcus King Band to the foothills of Canandaigua wine country. At CMAC guests can purchase full bottles of wine which the attendant will unceremoniously dump into the biggest plastic to-go cup imaginable. It's nearly impossible to resist a $16 bottle of blackberry "merlot" until you realize it's only 6% alcohol and tastes like sugar water with a fruity afterthought.
Never again.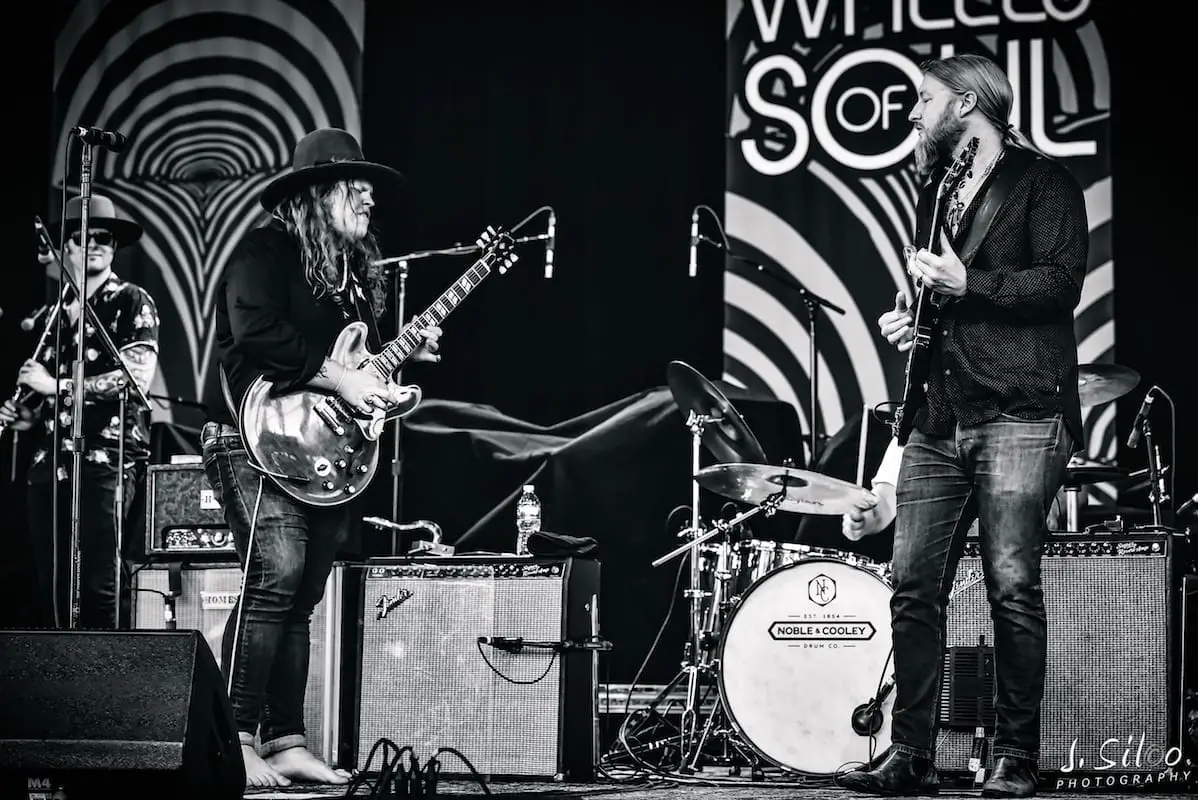 This regrettable beverage purchase was the only minor downfall of the night. Having never attended CMAC or a TTB show before, eager anticipation permeated the atmosphere. TTB's wide appeal drew a charming audience of young and old faces. The bands mirrored this age spectrum, as Marcus King himself is newer to the scene at only 22. Yet his band was a fitting choice to open the night, as they eased fans in with their blues rock style garnished with King's distinctive howling vocals for a heavier sound. He invited Derek Trucks to the stage for a tune which would be reciprocated later when TTB performed.
Drive-By Truckers offered more pop rock inclinations with a lighter demeanor. Nothing about their set particularly stood out, but it flowed nicely overall. Once TTB took the stage, the crowd erupted in cheers, electrifying the air with excitement. Their music is what love sounds like. It's nearly impossible to describe without being cheesy. It massages the ears and makes the heart flutter. Susan Tedeschi's voice and Derek Truck's guitar playing are the perfect marriage. Susan took a moment to address the crowd exclaiming, "It's been really special. We actually paddle boarded on your lake yesterday." Imagine splashing around in Canandaigua Lake and seeing Susan Tedeschi the queen herself paddling past. Play it cool though.
The only noticeable hiccup in their set came from the sax player when he went a little too avant garde during his complicated solo, making it too hectic to enjoy. But towards the end of the set the entire horn section rallied with the rest of the band conjuring an intensely energetic dance experience that temporarily transported the crowd to the jazzy streets of New Orleans.
Tedeschi Trucks Band hemorrhages emotion through delicate instrumentation, momentum building solos and gripping lyrics. The unwavering strength in Susan Tedeschi's voice could stand alone as something to see live, but the supergroup she is a part of does justice to every band member to create a musical experience that leaves the crowd in awe.
Stay tuned for a review from their July 17 performance at Artpark in Lewiston!
Setlist: Keep on Growing, Laugh about it, Just as Strange, Don't Know What it Means, Shame, Midnight in Harlem, Down in the Flood, Show Me, Let Me Get By, Going Going Gone, Rockin' in the Free World
Encore: I Want More/In Memory of Elizabeth Reed