Berkshires resident and world-loved music legend James Taylor crooned to a sold-out crowd at Tanglewood July 3, the first night of his traditional two nights at the rural venue near his summer home. The crowd filled every inch of the manicured lawn with blankets, tables, chairs and fine dining accessories, clearly reflecting that this wasn't the first JT concert attended by most fans. Inside seats were filled as the crowd sat in high humidity and heat, waiting with anticipation for the first set.
James Taylor was the first artist to set foot on the stage a little after 8:00, and he was met by cheering fans who quickly forgave the brief tardiness. The 70-year-old star appeared in his long pants, dress shirt and cap, and after brief waves, he slung his guitar over his shoulder as he sang "Carolina on My Mind."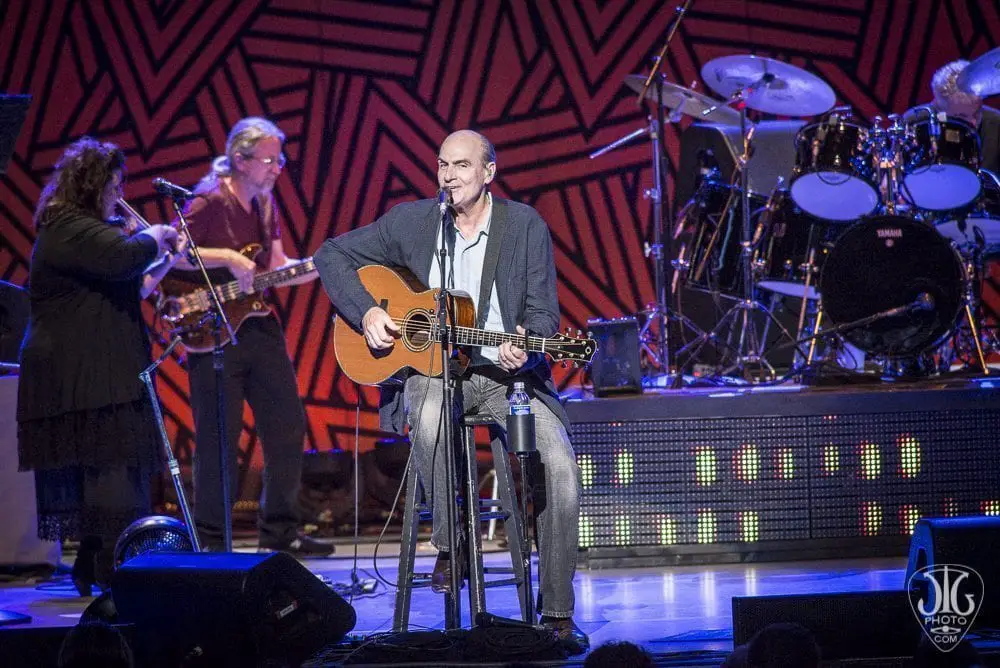 Taylor transitioned through both well-known pieces and some lesser-known songs in the first set. The light show, coordinated with the chorus and highlights of "Country Road," seemed intent to remind the audience that they are indeed at a rock concert, not a folk concert.
It would be a bumpy first set, though, marked by amp problems, some pacing issues, and low energy from artist and crowd alike. At one point after "Frozen Man," seasoned Taylor matched the key of the reverb from the amp and joked, "Do we have any songs in that key?" Using humor and his incredibly flexible vocals, Taylor kept the crowd engaged through some slower moments. He introduced band members throughout the first set, and indeed the band members, including 2 percussionists, a trumpet player, flute and saxophone player, three backup singers, pianist, fiddle and of course the customary guitar and bass, are an all-star band.  Taylor turned to look at each artist as he or she performed, and genuinely reflected an appreciation for sharing the music with the artists.
Folksy and dancing little jigs, Taylor covered "(I'm a) Road Runner" and danced around the stage. This seemed to wake the audience back up, but there was a bit wrong with the rhythm section and the band seemed off the pace with one another. "Copperline" saved the set, though, with Taylor's infallible voice finding its vertical pitches with beautiful ease. They rolled into "Handyman" and "Mexico," bringing the crowd to it's feet.
Before breaking for intermission, Taylor looked at the setlist and joked with the audience, pacing them for the twenty-minute break and promising "a lot of hits" in the second set. In between, he was on stage, signing autographs and taking pictures with fans.
The second set delivered on the hits, and more than compensated for any troubling moments from earlier in the night. Fans sang along to the most famous James Taylor tunes, swaying in the heat to "Something in the Way She Moves." Taylor impossibly made himself even more human and relatable with a song about his dog, Sunny, and shared adorable pictures of the pug. Each song in the second set related to the human experience: loving someone, losing someone, having a dog, being a friend.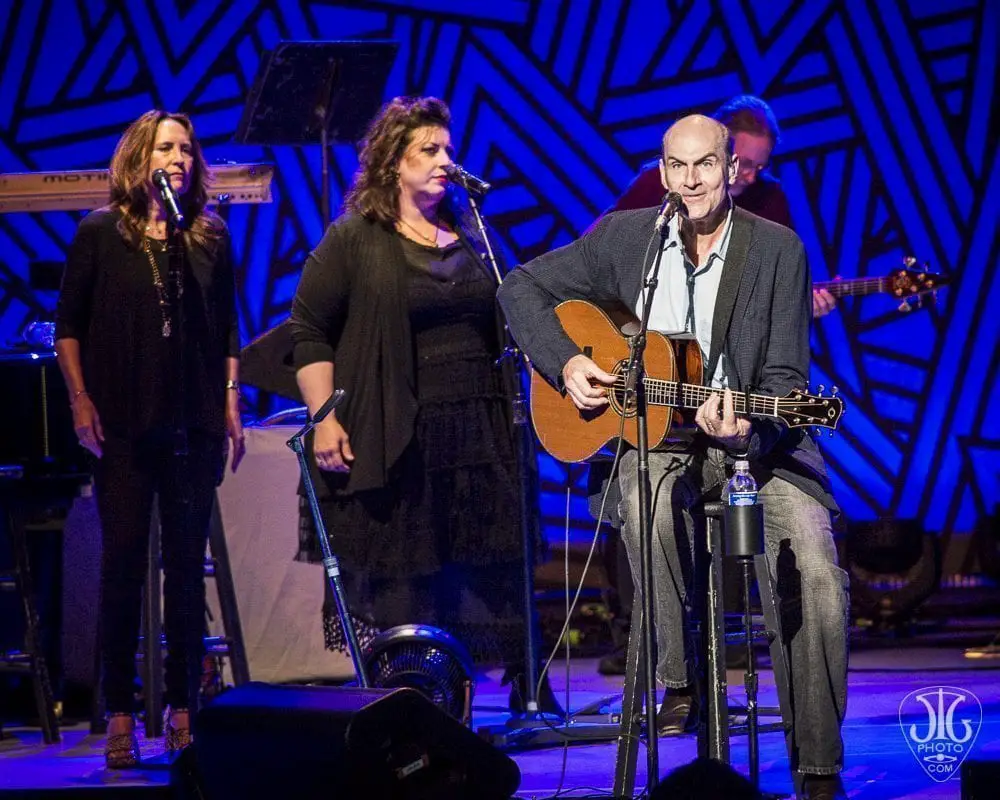 And that's really why people go to see James Taylor – the articulation of their own very human experience. We go to be reminded that we aren't alone in these hard emotions, and in fact everyone struggles with sadness, joy, and how to show love. "Shower the People You Love" brought the crowd to its feet, singing along and encouraging folks to do just that – show the love to those around you.
From "Sunny Skies" and "Walking Man,"the set transitioned to the faster, more intense rock feel of "Steam Roller." Playing on a baby blue electric guitar, Taylor's only electric guitar song featured some impressive riffs by the pianist, bassist, and sax players. Taylor waved his cap over the instruments, and jumped on one leg like an old time rock star, bringing gasps of joy and screams of love from the audience.
Filled with folks who had traveled long distances to get to Tanglewood, the crowd talked to each other with civility, gentleness, and a genuine interest in one another in the shed. Couples surrounding this reviewer came from New Haven, Rochester, and even Philadelphia. It had become an annual pilgrimage for many of them. When asked why the same smile crossed their lips, heads shook a bit in disbelief, and no one could really articulate a specific reason beyond loving the music. But with the encore of "You've Got a Friend," fans were truly speaking their hearts. James Taylor is their friend, their company in easy and hard times alike.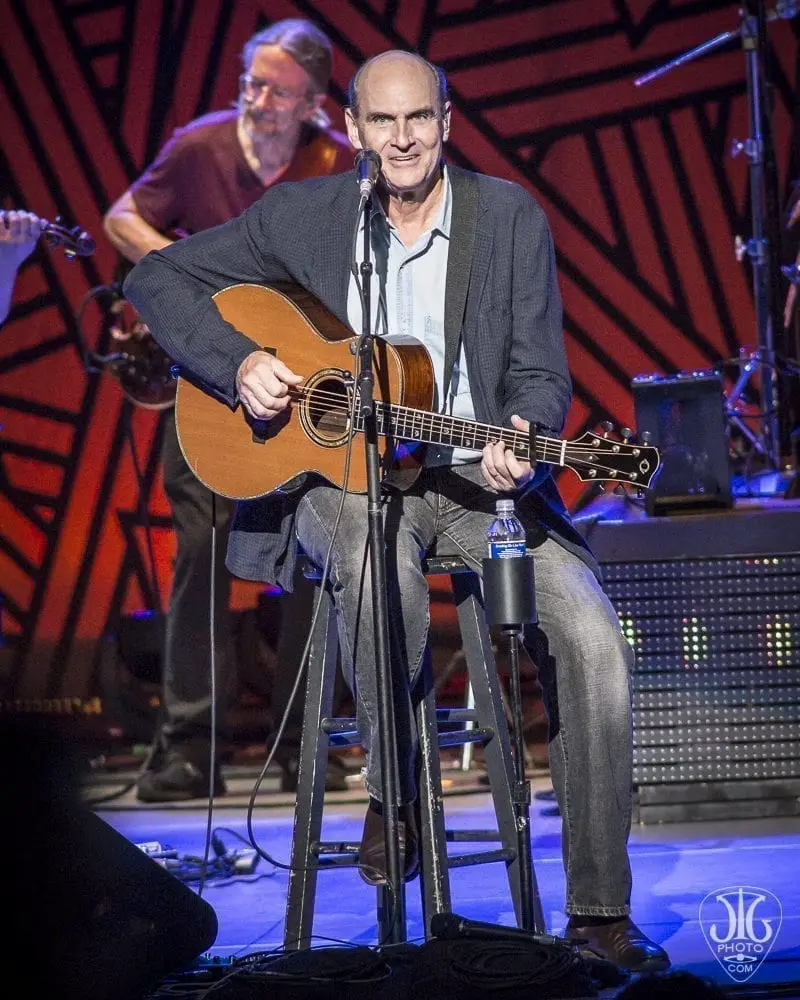 During this time of low civility, isolation, and sad news of disparities in our country, the concert offered a quaint respite in songs lending empathy, kindness, and intelligence. As long as he's performing at Tanglewood, clearly James Taylor has thousands of friends overjoyed to have him – and each other – on this American holiday weekend.
Setlist
Set One: Carolina in My Mind, Country Road, The Frozen Man, Never Die Young, Don't Let Me Be Lonely Tonight, Road Runner, Nothing Like a Hundred Miles, Raised Up Family, Copperline, Handyman, Mexico
Set Two: Something in the Way She Moves, Sunny Skies, Walking Man, Up on the Roof, Steamroller, Sweet Baby James, Fire and Rain, Your Smiling Face, Shower the People, How Sweet it Is
Encore: Shed a Little Light, In the Midnight Hour, You've Got a Friend