¡Viva Mayhem!, commonly referred to as Viva, is an eight-piece post-wave ska band out of Ithaca, NY which are fan favorite at the CFCU Summer Concert Series that takes place at the Bernie Milton Pavilion stage in Bank Alley on the Ithaca Commons. Sean Bonney-Burrill is one of the original member and founders of the band and still an active participant when he's not attending Berklee College of Music in Boston for Contemporary Writing and Production.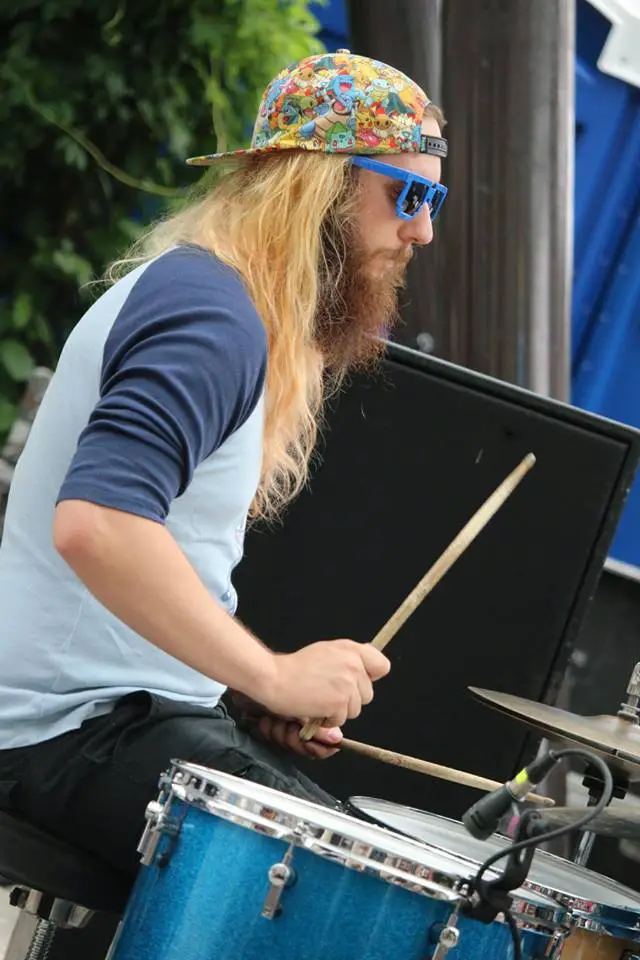 Nora Hones: So tell me a little bit about your position in ¡Viva Mayhem! and how the band formed?
Sean Bonney-Burrill: So my position in it is really weird because the band formed, I don't remember exactly what year it was formed, but it was five or six years ago as Mayhem Attack Squad and at the time I was the drummer for the band. And at that point, it was just two horn players, guitar, bass, drums and vocals and it kind of went from there to what it is today. Over the years I have switched gears, switched instruments many times. I went from drums, to doing vocals, to doing both vocals and drums at one point, but I didn't really feel like that had enough energy going on upfront. I felt like that we needed someone upfront to get the crowd excited so since we were having a hard time finding a vocalist that was sticking around in Ithaca, I decided to jump on doing the front man position for a while. Then when I went away to school, we got a new vocalist and a new drummer and I just sort of filled in on whatever instrument needed to be played when another member was out and besides that I would play aux percussion or keyboard. But right now, this summer, I am playing drums again which I haven't done in almost five years with Viva which is really awesome.
NH: So how long have you guys been performing at the CFCU summer concert series? Because I know this isn't your first year.
SBB: It's not the first year. I think it was two years ago we started. I know we opened for SAMMUS the first year we did the concert series. It's basically been since the series started at the Bernie Milton Pavilion after the Commons renovation ended. But we have a lot of fun each time. It seems like the CFCU concert series has been progressively growing a lot stronger each year and bringing in new and interesting bands and really getting some good talent from a bunch of different spots in New York.
NH: So what got you involved in it? Like did someone approach you or did you apply to be part of the concert series?
SBB: We did let the CFCU people know about us a few years ago and then it sort of just happened organically over time. As Viva was playing more places around Ithaca and getting their name out more and more we started not as much looking for gigs but working with people to put gigs together. Like I said we opened for SAMMUS our first year that we played the CFCU concert series and that gig was an Ithaca Underground showcase which is actually what we are doing again this year as the headliner instead.
NH: What is it about this concert series that keeps you coming back to keep performing at it?
SBB: Well, it always pulls a really cool crowd. You see people that you wouldn't necessarily see at other shows. It's great that it's free and a family event because there's definitely some festivals around town and stuff like that, but it's one of those few series that anyone can go and enjoy. You don't have to pay to go there. you don't have to be a certain age, we love that. We get to see a really diverse fan base from that. It also always feels like a really good way to connect with the community in a really cool way. It feels like a very quote unquote "Ithacan" thing to do. But besides that, like I said, they always bring in a lot of really cool talent so it's awesome to be put in a lineup with so many other cool bands who are doing really interesting things with their music in Ithaca and the regional area around Ithaca.
NH: So what do you think it is about you guys that makes this concert series want to keep bringing you guys back?
SBB: I would say that the number one thing that we have going for us as a band is energy and excitement. I think that we do really good job engaging with the audience and I think the audience really enjoys engaging back. It doesn't really feel like performer, audience, and like there's a barrier between the two. We really want to interact and make people have a good time, get people dancing, and I think because of that people think, "Oh this band is playing on the Commons, should we go? Yeah, we always have a good time. It's fun and dance-y." I think that's one of the reasons they enjoy us is because we are really excited to just go out and perform for people and show them the best time we can.
NH: You already mentioned it a little bit while we have been talking but I was wondering, as a participant of these concert series, what do you think a concert series like this can bring to a city?
SBB: Well one really cool thing they can do is make connections between different musicians that you wouldn't necessarily get to see at some shows because it's such a wide range of people coming to play these series. And I know, for myself, I love to check out all the other bands playing over the summer. And it's a different thing than if we were just playing shows and looking for other bands that fit a similar style to us, it doesn't necessarily work in the same way, which is really cool. Besides that, it's a way to see people in Ithaca that you wouldn't always see. It's hard to have enough money to go see all the great bands in Ithaca, so being able to check out some people who you couldn't make it to their normal shows at the concert series is really cool. It's cool to have that showcase on a Thursday evening when there isn't normally a lot else going on and they always have really quality acts so if you wanna go you know you're going to have a good time.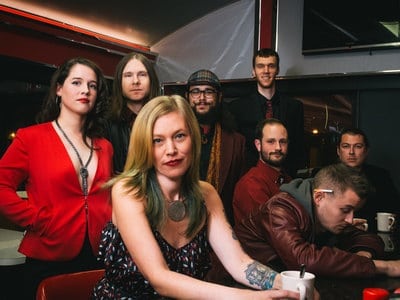 NH: Okay, so just to close us up, is there anything about Viva Mayhem we should keep an eye out for?
SBB: Well on Tuesday, July 3 we will be on WVBR with Tuesdays With The Band at 6 and we will be playing some music off of our newest album, we will be playing music live in the studio and just sort of be talking about the show with the CFCU concert series on Thursday July 5. Besides that, our next big thing we are really looking forwards to is playing at Big Mean BBQ where we will be playing with a huge, awesome lineup of regional musicians like Big Mean Sound Machine, Giant Panda Guerilla Dub Squad, Ithaca Bottom Boys and a bunch of other really fun bands. And that will be August 24 and 25 and we are really pumped to do that right now. We have a lot of new music we are writing right now, which has started to be introduced through our last few weeks of shows, so if you come out on Thursday you will probably get to hear something by us you haven't heard before.
The CFCU Concert Series takes place Thursday evenings on the Ithaca Commons. The series is a free outdoor concert series which is open to the public held every Thursday evening from 6-8pm. The series started on June 21 and runs until September 6 (with the July 18 concert moving to Wednesday evening and a special Saturday afternoon show on August 18 at 1 pm.)
July 5 – Viva Mayhem (Ska)
July 12 – Maggie Koerner (Soul/Rock)
July 18* – Taj Weekes & Adowa (Reggae/Afro Folk)
July 26 – Searson (Canadian Celtic Pop)
Aug. 2 – Fall Creek Brass Band (Brass Funk)
Aug. 9 – Stone Cold Miracle (Soul)
Aug. 16 – The Hilltoppers (Bluegrass)
Aug. 18* – East Hill Classic Jazz Band (Jazz)
Aug. 23 – The Blind Spots (Moxy Rock)
Aug. 30 – Kwame Binea Shakedown (Roots Rock)
Sept. 6 – Gunpoets (Hip-Hop)
*Denotes non-Thursday shows. Taj Weekes is performing on a Wednesday evening and East Hill Classic Jazz Band is performing on a Saturday at 1 p.m.
For more information on ¡Viva Mayhem! Visit their website.
For more information on the CFCU Concert Series visit their website.