Four years ago Matt Strong had an idea — an idea that came to him as he admired a painting a friend of his had done. The idea was to put together a fall festival celebrating Mother Earth and female musicians.
As the owner-operator of Rooted Entertainment Solutions, he was finally able to bring that to fruition at Woods Valley Ski Area in Westernville, site of the past two Woods Fest Music Festivals, this past Saturday at Harvestfest: Tribute to Mother Earth.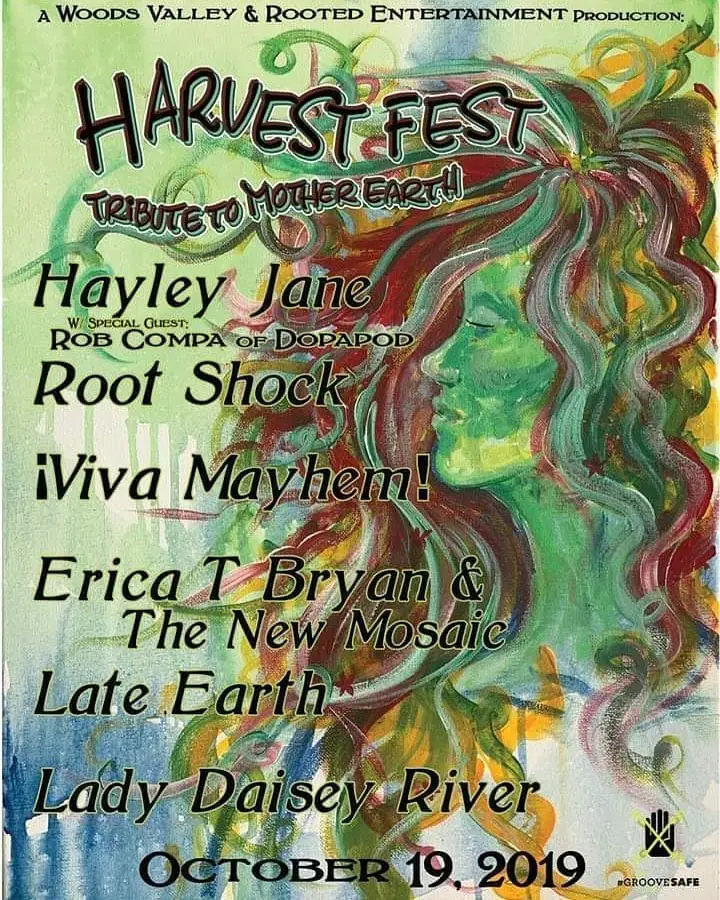 Woods Valley owner-operator Tim Woods and Strong put their heads together to create a regional fall festival drawing from bands with strong female musicians. The result was a full day of music, collaboration, vendors, good vibes and hats, lots of hats, that lasted into the wee hours of the morning. The event culminated with a female-heavy superjam that saw the ladies collaborating on stellar versions of Labelle's "Lady Marmalade" and Stevie Wonder's "Superstition."
Headliner Hayley Jane sat in with a number of the acts throughout the day and performed two sets with Rob Compa of Dopapod as well.
The lineup included Ithaca ska band ¡Viva Mayhem!, Connecticut neo-soul act Erica T. Bryan and the New Mosaic, Utica folk artist Lady Daisy River, Syracuse reggae-roots rockers Root Shock and Syracuse indie-punk-ska outfit Late Earth.
The running theme throughout the day was community. Attendees of all ages, including families, attended the event, greeting familiar faces and befriending unfamiliar faces. Attendees and musicians alike were seen mingling, talking music and art and just enjoying the beautiful weather.
Despite the fact that each band came from different backgrounds and different areas, there was a true sense of community felt among the musicians at Woods Valley. Many of them were meeting each other for the first time and became fast friends, with some even making plans to perform together in the future. This may have been an unintended goal in putting together such a festival but one that will surely benefit the Northeast music community for some time to come. The intended goal was surely achieved. This was a day to celebrate the power of women in music. There were several powerful performances throughout the day and one powerful organization that is quickly making its name in the live music scene.
The non-profit organization Groovesafe was on site during the festival. Groovesafe is a 501(c)(3) organization that brings awareness of the need for consent, to stand against sexual assault and unwanted touching at shows and festivals and to create safe and respectful dance spaces. It is a movement founded by Ashley Driscoll, following an incident at a Phish show in Las Vegas in the fall of 2016. To learn more about the Groovesafe movement and how you can donate or contribute to the cause, visit their website here.
Plans are already underway for Harvestfest 2.
Kari Feingold of Tailfeather, Hayley Jane and Ashley Driscoll of Groovesafe

Evan Bujold and Andrea Canale skanking during Viva Mayhem's set

Dwayne Keith from the New Mosaic sits in with Late Earth

Emily Hoyt, Hayley Jane, Andrea Canale and Erica T. Bryan Superjamming

Emily Hoyt, Andrea Canale, Hayley Jane, Erica T. Bryan and Jessica Brown (L to R)

Hayley Jane, Erica T. Bryan and Rob Compa

Hayley Jane

Brian Lauri, Jessica Brown/Root Shock

Matt Strong

Rob Compa and Hayley Jane

Root Shock

Root Shock

Root Shock

Viva Mayhem

Viva Mayhem

Erica T. Bryan and the New Mosaic

Andrea Canale/Late Earth

Brock Kuca/Annie in the Water

Evan Bujold/Late Earth

Rob Compa

Erica T. Bryan

The New Mosaic

Late Earth