Things you can buy with ten dollars: one beer in NYC, a chipotle burrito, almost a full priced movie ticket, OR you could save three dollars and buy a FULL priced ticket to Formula 5's own Rock the Dock Music Festival.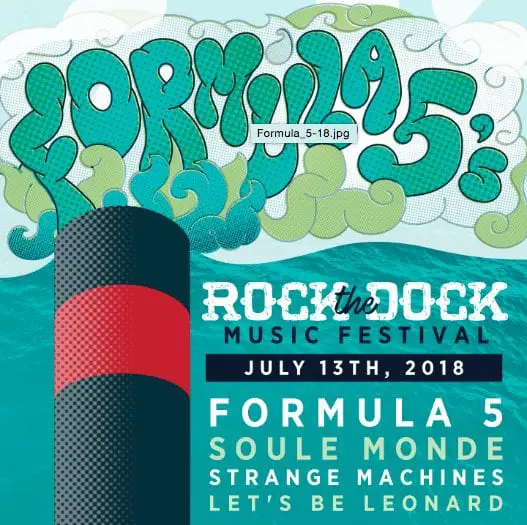 Ready to toot their own foghorn for the fest's second gathering, Formula 5 is bringing their familiar Upstate, NY jams back to the steel pier of the Lake George Steamboat Company on July 13, 2018.
Driving a tough bargain, the improvisational powerhouse is offering advanced ticket sales for just $7 a pop to enjoy a fun-for-all-ages summer day, filled with live music, vendors, beer, food and crafts. Boasting a handpicked lineup of Soule Monde (Featuring Ray Paczkowski & Russ Lawton of Trey Anastasio Band), Strange Machines and Let's Be Leonard, the entertainment can be appreciated from any of the three historic Lake George vessels that appropriately dock around the stage, acting as musical grandstands and welcoming wandering folk to explore free of charge.
"Rock the Dock was started as a way to celebrate the Lake George Steamboat Company's 200th anniversary by doing something that the company has never done in its history, hold a concert on the pier. The free concert was a way of giving back to all the loyal patrons as well as showcase the talents of local artists and food trucks. This year's festival will also be focused on giving back, with 25% of all ticket proceeds benefiting the FUND for Lake George, to help with their efforts to keep the lake clean and pristine for years to come," Luke Dow, event manager for Rock the Dock, shared about bringing the event to the docks on Lake George.
Saratoga Springs' Let's Be Leonard kick things off at 4 pm for an hour long set of rock n' roll jazz explosion before passing the baton to New England-based Strange Machines at 5:15 pm for a melting pot of funky rock and livetronica fusion. At 6:45 pm, Soule Monde will take the stage, featuring Russ Lawton and fellow Trey Anastasio band member, Ray Paczkowski. An ideal union of swagger and raw talent, the duo is colorful, bold and highly responsive to one another's artistry. Lake George's own Formula 5 will once again take shape as this year's headliner at 8:15 pm. Every performance by Joe Davis, Matt Richards, Greg Marek and James Woods is unique, leaving the listener excited for where the band may venture with their broad range of styles.
"It's pretty cool growing a band from such a little town. We play all over the Eastern watershed and to have so many people gather in a place that molded who I am, it's pretty special," said drummer Greg Marek. "This place is pretty special. I'm just happy I can share the beauty of the lake along with our music to such wonderful people."
If the music and cheap ticket price isn't enough to reel you in, food trucks like The Plaid Pancake, Wood Shack Pizza and Sunshine Catering will keep your bellies full while a beer truck and bars on all three ships will keep your thirst quenched. Vendors will include Buffalo Bannon Designs and Adirondack Aromatherapy as well as other unique craftspeople selling soaps, oils, jewelry, festival gear and more.
Day-of ticket prices for this year's festival are $10 for ages 12 and up, and is free for everyone under 11. Advance tickets are for sale for only $7 at rockthedocklakegeorge.com. 25% of the ticket proceeds will be donated to Mayor Blais's FUND for Lake George to help in it's efforts to keep Lake George clean, pristine, and free of invasive species.
Visit Lake George on July 13, support local causes, vendors and artists, and get ready to Rock the Dock!