Next year marks the 50th anniversary of the movie "Alice's Restaurant," based on the song by Arlo Guthrie. To commemorate the occasion, Guthrie is arranging an extensive tour which will stretch from the fall of 2018 through 2020. The majority of shows just announced for this fall will take place in New York and surrounding states. They include a hometown show in Great Barrington, Massachusetts on Nov, 17 and a return to Carnegie Hall on Nov. 24. See the full list of dates below.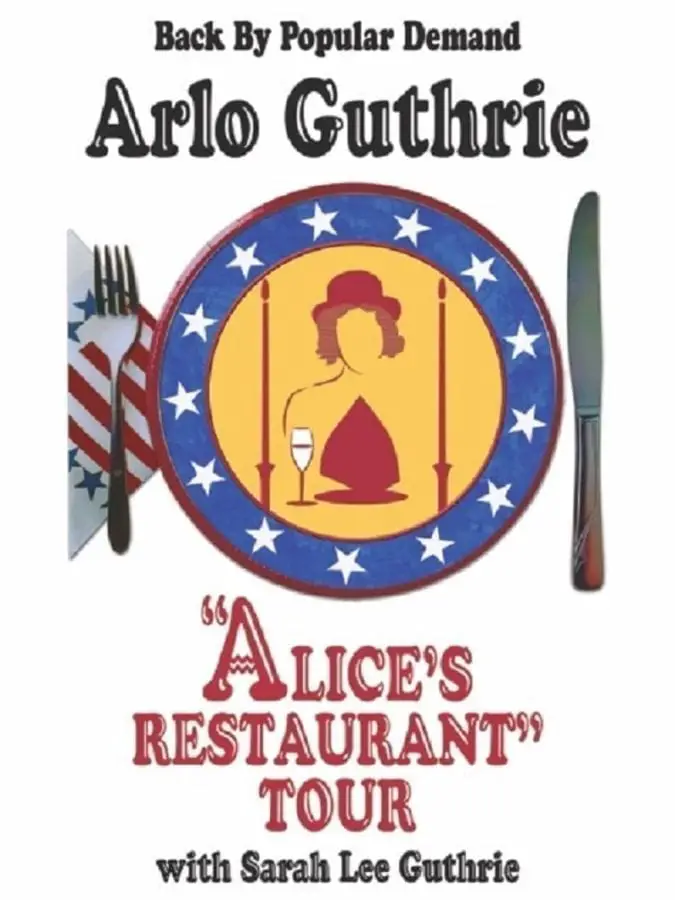 Guthrie wrote a folk song about a series of incredulous events that began on Thanksgiving in 1965. "Alice's Restaurant Massacree" struck a chord with the anti-war counterculture. By 1967 Guthrie had gone from playing small clubs to playing festivals and stadiums.
"Arthur Penn (who had just finished filming Bonnie & Clyde) heard the record when it came out in 1967," recalled Guthrie in an interview with NYS Music. "He also happened to live in Stockbridge, where the events took place. He thought it would be a great idea to make it into a movie. And he did."
For this tour, Guthrie will be joined on stage by longtime collaborators Terry "A La Berry" Hall (drums), Steve Ide (guitar, vocals), and Carol Ide (vocals, percussion). His daughter, singer/songwriter Sarah Lee Guthrie, will be opening each performance.
"I didn't think I was gonna live long enough to have to learn 'Alice's Restaurant' again," Arlo Guthrie says with a smile. "It was a quirky kinda thing to begin with. Nobody writes an 18-minute monologue expecting fame and fortune. The initial success of the song really took me by surprise more than anyone else… I'm surely looking forward to it again being a centerpiece of my live repertoire."
Arlo Guthrie Presents The Alice's Restaurant – Back By Popular Demand Tour
Oct. 4  – Count Basie Theatre – Red Bank, NJ
Oct. 6  – Gordon Center for the Performing Arts – Owings Mills, MD
Oct. 7  – Keswick Theatre – Glenside, PA
Oct. 10 – Spruce Peak Performing Arts Center – Stowe, VT
Oct. 12 – Palace Theatre – Manchester, NH
Oct. 13 – Durgin Hall – Lowell, MA
Oct. 14 – Memorial Hall – Plymouth, MA
Oct. 19 – NYCB Theatre – Westbury, NY
Oct. 20 – College Street Music Hall – New Haven, CT
Oct. 21 – Paramount Center – Peekskill, NY
Oct. 24 – The Greenwich Odeum – East Greenwich, RI
Oct. 26 – The EGG – Albany, NY
Oct. 27 – State Theatre – Ithaca, NY
Nov. 1 – EJ Thomas Hall – Akron, OH
Nov. 2 – State Theatre – Kalamazoo, MI
Nov. 7 – Ron Robinson Theater – Little Rock, AR
Nov. 9 – Wildey Theatre – Edwardsville, IL
Nov. 10 – Wildey Theatre – Edwardsville, IL
Nov. 11 – Buskirk-Chumley Theater – Bloomington, IN
Nov. 16 – Infinity Hall – Hartford, CT
Nov. 17 – Mahaiwe Performing Arts Center – Gt. Barrington, MA
Nov. 24 – Carnegie Hall – New York, NY
More dates will be announced. Stay up to date on ArloGuthrie.com.