JAZZ IS PHSH is in the middle of their Northeast tour across New York, with stops in New Hampshire and Boston, bringing with them an incredible lineup of musicians who explore the music of Phish with a focus on improvisation of the group's many compositions.  Adam Chase, co-founder of the JAZZ IS PHSH ensemble, is introducing broader audiences to not only the music of Phish from musicians who did not come up in the jam world, but to also introduce Phish fans to musicians that may or may not have been on their radar.
The current tour includes familiar faces in the jam scene such as Rob Compa of Dopapod, a Berklee School of Music graduate who has been performing recently with Mike Gantzer of Aqueous, where you can hear Compa's jazz influences come out from a smooth sounding acoustic duo. A trio of horns features trombonist Alicia Aubin of Big Mean Sound Machine and Ithaca College alumni who has performed across the country with the high-energy funk band, and as far away as China and Russia. Rounding out the horns section are Carl "Geerz" Gerhard and Dave "The Truth" Grippo of Phish's Giant Country horns, the latter two of which performed with Phish numerous times in the early 90's. Grippo continues to perform with Grippo Funk Band in the Burlington area and has toured with Trey Anastasio Band on numerous occasions.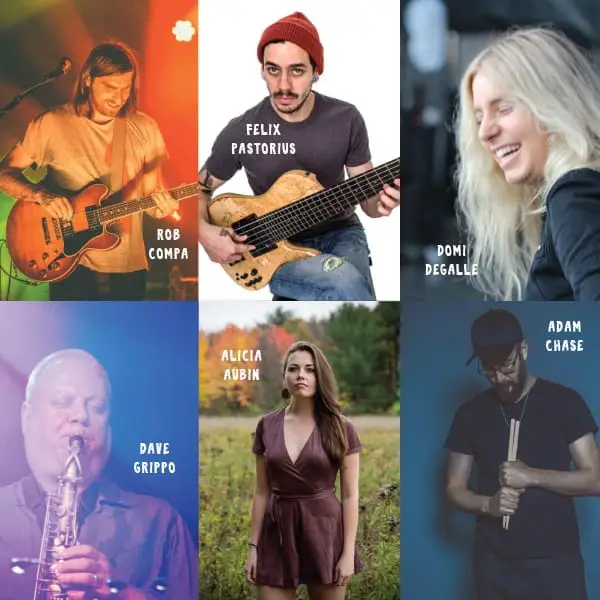 Familiarity with these players will make jam fans feel at home, while Felix Pastorius and Domi Degalle will add in fresh jazz takes on the music of Phish. Son of Jaco, Felix Pastorius walks in his father's footsteps as a bass guitarist, who at the age of 19 was recommended by Victor Wooten to fill the bass chair in Jeff Coffin's Mu'tet. He won a Grammy with jazz mainstay The Yellowjackets, and now based in New York City, has started his own projects, including an incredible jazz fusion group The Hipster Assassins. Domi is a teenage musical prodigy and was brought up in a musical family in France and began playing music at age 2, entered Conservatory at age 5 to study classical and jazz. She is now studying on a full scholarship at Berklee College of Music and has performed with the likes of Thundercat, David Gilmour, Ghost-Note, MonoNeon, Louis Cole & More. Both musicians are well known in jazz circles and join the band for a different angle on the music of Phish, a twist on your everyday troupe.
The group will perform this month in Albany at The Egg on June 27, at Buffalo Iron Works on June 28, and ANTHOLOGY in Rochester on June 29. They recently stopped at Brooklyn Bowl to perform with Strange Machines on June 16. Check out a photo gallery over at Relix. Adam Chase, who also plays drums in JAZZ IS PHSH spoke to NYS Music about the upcoming shows and how their interpretations of Phish's music stands apart from others.
Pete Mason: How did you assemble this tour's lineup for Jazz is Phish?
Adam Chase: I really like combining musicians from a variety of backgrounds on each show, whether it's older and younger musicians, male and female, black and white, etc. And for this project the musical backgrounds being diverse is very important, regardless of gender or ethnicity.
Having a combination of musicians that are familiar with the music and musicians that never listened to Phish before I introduced them to it is the best recipe for really doing justice to the compositions while pushing the boundaries of what the tunes can sound like.
For this run I am particularly excited about having the teenage piano prodigy, DOMi, on the road with us. Having grown up in France and having her exposure to music in America be through jazz and classical professors at Berklee School of Music and through her collaborations with Thunder Cat, Knower, and Ghost Note, her lack of knowledge of Phish has been really fun for me. She is so talented that she can take the sheet music I give her and not only play the complex compositions with ease, but is also able to expand the ideas and improvise in a way that I've never heard within the framework of a Phish song.
Being able to pair her talents with Felix Pastorius is very exciting for me as well. As many people know, Felix is the son of Jaco Pastorius, which carries a fair amount of weight for the level of talent one would expect, but what a lot of people don't know is that Felix himself is one of the best bassists around and he has his own voice on his instrument. His knowledge of music and his approach to playing bass is mind bending and he is one of my favorite musicians to play with.
In addition we have Rob Compa of Dopapod who is great guitarist and amazing human being, Alicia Aubin from Big Mean Sound Machine who will be making her debut with us and Dave Grippo of The Giant Country Horns. It's always fun for me to play music with guys like Carl Gerhard and Dave Grippo, because growing up in the 90s as a Phish head, I had a ton of cassette tapes of those guys playing with Phish. They are quintessential figures in the Phish experience.
PM: What makes the interpretations of Phish's music done by JAZZ IS PHSH different from those of other Phish tributes?
AC: There are lots of Phish cover bands. I don't consider this to be a Phish cover band, though it is absolutely a Phish tribute. I may be splitting hair with terminology, but when I think of a Phish cover band, I think of a band trying to play Phish songs like Phish did in attempt to recreate the experience of seeing Phish (or as close to that as they can get). With Jazz Is Phsh our goal is to create a unique experience, where the music is a vehicle for incredible musicians to put their own identity into the music. Not just from an improvisational perspective but also from a compositional perspective.
Every song that we have done arrangements for have happened in a group setting with musicians that range from Chris Bullock of Snarky Puppy and Kofi Burbridge of Tedeschi Trucks Band, but also Michael Ray of Sun Ra Arkestra and Anthony Wellington of Victor Wooten Band. With each arrangement, we have not only reharmonizes the vocal melodies to fit into a horn section but for many songs we have composed original parts, reworked existing parts and even mashed up Phish songs with jazz songs and in some cases even jazz influenced hip hop.
A recent mashup we did took the popular Phish cover "Yamar" (which is actually an old calypso song) and mashed it up with the Q Tip song "ManWomanBoogie". What makes this mashup so cool is that the Q Tip song was a variation of a sample of a Wayne Shorter jazz piece. What makes this so relevant to me is that jazz is often trapped in a box and held to just being swing music or a sound associated with the legends of the origins of jazz. But jazz is much more than that. Just follow the career of Herbie Hancock and you will see how jazz has evolved into funk, hip hop and so much more. The idea of jam music to me is the intersection of jazz and rock and roll. So to be able to explore the brilliant music of Phish in this way is what jazz is all about.
PM: Is there an era of Phish that lines up with the sound of Jazz is Phish more than any other?
AC: I think what we are doing is very unique and different so it would be hard to say if it lines up with any particular era of Phish. I do however enjoy turning on musicians to some of the early compositions of Phish as the complexity of the arrangements are very "Zappa-esque" and provide a challenge and in some cases an explanation of what a musician would find so charming about Phish's music. But really there are Phish songs throughout their career that lend themselves so well to a horn driven, instrumental, funky jazzy setting.
PM: This is your first time in Albany, and you're playing in The Swyer Theater at The Egg – what can fans expect from a show in this intimate venue?
AC: We are particularly excited to play this beautiful room. It's always special when playing this type of music, to be in a room with great sound and a great feel. It really opens up the dynamics of the music and the creativity the musicians feel. I find that shows in rooms like this, feel like they have room to breathe, which is very exciting. I am looking forward to really giving each musician an opportunity to showcase their talents while also exploring the music collectively in a way that will really connect everyone in the audience with everyone on stage. When everyone on stage and the audience are all listening wholeheartedly and in the moment, magic can be made.
JAZZ IS PHSH Tour Dates
June 27 at The Egg Performing Arts Center, Albany NY
June 28 at Buffalo Iron Works, Buffalo NY
June 29 at Xerox Rochester International Jazz Festival at ANTHOLOGY, Rochester, NY
July 5 at Sweetwater Music Hall, Mill Valley, CA
July 7 at High Sierra Music Festival, Quincy, CA
July 8 at High Sierra Music Festival, Quincy, CA