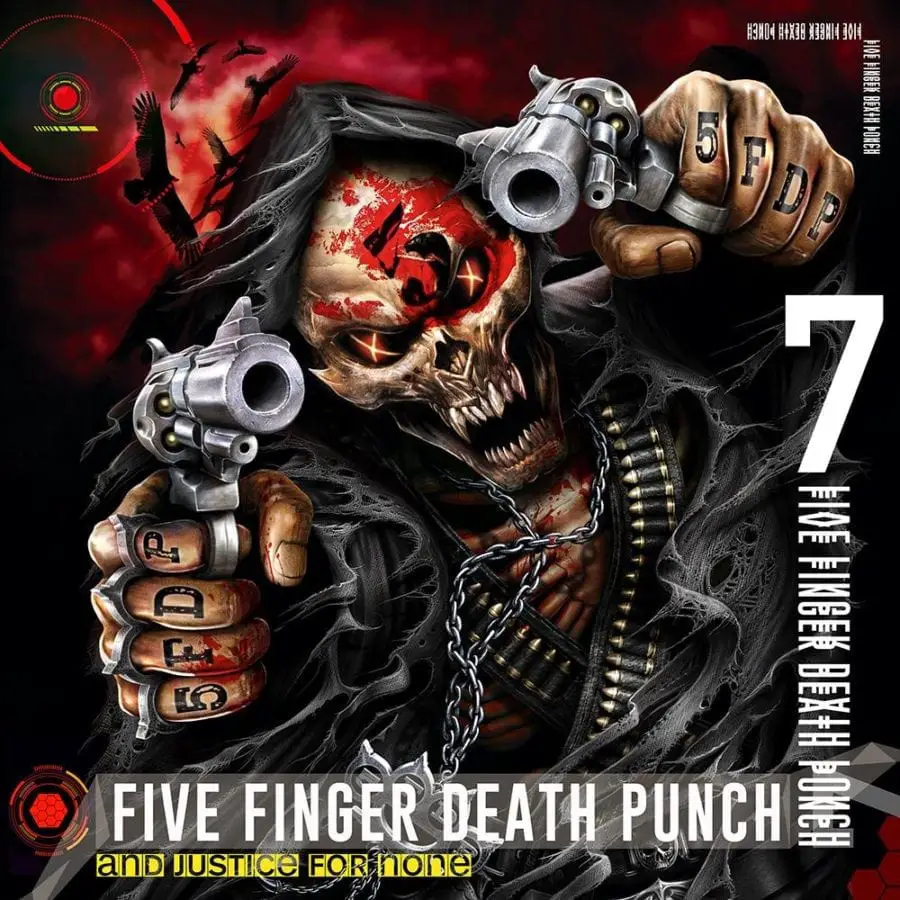 I was tasked with reviewing Five Finger Death Punch's new album And Justice For None but after listening to it I was hard pressed to find anything to enjoy. Over the years 5FDP has achieved a reputation of sticking to a formula, this isn't a bad thing by itself, some people want more of the same formula that 5FDP has mastered but then there are those like me that wish the band would at least try to progress their signature sound, every member is a talented musician and artist which is why I was so disappointed by And Justice For None. The band is trying out a few new things on the album while sticking to their signature sound which resulted in the album feeling like an experiment backed up with the tried and true.
For some reason there's a cover of Kenny Wayne Shepherd's "Blue On Black" but 5FDP decided to turn the blues rock song into a country song. Let me repeat that. Five Finger Death Punch, the most mainstream current metal band covered a blues rock song as a country song. I'm not sure why or who this is supposed to appeal to but there it is.
"Sham Pain" was an interesting experiment with some actual insight into Ivan's inner struggles. Ivan showcased his range accompanied with a nu metal tinged sound that I wish was explored in more songs.
"Fake", "Top Of The World", "Fire In the Whole" and "It Doesn't Matter" are all standard angsty songs that have been done so many times by the band that it all feels manufactured.
"I Refuse", "When The Seasons Change", "Bloody" and "Will The Sun Ever Rise" are obligatory soft emotional ballads that I can no longer take as genuine due to how common these songs are in every album.
And for an added bonus there's the cover of Offspring classic "Gone Away" that debuted on their greatest hits album A Decade of Destruction and I still can't figure out what anyone was thinking when covering the song. All the emotion and heart of the original is replaced with Ivan's tired woes of despair.
Overall I wasn't expecting much and I wasn't wrong. The past couple of years have been rough for 5FDP and it shows. Here is a band that for better or worse is the biggest mainstream metal band comprised of nothing but talented individuals who fail to showcase that talent (for proof listen to Ivan from his Motograter days). I'm not going to give the album any more listens because it just wasn't for me, I have plenty of 5FDP albums that I can listen to which sound 99% the same as And Justice For None. Instead I will be looking forward to Eternal Crypt's debut on July 21st at the Bug Jar, checking out Ancalagon who have been on my list of bands to give a listen for a while now and when I get my paycheck will buy Necrostalker's new album, Bloodstained. Three Rochester metal bands who are worth giving a chance. You can listen to And Justice For None now on Spotify
Key Tracks: Sham Pain, Bad Seed, Blue On Black