Bonnaroo days bleed together and it was hard to resist the sun making a full circle upon The Farm, as birds chirped at 5:30am – music still thumping from The Ville and Kalliope. With Eminem, Anderson.Paak, and two sets of Bon Iver today, it seemed hard for them to compare to the rising wave of 16-year-old Billie Eilish. She was the talk of Roo – before, during, and after her set.
Read Part 1 of NYS Music's Bonnaroo coverage HERE.
Earlier on, she spoke to press about her quick rise to stardom, losing those 'friends' close to her and fighting a fake internet-driven world. She was unfiltered and spoke like any 16-year-old would, but something so intriguing and real laid beneath the surface.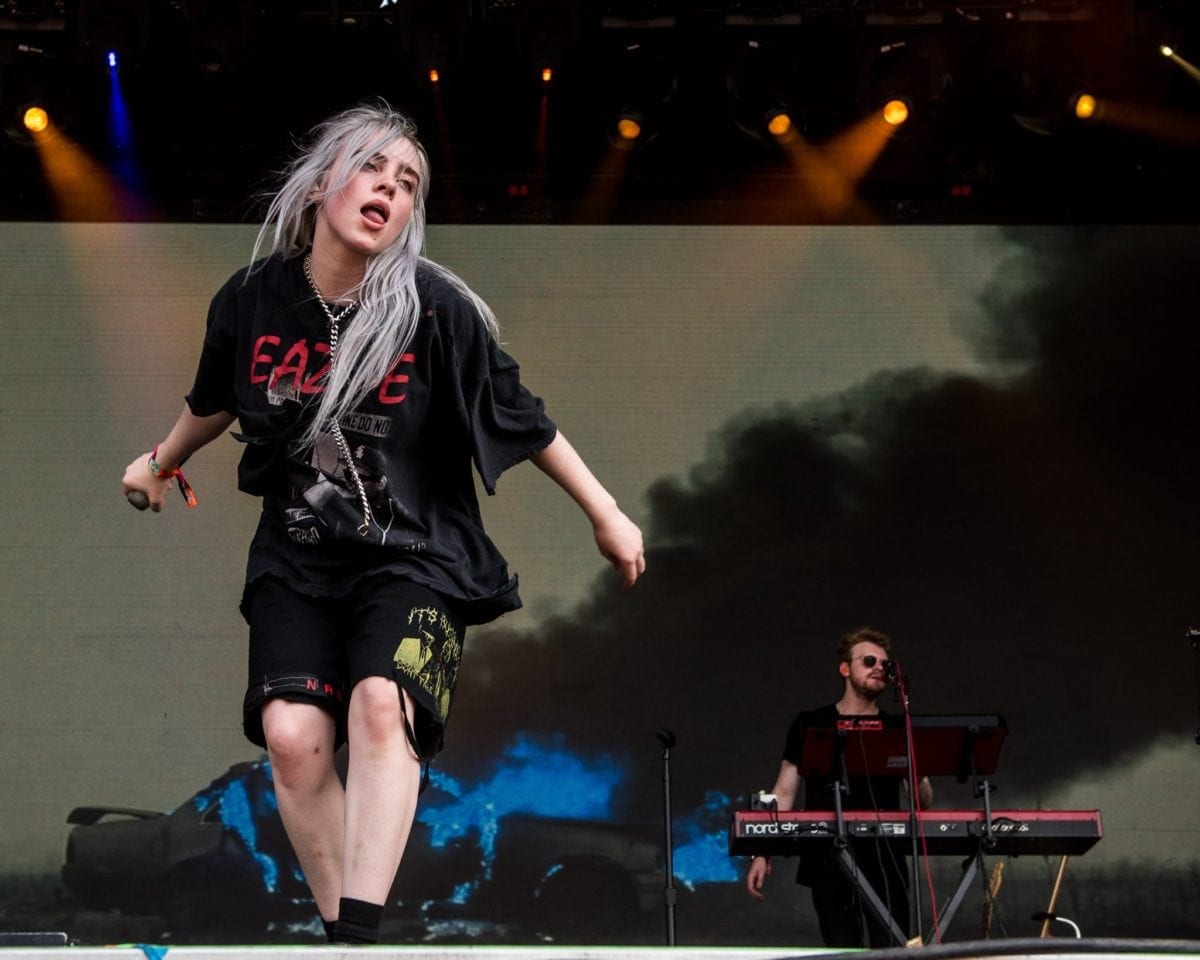 It wasn't until she took the Which Stage that teens flocked and the rest not much older. Whispers and smiles filled the crowd about her age and attitude. That discomfort Eilish felt off-stage suddenly disappeared as the barriers blended into all of Centeroo. Her music is seamless in hope and heartache as intimate feeling slowly cuts.
"Put your hand up if there's somebody you fucking hate out there," screamed Eilish – finger pointed up. It was unanimous. She is human and her music speaks to us. Eilish continued in choreographed dance with her brother and stage partner, Finneas O'Connell. They played "Lovely" for the third time ever at her debut-Roo performance as well as the catchy dance groove of "my boy" that's refreshing, moving Bonnaroovian's parallel to Eilish.
As Eilish concludes, "Those of you who fuck with me, thank you … And those of you who don't fuck with me [pause]. Thank you too." The crowd willing drops to the hay-filled grass with little effort for Eilish during the bridge of her final song. Bodies drive up with hard crashing drums bordering your favorite rock-dub breakdown.
Captivating music and artists like Eilish continued to pour in including rapper, drummer and producer Anderson .Paak, First Aid Kit and Old Crow Medicine Show. Rebelution took That Tent by storm along to Bon Iver's first set on Which Stage. The Rebel-horns were fiery, screaming out with improv every chance they could. Glowing totems danced with the packed crowd and swayed with lighters on mellow tracks like "Fade Away."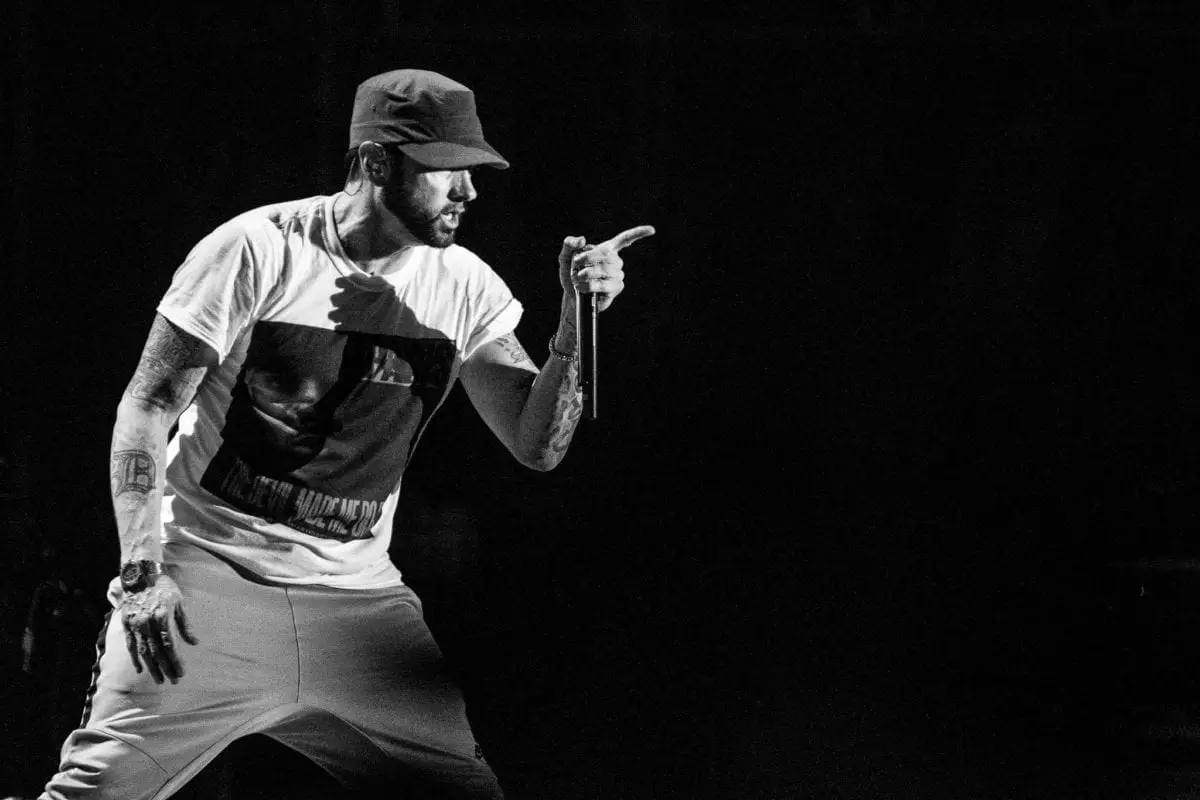 A white curtain was draped from What Stage as a Godzilla-spoof Eminem appears on screen. The crowd goes nuts and the curtain falls to Slim Shady himself spitting the tongue-twisting Dr. Dre cover "Medicine Man". It was just like a scene out of 8 Mile – hands swaying back and forth with "Kill You," "Rap God" and "Like Toy Soldiers." Fireworks blast into the night sky during "White America." The set caused immediate controversy about alleged 'gun shot' sound effects during the performance.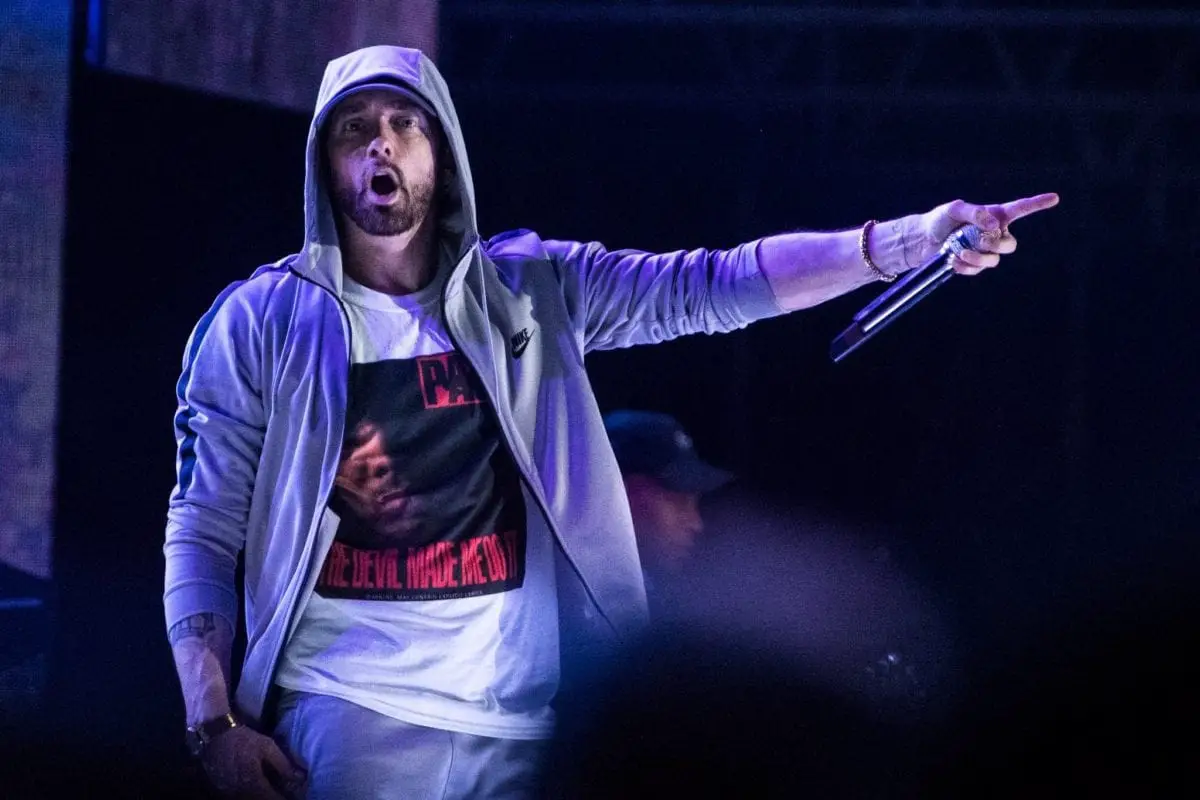 Bon Iver's second appearance on Which Stage was poetic. It was hard to categorize it in purely musical terms. It was moving. Opening with a heartfelt acapella chorus of "Heavenly Father." Likewise, TU Dance accompanied the ensemble with white t-shirts stamped "PEOPLE," reminding us we are all human. It was as if Bon Iver didn't exist, there was just music and pure emotion. Iver featured a five-piece trombone section and countless guest including Francis and the Lights, Sylvan Esso, Moses Sumney and Naeem Juwan. It was captivating and the crowd agreed, swaying slowly or too mesmerized to move their eyes away from the stage.
It was unbelievable to think, most haven't experienced this many bands in a lifetime let alone in three days. Sunday morning crept upon us and frankly it was hard to digest all the music we loved, wanted to see and the ones we didn't, but had got sucked into the live performance anyway.
For the fourth and final day at Bonnaroo, it hardly felt like the end. Canada's Broken Social Scene played That Tent with a massive 10-piece band. They could have gone wherever they wanted and still griped the crowd's attention. "Texico Bitches" and "Shampoo Suicide" moved Bonnaroovian's equally. The band was drum-driven with dynamic and transparent intent. "I don't have much to say, we're just gonna keep playing….On the count of three, let everything out and scream as loud as you can." The music had taken over. "One more time." The crowd yelled beyond belief.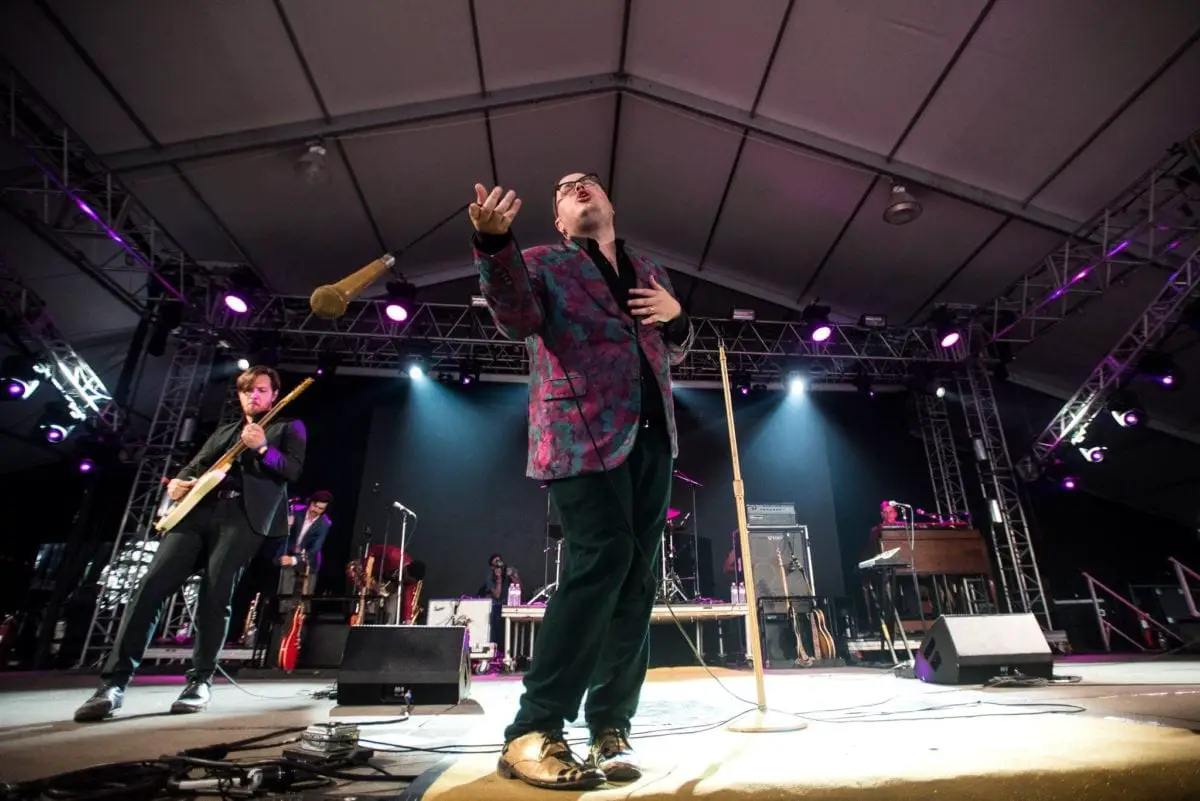 By this point Bonnaroo fever had caught up with us – trapped between the heavenly vocals of St. Paul & The Broken Bones or Moon Taxi's third return to Bonnaroo. St. Paul was unruly, biting the cord and letting the gold microphone dangle from his mouth as the band slows in a mountain-sized retard. The band fades away.
In route to Moon Taxi, you were halted by the experimental trio that is Daniel Caesar. The drums would not let up – what seemed to be a 12 minute constant solo. The keys and bass kept pushing and pulling during "Streetcar," while Caesar expresses his love of felines. "Do y'all like cats? [crowd cheers] Do y'all know my cats name? I try to facetime my cat every day…dead ass [seriously]."
By the end of Moon Taxi you could feel the world during "Two High." It was real – invading your brain. We were floating like beach balls as big as the moon. Three of them surfed the crowd during screaming keyboard-synth solos on "Make Your Mind Up". Seriously, where did they come from?
The band also paid it forward with a rock mashup of "Lose Yourself" [Eminem], "All These Things That I've Done" [The Killers] and MUSE's "Uprising" as the amber-sun came down on Tennessee. When there are just too many bands to see, take the 'moon taxi' whistling the melody to "Good As Gold."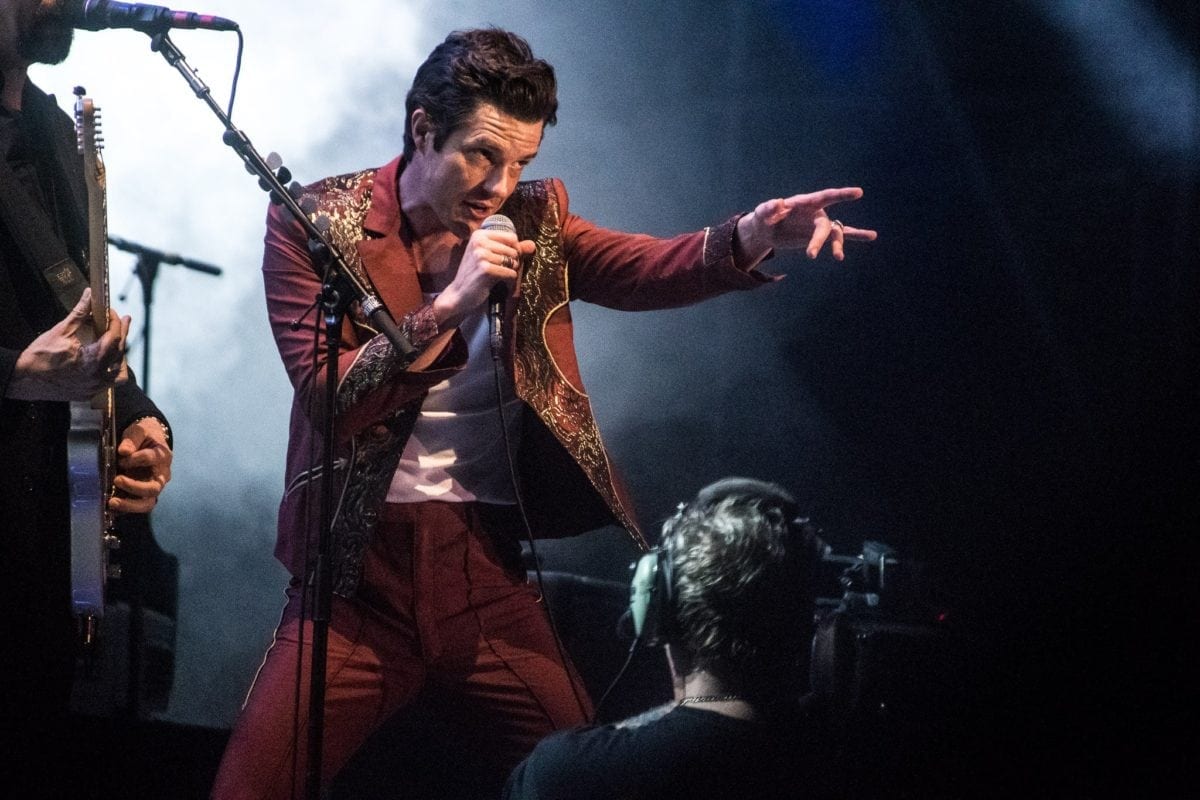 Finally, the end was upon us although it didn't sink in until you woke up singing "Mr. Brightside" at 6:30 Monday Morning. The Killers were fantastic, bring a Las Vegas strip show to Bonnaroo. Brandon Flowers dressed in an all red suit with gold pleats mirroring a modern day Elvis.The Killers played a Tom Petty tribute of "American Girl" with the intro of "Free Fallin." It was wild. Fireworks filled the sky. Stage lights were beaming through the night on The Killers first Bonnaroo gig.
Ambient keyboards began. Two notes and Roo instantly goes wild, screaming at the top of their lungs. Flowers licks his lips and grins back at them – then turns slowly to the band. "I don't think they're ready. Did you get that one in the back," he looks out. Bonnarovians are going wild and the keys lean into the same two notes as before. But this time, a little harder and longer…
"Read My Mind" was only the beginning of the end. A near 15 minute wait cued an encore of "The Calling" and "When You Were Young" featuring a collective Bonnaroo choir: I got soul, but I'm not a soldier.
So as you can see this whirlwind we call Bonnaroo is unlike no other. It is ever expanding. The festival takes eight or more months to prepare 24/7 – nearly twice as long as any other festival. With dates booked for June 13-16, 2019. We can only wait to see what will top a fantastic 2018 Roo.
Bonnaroo Day 3 Gallery
Day 4 Gallery