Ponder, known for spelling their name with a lower-case "p" and as one of Buffalo's up-and-coming alt-rock/jam groups, is hitting the road on June 23 in Rochester for their eight city tour across New York and for the first time ever, Vermont.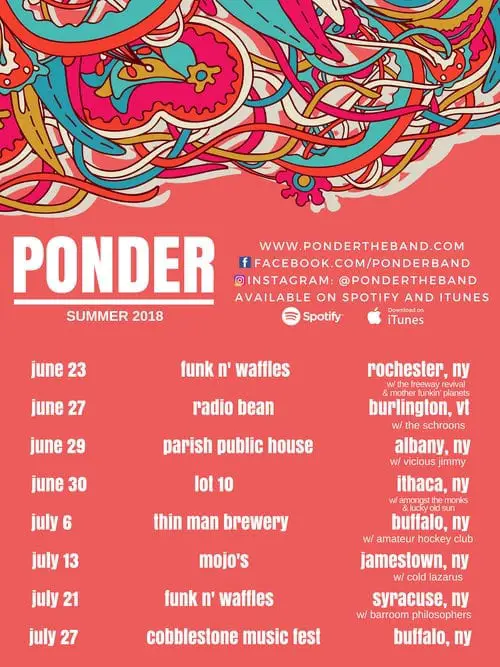 Ponder was formed in 2015 as a solo project of songwriter Gabriel Birkby, but quickly morphed into a band and has become a Buffalo fan favorite. This is their first time hitting the road since 2017 when they visited spots stretching from Buffalo, clear through New York City. They've undergone some major line-up changes within the last six months and the group is now somewhat of an amorphous funk/rock powerhouse and are known for constantly having their friends in music hop-up on stage.
The band's lineup setting out for the summer tour consists of Gabe Birkby on vocals/lead guitar, Andy Hogan on bass, Paul Sottnik on keys, and Rochester's Marcus Peters on drums.
Tour dates:
June 23 – Funk n' Waffles – Rochester, NY (w/ Mother Funkin' Planets & Freeway Revival)
June 27 – Radio Bean – Burlington, VT (w/ The Schroons)
June 29 – Parish Public House – Albany, NY (w/ Vicious Jimmy)
June 30 – Lot 10 – Ithaca, NY (w/ Amongst the Monks & Lucky Old Sun)
July 6 – Thin Man Brewery – Buffalo, NY (w/ Amateur Hockey Club)
July 13 – Mojo's – Jamestown, NY (w/ Cold Lazarus)
July 21 – Funk n' Waffles – Syracuse, NY (w/ Barroom Philosophers)
July 27 – Cobblestone Music Festival – Buffalo, NY
For more information visit their website or their Facebook  or Instagram. Their music can be found on Spotify and iTunes.