All videos and photographs by Nora Hones.
The Top Dawg Entertainment Championship Tour touched down at the Northwell Health outdoor amphitheater Theater at Jones Beach State Park in Wantagh, New York on May 30 and gave the audience every bang for their buck. The tour consists of Kendrick Lamar, SZA, ScHoolboy Q, Jay Rock, Ab-Soul, SiR and Lance Skiiiwalker. SZA is currently still out due to her vocal cords being damaged but the rest blew the crowd away in her absence in a one of a kind show.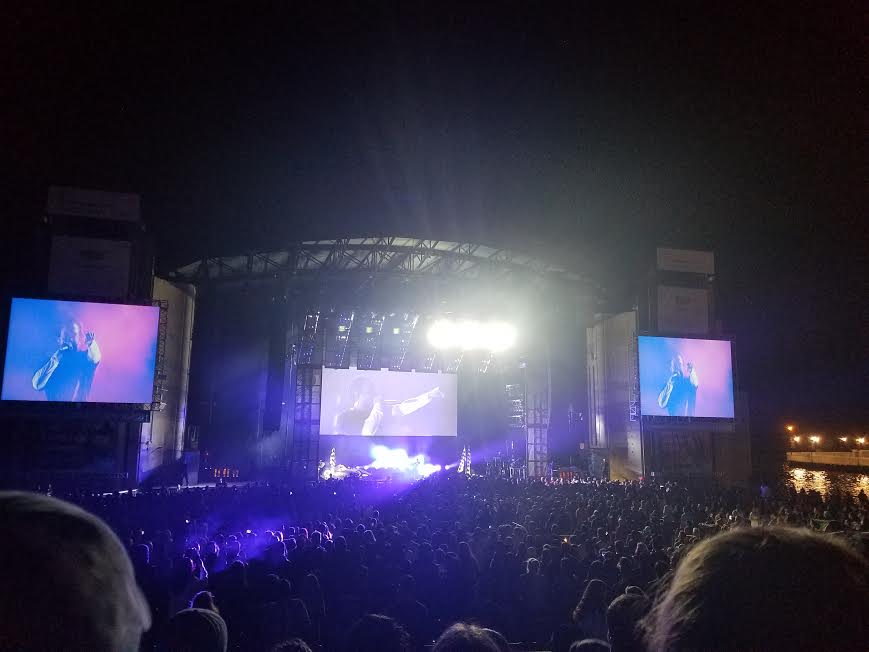 When arriving at the event, the parking lot was packed with people from every age range which would be an unexpected gem when going to a rap concert but that's what you get when you have a headliner like Kendrick Lamar– it's more than understandable. With his recent win of the Pulitzer Prize he has shown his worth to all generations. The set opened up with Lance Skiiwalker who performed only one song and then moved on to Ab-Soul who performed three songs.Than SiR entered the stage. SiR wasn't an artist I had previously known but he's not someone I'm going to forget after seeing him perform. During his set he had to deal with technical difficulties where there was no sound and then where only his vocals and none of the backing tracks or live accompanying band came through the speakers but he handled it like a champ and ended up performing through it anyways.
Next came Jay Rock who put on a show performing,"King's Dead" off of Black Panther: The Album, which was one of the first singles off the record that was released, to the crowds excitement. Even though the song features Kendrick Lamar, Future, and Jay Rock on the studio version the fact that only one of the three was on stage was barely noticeable because of the amount of energy and devotion Jay Rock was putting into the song. Next ScHoolboy Q came out on stage to perform his set list and this is when the audience really started to get excited screaming along to their favorite songs including "Collard Greens" which cut short just before Kendrick Lamar's verses leaving the the audience hungry for Kendrick Lamar to appear.
Than after all the waiting and anticipation the king finally made his appearance standing on a stage half way above the stage and opened with his hit song, "DNA" with the background behind him reading "Pulitzer Kenny." He proceeded to perform an array of songs from his albums, Good Kid, M.A.A.D City, To Pimp a Butterfly, Untitled Unmastered, DAMN and Black Panther: The Album. To the crowds delight and my own he performed quite a few songs Good Kid, M.A.A.D City which was a welcomed and exciting surprise. He said that he just felt like playing songs of his old stuff to the crowd which everyone was more than happy with screaming along to every word.
https://www.instagram.com/p/BjdNIMJH44C/?hl=en&taken-by=nystatemusic
He continued to wow the crowd performing, "X" which features ScHoolboy Q, 2 Chainz & Saudi in the studio recording with ScHoolboy Q live and "Money Trees" with Jay Rock and performed, "King's Dead" for a second time which the crowd wasn't expecting in the slightest and from the look of Jay Rock's face when Kendrick Said something along the lines of, "Let's do King's Dead again" he wasn't either. The show ended on Kendrick telling the crowd he hadn't been to Jones Beach since 2011 and he wanted to kick it up a notch and performed his hit song, "Humble" twice. Once with barely any music and with the crowd just singing the entire song and then once with the full music and Lamar accompaniment. To quote the guy behind me talking to his friend about what he was going to do after the show saying, "I guess I'm gonna cry myself to sleep tonight, idk man" sums up the show experience, unbelievable and sad that it's over.