Imagine being in a band and living the rockstar life in your 20s—touring, recording, the whole bit. Life happens and you part ways for a mere 44 (Go Orange!) years. Then imagine getting a second chance to write a fresh record and perform live with the group of your youth. That's the story of Syracuse Area Music Awards (The SAMMYs) Hall of Fame inductee Jukin' Bone. For years, the band never quite received the recognition they deserved until now. And this recognition sparked the idea to get together and work as a group again. NYS Music sat down with Joe Whiting and Mark Doyle to discuss the past and present of the roots rock band.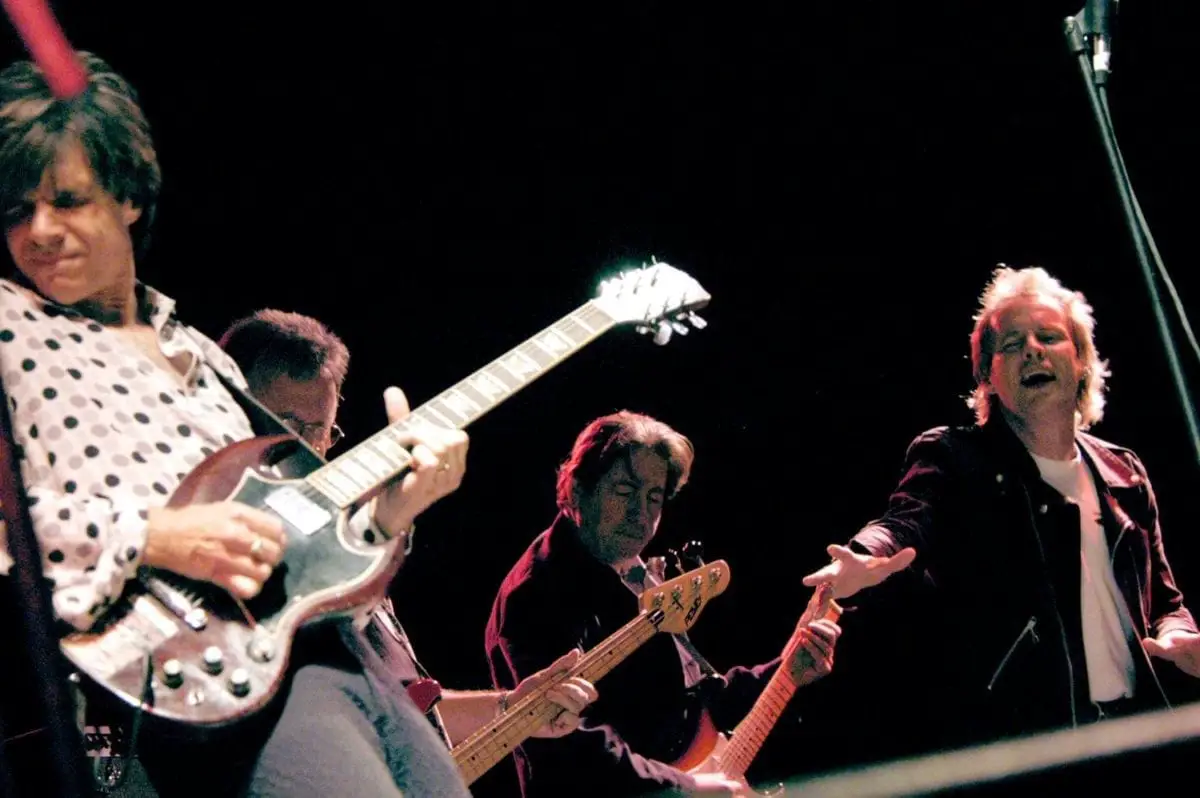 Creating the Initial Group
Joe Whiting, a Skaneateles, NY native, and Mark Doyle, hailing from Auburn, NY, met when they took part in a jam session hosted by a music teacher. They were aware of each other for a couple years and things clicked the first time they played together. Whiting and Doyle played a couple of gigs with some rotating musicians-"bits and pieces"- before they formed a real group. Doyle said the group's formation was "serendipitous" and formed around 1968.
Doyle was teaching guitar lessons at Music Mart, a music store that used to be in Auburn. Dick Howard, a bit of a local legend and shop owner, introduced Doyle to their would-be drummer: Tom Glaister. Tom was out on a Salvation Army truck delivery when he stopped by the store to say a quick hello to Howard. "[Doyle and Glaister] hit it off and somehow he ended up in the band. These things just happened" according to Doyle. Doyle then met George Egosarian at "The Beach" on Marshall St. in Syracuse. Though it's not there today, it was a space that was across from what's now Pita Pit for those familiar with Syracuse's Marshall St. today. It was a big grassy area next to a parking lot where the "hipsters" used to hang out, smoke weed, drop acid, etc. Egosarian started on bass in the group and later transitioned to second guitar. John DeMaso eventually joined the group and became the bass player. Glaister left before the second album, and his talents were so great they opted to replace him with two drummers to fill the void: Danny Coward and Kevin Shwaryk.
Record Deal and Name Change
Before the group was called Jukin' Bone, they were known as Free Will. Free Will signed with some promoters that worked with Concerts West on the premise that they could help the band secure a record deal. The band played a brutal showcase in New York City that was five sets a night for five consecutive nights. The showcase attracted A&R scouts from various record labels to sign new talent. The band's efforts were rewarded when they received two record deal offers: one from Janus Records and a "better" offer from RCA. The band signed with RCA.
RCA had strict union policies and mandated that their artists record only in their studios. When someone ratted the band out to RCA for recording a demo at a non-RCA studio, RCA said they had to change the name. Whiting recalled that they had to record the demo again in RCA's studios just as a formality.
"The first RCA album was a disgrace" according to Doyle. Their producer, Lewis Merenstein, had the vision to record a live album at Electric Lady Studios. Live albums can be a great way to capture the live energy, but their final product was greatly compromised by the hippies off the street in attendance and the "buffet of booze and drugs." The group would stumble up to the stage to perform multiple takes and the "least offensive takes made the record." That was Whiskey Woman. The second album was slightly better because it was recorded in the studio, but it still wasn't what they considered their best sound. That was Way Down East. Neither album adequately captured the essence of Jukin' Bone's sound.
Eventually, RCA bought the band out of their agreement before they recorded a third album. "By then the wheels started to come off in all aspects."
Besides the recording, the group shared their music on tour all around North America, from New York to Minnesota, Florida, Texas, and more. They opened up for the Allman Brothers, ZZ Top, The Kinks, and John Mayall just to name a few.
While opening for John Mayall at a college in Rochester, the power went out not 1, not 2, not 3, not 4, but 5 times! This was a rocky start as this was during their first song. But they earned fan support as they persevered and played through it.
Though their tour life was relatively mild, they did manage to crack up a few Winnebagos in their travels. When traveling to Texas, they'd drive without stopping from New York. "You gotta be young and high" to do those drives.
The Interim
Before they reunited as a group, Doyle and Whiting kept up with their musical careers and continued their friendship even as the band parted ways. Whiting did stints with Bobby Comstock who had a few hits in the late 50s, Elf, and Savoy Brown. He really focused on his own band for years which opened for Van Halen.
Doyle, who also had an interest in production, worked on a number of records playing and producing. Doyle found that working with great producers was a fantastic way to learn. He played with Meat Loaf and spent time with the record producer Tom Dowd. He saw how to bring performances out of musicians when he observed Arif Mardin in the studio with Andy Pratt. He also hooked up with David Werner and learned from that experience how NOT to produce a record.
Unfinished Business
Fast forward to 2017/2018. The band finally earned the recognition they deserved in the Syracuse community. Whiting called Doyle and asked him "what if we got together and made the record we never got to make?" Doyle didn't even have to think about it before saying yes. George Egosarian and John DeMaso were also on board and they got to writing.
Prior to this, Doyle had played on a couple of Jimi Hendrix project albums for an Italian record label. The head of the label contacted him ten years later and asked about leasing the early Free Will music. (Not Jukin' Bone!) This call happened to be the day after Whiting phoned Doyle and this gave them a way to fund the new record.
Aptly named, Unfinished Business is a true Jukin' Bone masterpiece comprised of all new material. They wrote from scratch, not relying on any residual music from the past.
The first song written was "Nothin' to Lose." The old Motown song "Ain't No Stopping Us Now" was stuck in Doyle's head, and was a sentiment the group felt with this fresh chance. They eventually came to "Ain't Got Nothing to Lose" to substitute in the song instead. Egosarian, "the master of the unobvious phrase," got to work on the lyrics which Joe fine tuned later. They were off and running with the rest of the album from there.
The old Gibson SG was used on the new record; Egosarian played it on "End of the Bar" just to have it on there. When asked about how his voice has held up all these years, Whiting says he doesn't really have a secret in terms of maintenance. He feels has a better high and low end than he ever did, and he feels his voice has held up because he says, "I never shut up."
They recruited Syracuse University professor Josh Dekaney to play drums on the album. They wanted a percussionist with a classical training like their former drummer. The album was recorded as they wrote between Doyle's home studio and More Sound Recording Studio and engineered by Jason "Jaco" Randall and Andrew Greacen.
They went into this new project with no expectations. They just wanted to make good music and set the record straight!
Key Tracks: Nothing to Lose, End of the Bar, Gris Gris
Shows in August
With the new album comes live shows. Jukin' Bone will be playing two nights at Auburn Public Theater in Auburn, NY. The shows are August 17 and 18, and there may be future live dates depending on how this goes. More show information can be found here.
Don't miss a great opportunity to see some local legends doing what they love once again!