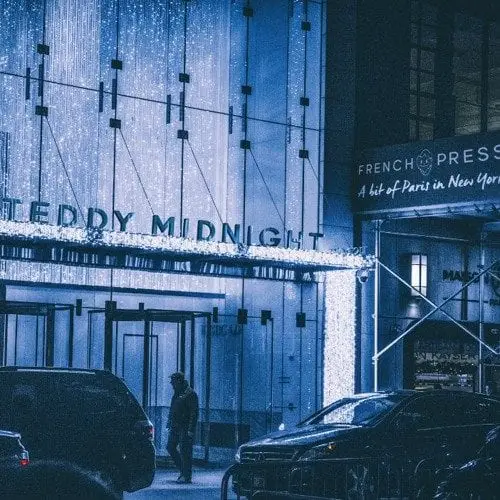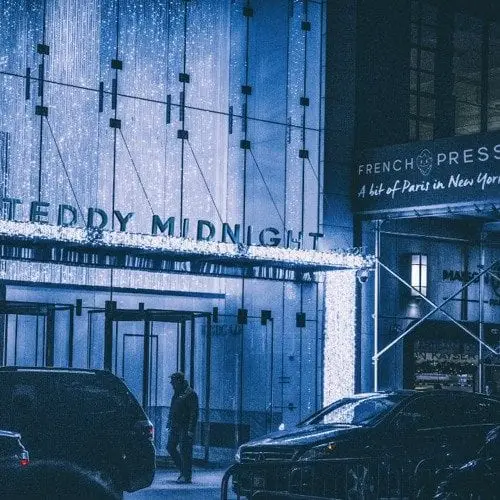 Teddy Midnight, the Brooklyn-based live electronic band, dropped their newest EP, titled French Press, at its release party at Pianos NYC on April 26. The EP has a jazzy feel to it. It's sample heavy, but it doesn't feel like it is when listening to it. It doesn't sound like something you've already heard; it's got its own originality to it. One of the ways it's able to do this is with it's blend of new and vintage synths, keeping the music unpredictable. It uses combinations of Disco, Soul, 90s House, New Wave, Techno and a little Hip Hop, into non-stop, dance party vibes to keep itself intriguing to the listener.
The EP starts off with the song "Say it Loud!" which is an all instrumental track except for the very end when the title of the song is said. It has a very, almost "New Order" feel to it which mostly comes from the repetitive drum machine acting as a backbone to the song. It then moves into the song "Eclipse (Go There)" which is also an instrumental track but more upbeat and best illustrates the intended Hip Hop feel. This sounds like a song that you might hear in a dance club soon. Both songs are good, but slightly repetitive and long. Each song lands close to the six and half minute mark, and for someone not particularly knowledgeable or invested in electronica, it was hard to sit through without having some repetitive pieces of the song to anchor onto, like a chorus.
Then French Press takes a turn with its next song, "Come Over (feat. Tara Lawton & David Schnurman)." You finally get to hear some vocals and the fact the song is six minutes long is barely noticeable, unlike like the previous songs. The album then goes into "Mind the Gap," which is another instrumental piece. It is very upbeat and has a lot of change-ups that make it one of a kind and continually interesting; this is important since it's almost nine minutes long. The next song is "Not Enough" which starts off saying, "It's not enough baby. It's just not enough," building up with the tempo in the song. The techno dance party feel increases with those lines appearing often in the change ups of the song. This song, much like "Come Over," was easier on a listener like myself who might not have as much experience listening to instrumental electronic music. Even though it only really landed on those simple phrases throughout the song, it acted as a point of destination for the song to loop itself back in. The EP concludes on an instrumental version of "Come Over," which was good, but knowing what it sounded like with the lyrics it felt like it was missing something slightly important to its overall feel. It was able to convey the emotion through the music but, without the words, the listener is left without a direction in which to run those emotions.
The six song EP has a run time of 41 minutes, which is long but, if you're into mellow synthesized electronica, this definitely could be an album for you. Even the dance party songs have very mellow undertones to them to make the EP something the listener can just close their eyes and disappear into. Not being someone who previously listened to much electronica music, this album wouldn't necessarily be something I would pick up to listen to regularly, but it was a satisfying mix of those mellow, almost entrancing, undertones, and upbeat, "can't sit still while listening to" overtones. First time listeners might want to start by dipping their toes in and starting with "Come Over" or "Not Enough."
Teddy Midnight will perform next on June 1 at Olives in Nyack, NY. And be sure to check out the entire EP available on SoundCloud and Spotify
Key Tracks: