Legendary jazz composer/performer and 14-time Grammy award-winner, Herbie Hancock, was celebrated on Sunday, May 20, 2018 and received an honorary doctorate as part of the 147th Commencement ceremony in NEC's (New England Conservatory's) Jordan Hall.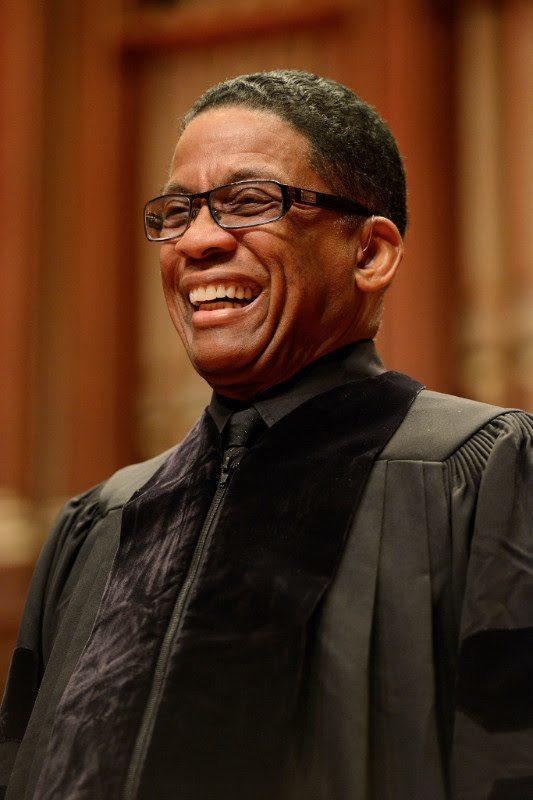 Hancock was one of four distinguished musicians to receive an honorary doctorate. Joseph L. Bower, Edgar Albert Meyer, Jr., and Peter Lyman Row were the other recipients of NEC's honorary doctorates.
According to NEC:
"Born in Chicago, Hancock was a piano prodigy, performing with the Chicago Symphony at age 11. His career began after being discovered by Donald Byrd and, shortly thereafter, he joined the Miles Davis Quintet; he later made appearances on Davis' groundbreaking In A Silent Way and Bitches Brew, which heralded the birth of jazz-fusion. After leaving Davis, Hancock put together a new band called The Headhunters and, in 1973, recorded Head Hunters, which became the first jazz album to go platinum. The winner of multiple Grammy Awards, he also won an Academy Award for his film score 'Round Midnight. His 2007 tribute album River: The Joni Letters won the 2008 Grammy Award for Album of the Year, only the second jazz album ever to win the award, after Getz/Gilberto in 1965. Recently named by the Los Angeles Philharmonic as Creative Chair For Jazz, he also serves as Institute Chairman of the Thelonious Monk Institute of Jazz."
Approximately 265 students graduated from NEC's degree, diploma, and certificate programs this year along side Hancock while he received his honorary doctorate. Students graduated in a range of studies including: Bachelor of Music, Master of Music, and Doctor of Musical Arts degrees, as well as Graduate Diploma and Artist Diploma.