Time flies when you're having fun, especially when you are having fun at the live shows that fill up every night in New York State.  To ensure that your month of May will be filled up with as much live music as possible, as always, NYS Music is here to make sure you do not miss out on a single opportunity.
Syracuse – Funk 'N Waffles
May 3rd – Will be a beautiful night to join Damn Truth as they blend reggae, rock, soul, funk, and blues with special guest Spring Street Family. Event link.
May 5th –  Another serving of reggae rock will be brought to you by Barroom Philosophers with alternative rock band Sir Cadian Rhythm supporting. Event link.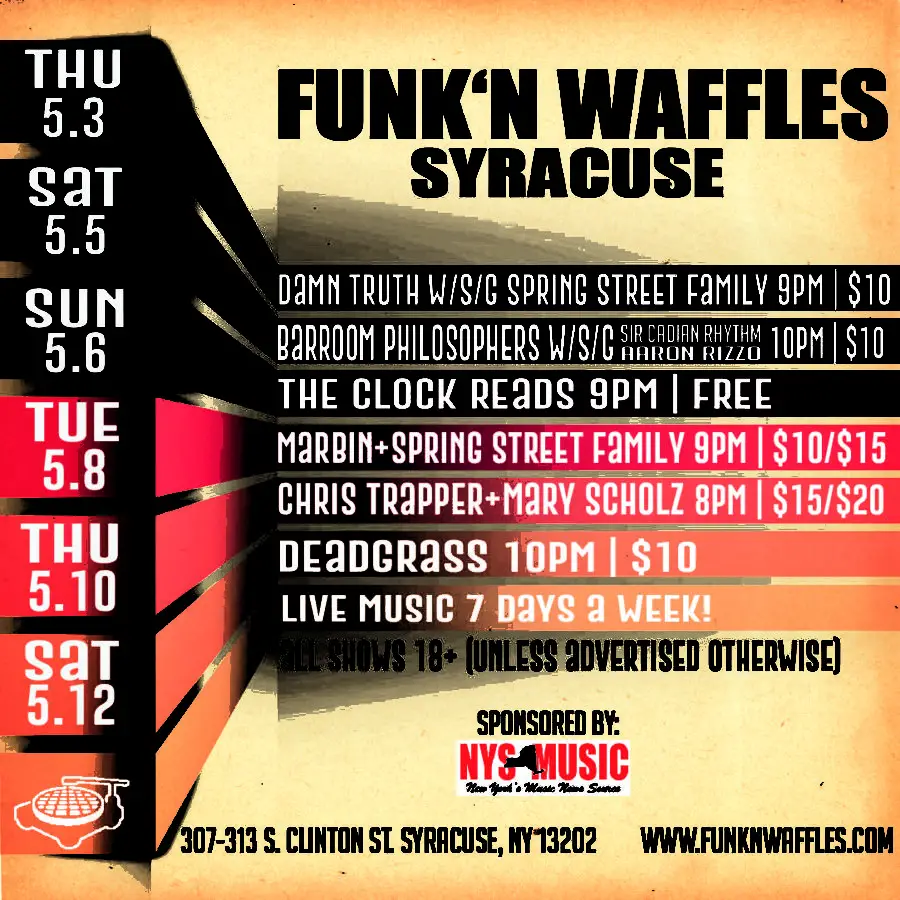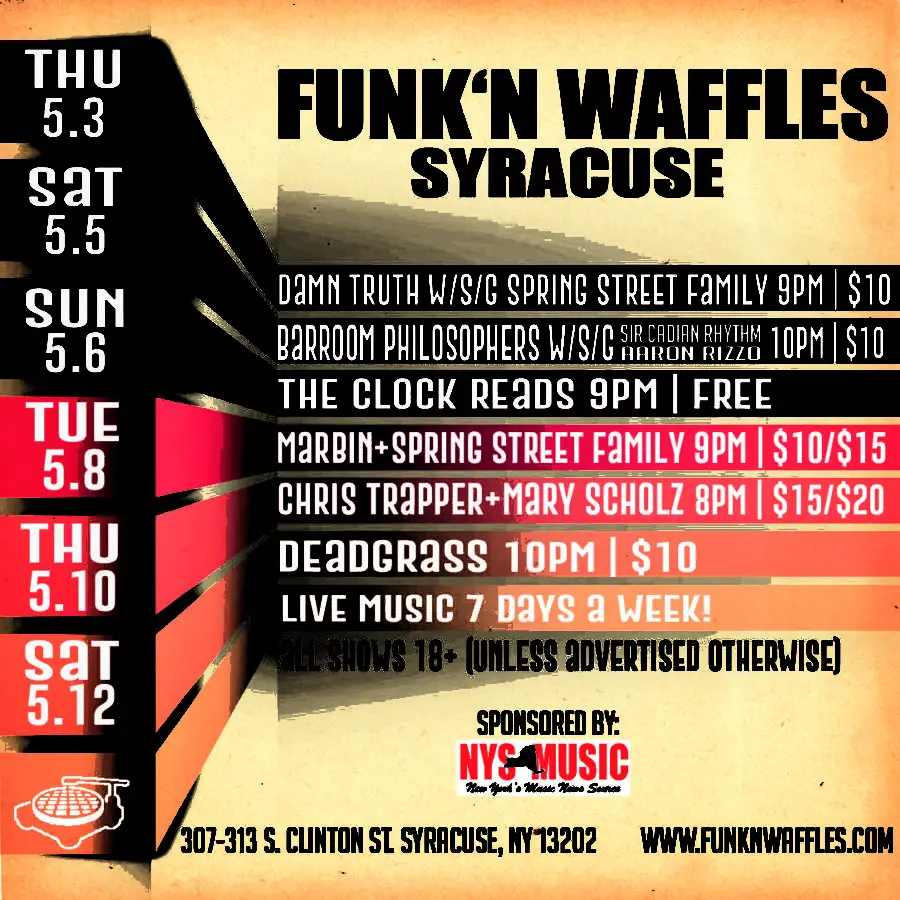 May 6th – FREE SHOW!! The Clock Reads will be hitting Syracuse on their Inner Peaks Tour to show off some of their jazz rock sounds.  Event link.
May 8th – Brutal By Design presents Marbin, the progressive jazz rock band all the way from Chicago with Syracuse-native funk rock band with a sprinkle of reggae, Spring Street Family Event link.
May 10th – Chris Trapper has been commended for his "classic pop perfection" and how he makes every performance intimate, where you feel like you're the person he's singing about.  He will be joined by Mary Scholz at Funk 'N Waffles to fill your night will great music. Event link.
May 12th – A commonly occurring name within this article – don't miss all your chances to catch Deadgrass in New York this month! Here is the last one on their three day marathon in the state so make sure to make it out for some Grateful Dead. Event link.
May 17th – West End Blend's sound draws from a wide array of inspiration, including but not limited to funk, jazz, soul, hip-hop, and afrobeat, all beautifully combined into epic performance.  They'll be bringing the energy with Mosaic Foundation at Funk 'N Waffles and you will want to be part of the action. Event link.
May 18th – Come find out why Funktional Flow is often referred to as the "multi-genre monster" at their show with experimental rock fusion band, Swimmer Ticket link.
May 19th – Bellas Bartok specializes in delivering incredible live performances and circus punk.  We know you're curious, so come to find out more about their unique genre and leave the newest circus punk fan.  They will be joined by Cousin Earth Event link.
May 24th – The Americana blues duo Swampcandy bring enough sound, rhythm and passionate vocals to make the audience feel as though they have just experienced a whole festival rather than one live show – pretty good bang for your buck. They will be coming to Syracuse with special guests The Vollmer's. Event link.
May 26th – Tony Trischka's Early Roman Kings presents a show with the addition of a special acoustic set after dedicated to and entitled The Music of Bob Dylan.  Come out at 2 PM for a nice afternoon show to start your night off right. Event link.
May 31st – From his hometown of Buffalo, Tommy Z, the "blues treasure", will be bringing his contemporary blues with funk with the addition of some jazz and pop elements. Event link.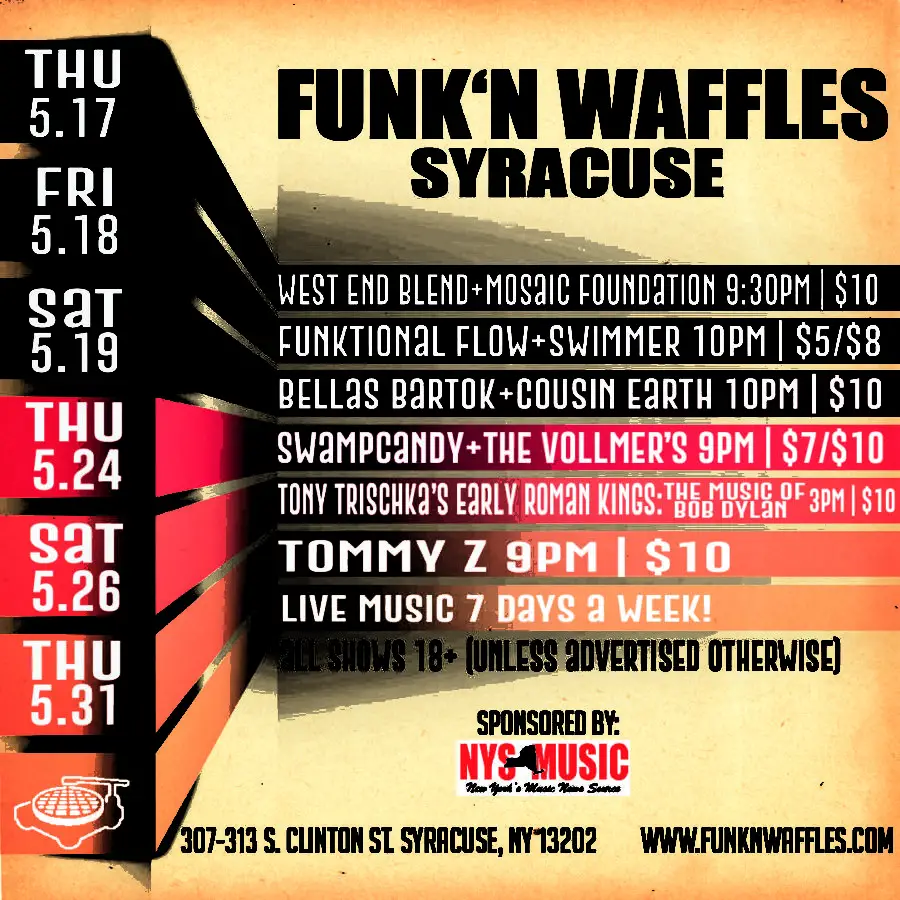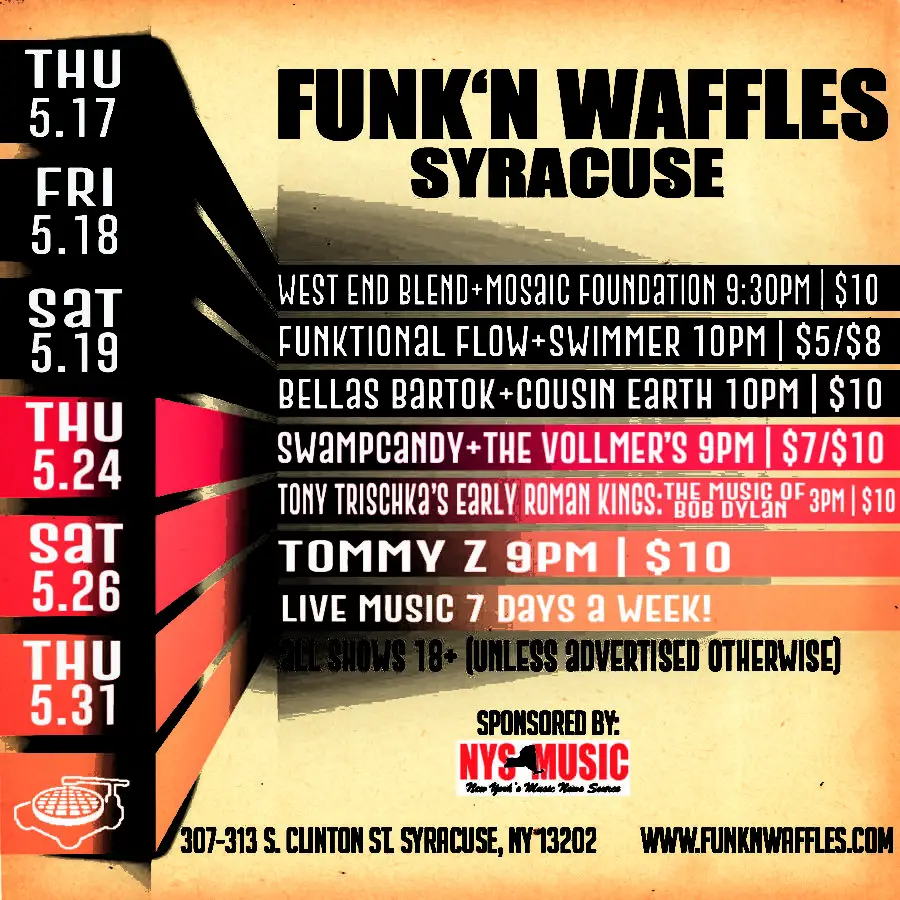 Rochester – Funk 'N Waffles
May 3rd – It's the Salt City Shakedown featuring the always memorable and jammin' Sophistafunk.  They will be joined by the dancehall reggae blend band Root Shock as well as the Syracuse-local funk rock act, Skunk City. Event link.
May 4th – A name Central New York loves to see – Steel Guapo, the Americana expert, will be doing a show with Darb Jansen who is sure to keep you dancing. Event link.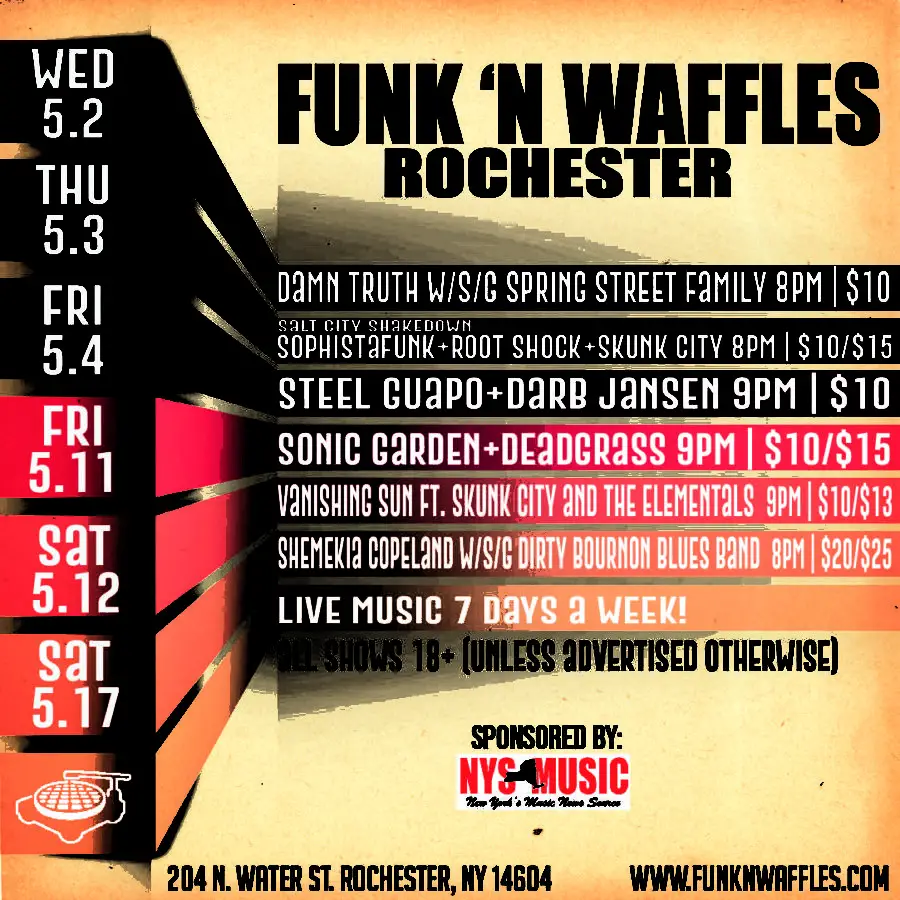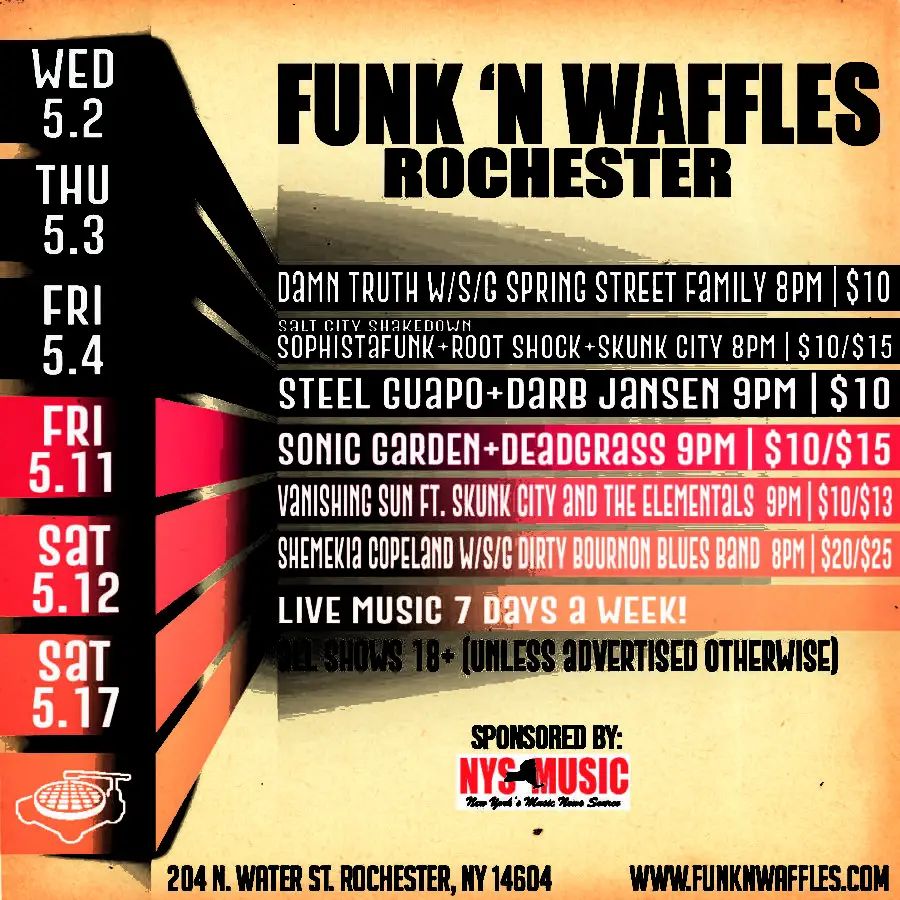 May 11th – A night full of Grateful Dead tributes -for those seeking double the covers, make it out to see Sonic Garden and Deadgrass at Rochester's Funk 'N Waffles. Event link.
May 12th – Vanishing Sun featuring Skunk City and The Elementals will be the face-melting, funk event of the season. Rochester local, Vanishing Sun and The Elementals, joined by Syracuse's Skunk City is a powerhouse trio of a lineup that is sure to bring the house down. Event link.
May 17th – Shemekia Copeland covers so many genres and sounds like no one else.  Her shows are always an excellent testament to her immense talent, do not miss this opportunity to see her with Dirty Bourbon Blues Band. Event link.
May 18th – If you want to hear the circus punk sounds of Bellas Bartok  before they hit Syracuse, come out to their show with Cousin Earth in Rochester the night before. Event link.
May 19th – Funktional Flow will be following up their Syracuse show with a night in Rochester, but this time they will be joined by reggae-infused band, Cold Lazarus. Event link.
May 23rd – Swampcandy and Vollmer's will be swinging through Rochester before they hit Syracuse this month. Event link.
May 27th – Andrew Collins Trio will be having their album release party at Funk 'N Waffles with special guest Bitter Bells.  Don't miss this celebration and showcase of the band's newest music. Event link.
May 30th – A blissful performance of JJ Grey & Mofro's blues and Southern Rock sound with R&B inspiration is just what you need for your night.  Freddy & Francine and will be supporting. Event link.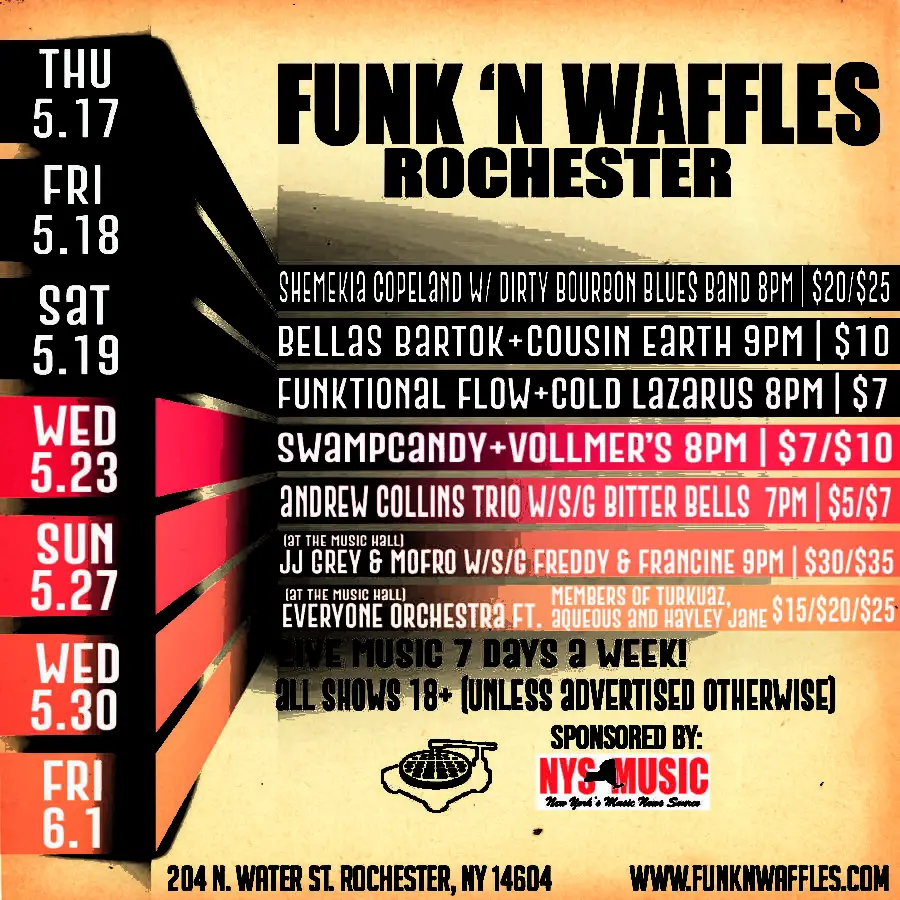 Saratoga Springs – Putnam Place
May 3rd – Everyone Orchestra specializes in "conducted improvisation", bringing a unique but always enjoyable performance each time.  This time they will joined by members of String Cheese and Moe mentioned in the graphic below. Event link.
May 4th – NYS Music Presents a healthy mix of genres featuring blues and jamrock provided by Lucid, New Orleans style funk by the Funky Dawgz Brass Band and some psychedelic grunge folk from Adrian Aardvark.  There is sure to be music for everyone at the show so don't miss out! Event link.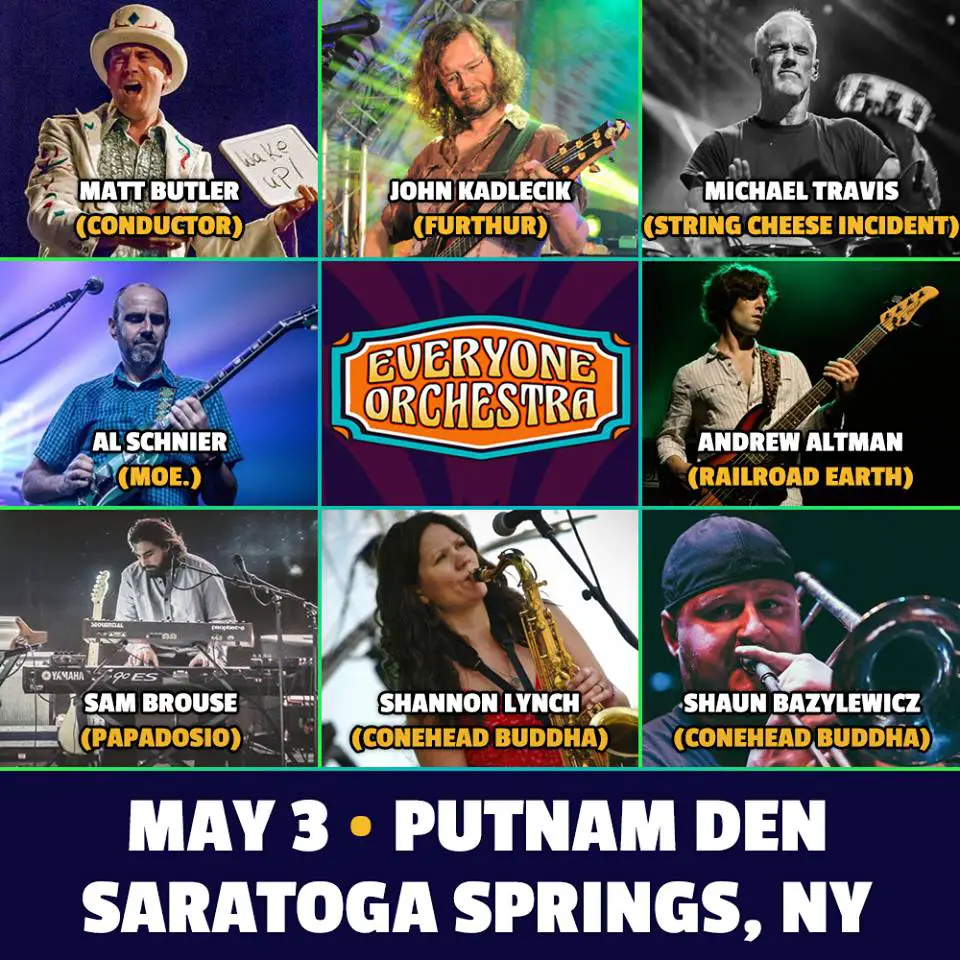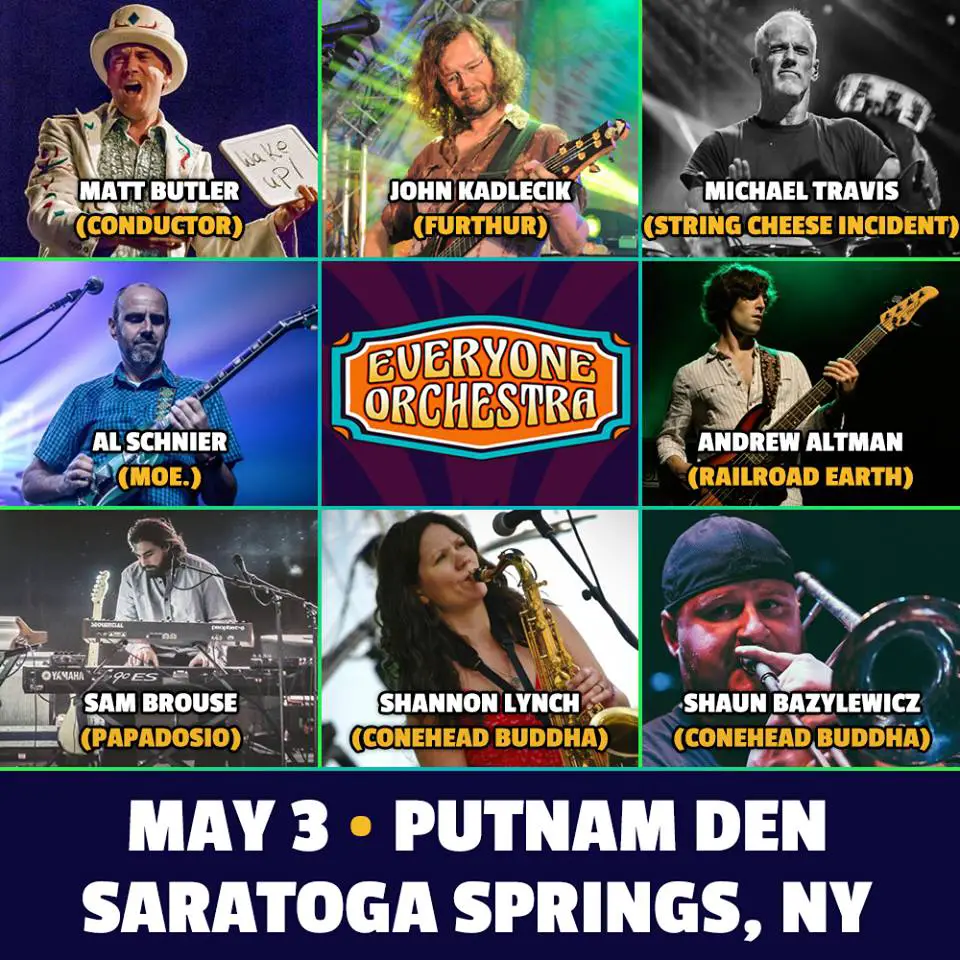 May 5th – Wild Adriatic is playing their 1,000th show and for this momentous milestone, they will sharing the experience with the lucky attendees in Saratoga Springs.  To celebrate the special occasion, they will be adding a "Space-theme" second set that will showcase Putnam Place's LED video wall.  They will be joined by After Funk and you won't want to miss this journey to space aboard their rock 'n roll spaceship. Event link.
May 12th – BRYAC Funk All-Stars will be at Putnam Place and it's exactly what it sounds like – a funk show you cannot miss.  They will be joined with Cousin Earth and the show is set to begin at 9 PM. Event link.
May 18th – For the past 14 years, this powerful partnership of Terrapin Flyer and Melvin Seals has been touring to celebrate the music of The Grateful Dead. Come out and see what these seasoned and widely renowned performers have in store for the night. Event link.
Tuesdays in May – Beer + Yoga.  The newest and best power couple of 2018. That's all we have to say, we know we'll see you there. Event link.

Albany
May 5th – The Heavy Pets, otherwise known as a "living, breathing force of nature," will be joined by folk-funk band Goose for one of their unforgettable powerhouse performances at the Hollow Bar + Kitchen presented by Guthrie Bell Productions. Event link.
May 10th – Deadgrass, the five piece band made up of seasoned, award-winning musicians, use all their unmatched talent to cover and celebrate the music of Jerry Garcia.  They will be joined by special guest the Deadbeats Duo at Parish Public House. Event link.
May 18th – Mihali has drawn crowds at notable venues such as Red Rocks, The Capitol Theatre as well as at festivals such as Bonnaroo.  He will be coming to deliver a more intimate set of his acoustic sound at the Hollow Bar + Kitchen with Girl Blue. Event link.
May 24th – It's the 10th anniversary of the annual Bob Dylan Birthday Bash at The Low Beat, so you know it's going to be a good one. The event will feature 15 acts from the Capitol Regions, all to celebrate the big day.  Proceeds will benefit the Albany Victory Gardens and Eden Rose Foundation. Come out and sing some Happy Birthday along with some of Dylan's classics. Event link.
Cohoes
May 11th – The truly unforgettable performer Alejandro Escovedo, will be joined by Kris Gruen for a show at Cohoes Music Hall that is sure to be special.  For fans of acoustic rock and exquisite songwriting, this show is a can't miss.  Event link.
Buffalo – Nietzche's
May 16th – For a night full of great indie and alternative acts, featuring the Buffalo-native band, THIS, as well as Great Lakes, Citizen Jane, and Church Girls come to Nietzche's at 8PM on the 16th and see four amazing acts for only $5 – can't beat it.  Event link.
May 26th – Tiger Chung Lee and Starship Mantis will be bringing the funk to Buffalo at 10 PM.  For information, click the link and don't miss one hell of a funk show. Event link.