The Zappa family has always loved Upstate New York. Frank opened his 1988 U.S. tour at the Palace Theater and his son, Dweezil, has continued that love for the area on his runs. Coming to The Egg for the first time since 2016, he played everyone's favorite tunes during this Choice Cuts tour. With his usual band of eccentric members, they set expectations high and delivered all night.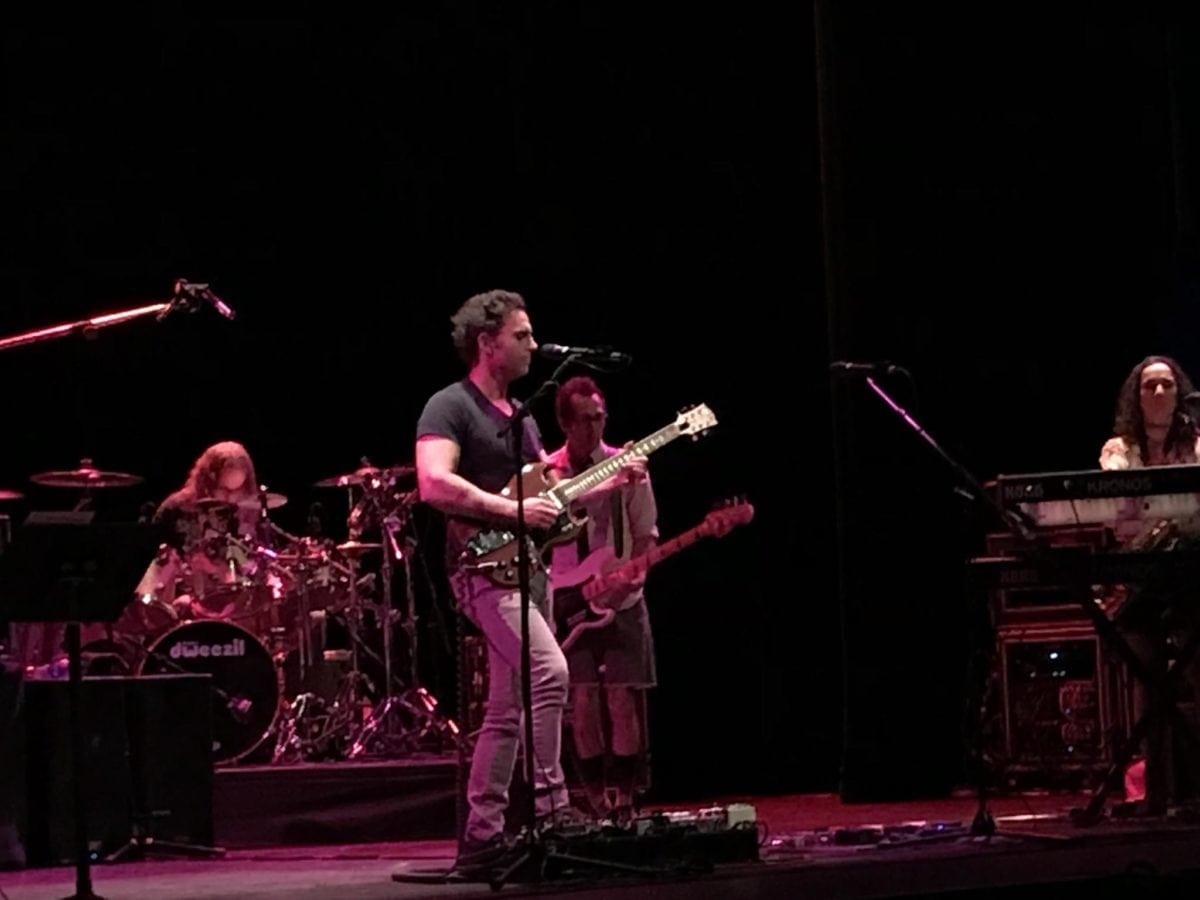 As the band members came on stage, the show started into "The Purple Lagoon (Intro)" before Dweezil came out to a thunderous applause. Wasting no time, they started the 1975 favorite, "Andy" and then began the originally unreleased "Lonely Little Girl". "Flakes" included its usual Bob Dylan homage and a new Eric Cartman section which was hilariously performed by Scheila Gonzalez. Cian Coey took the mic for "Fifty Fifty" and did not let her foot cast stop her from rockin'. Dweezil took it on himself to deliver a blistering solo to end the song and then took them band into "Po-jama People".
Before the next song, he paused to tell the crowd that it was "great that Albany loves Zappa so much" and then surprised everyone with the "James Bond Theme" which segued perfectly into "Studebaker Hoch". A lovely "Rollo" medley was followed by an explanation that the next song couldn't originally be played live because certain feedback techniques were not possible to recreate outside of the studio. Using modern technology, they all brought "Absolutely Free" to life and followed it with "Call Any Vegetable" and "Tell Me You Love Me", which features some great keyboard work from Chris Norton.
Pausing again to chat with the audience, Mr. Zappa proclaimed that the theme of the show was "It's so fucking great to be alive". He went on to say that of all the songs his father composed, his favorite was this next song, "Dog Meat". The beautiful clamor had people on their feet cheering for more, so the band declared, "And now for something completely different" before launching into AC/DC's "Back in Black". Bassist Kurt Morgan was dressed to impress as Angus Young and really shined during this track.
Next up were two "songs from the 80's" called as "Cocaine Decisions" and "Drowning Witch" before jumping back decades to play "Sleeping In A Jar" and "Florentine Pogen". Dweezil was happy to announce that it was now 'Unreleased Time' and played a song called "Sleep Napkins", which is a combination of "Black Napkins" and "Sleep Dirt". Drummer Ryan Brown tore the roof down with his exceptional drumming during both "The Black Page # 1" and "The Black Page # 2" and led the band into everyone's favorite, "Peaches en Regalia".
Zappa was more than just a musician and in 1971, Frank directed the movie 200 Motels. Unsurprisingly, he also wrote the soundtrack too and Dweezil brought the classic "This Town is a Sealed Tuna Sandwich" to life for the enthusiastic audience. Jumping to the other end of the decade, the band started into everyone's favorite, "Keep It Greasy" and when it finished, Dweezil started talking to the crowd about his all-time favorite Zappa songs and said this next one was high on the list. "Cheepnis" became everyone's favorite by the time it was over and they followed that with "Son of Orange County" before ending the two-and-a-half hour set with "Trouble Every Day".
After a few minutes offstage, everyone came back to a roaring crowd as Dweezil told a story about a failed jingle that his father wrote back in the day. It was for Remington Electric Razor's and it was to be performed with Linda Ronstadt. They were paid for their work, but the company was not a fan of the song. "Remington Electric Razor Jingle" was followed by a lovely version of "Oh, In The Sky" performed by Adam Minkoff. Dweezil let loose with another jaw-dropping solo during "Muffin Man" before they ended the night with "The Purple Lagoon (Reprise)".