Dolores O'Riordan, lead singer of the iconic Irish alternative band the Cranberries, died suddenly in London on Monday. She was 46.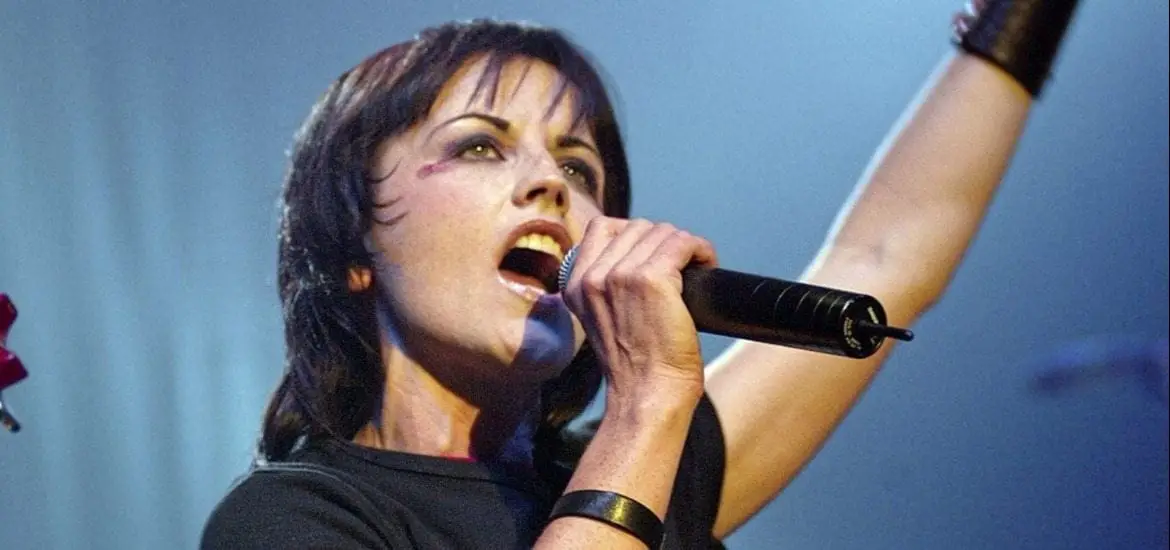 Her death was confirmed in an emailed statement from her publicist, Lindsey Holmes. The brief announcement stated, "Irish and international singer Dolores O'Riordan has died suddenly in London today. She was 46 years old. The lead singer with the Irish band The Cranberries was in London for a short recording session."
O'Riordan's cause of death was not specified. Her publicist did state that her family is devastated by the news and has requested privacy. She is survived by her ex-husband, Don Burton, and her three children, Taylor Baxter, Molly Leigh and Dakota Rain.
Born in County Limerick, Ireland on Sept. 6, 1971 to Terence and Eileen O'Riordan, she was the youngest of seven children. Her powerfully unique, lilting voice and thick Irish accent combined to form an instrument that propelled her band, the Cranberries to international fame following the release of their debut 1993 album, Everybody Else is Doing It, So Why Can't We? The album featured the hit singles "Linger" and "Dreams."  Their 1994 follow-up, No Need to Argue produced the band's most iconic hit, "Zombie."
The Cranberries released an acoustic album last year entitled Something Else. The ensuing tour of Europe and North America was postponed due to health problems O'Riordan was encountering.  Prior to Christmas, she posted an update to the band's Facebook page.
Tributes to the gifted vocalist were plentiful, including from Irish President Michael D. Higgins, who wrote, "[She and the Cranberies were an] immense influence on rock and pop music in Ireland and internationally. I recall with fondness the late Limerick TD Jim Kemmy's introduction of her and the Cranberries to me, and the pride he and so many others took in their successes. To all those who follow and support Irish music, Irish musicians and the performing arts her death will be a big loss."
Dave Davies of the Kinks offered the following from his Twitter account:
I'm really shocked that #DoloresORiordan has passed so suddenly
– I was talking to her a couple weeks before Christmas she seemed happy and well – we even spoke about maybe writing some songs together – unbelievable god bless her pic.twitter.com/Pk2QyAaaBw

— Dave Davies (@davedavieskinks) January 15, 2018
"The Queen of Limerick" was raised a devout Catholic and revered Pope John Paul II. After meeting the pontiff at the Vatican, she recalled in a 2007 interview with The Guardian, "(He) was lovely, very saintly. I was mad about him. I thought he really cared for the poor and he loved to meet the people. I saw him when he came to Limerick, when I was a kid. So it was pretty mind blowing to take my mum out to meet him."
She performed at the annual Vatican Christmas concerts in 2001 and 2002 at the invitation of Pope Benedict XVI and returned to perform for Pope Francis in 2013.
O'Riordan's preoccupation with death was not a secret. She was at her father's bedside, holding his hand when he died in 2011. She claimed to have felt his spirituality enter her as he died. She also spent time visiting graveyards during her teen years, as she told the Soul Sisters podcast last year:
You kind of wonder what is all about here. We're only here for a while, and you can't find complete happiness here. There is always sadness and there is always problems and troubles. Then you wonder when it will be your time, your calling, your time to die. What happens? That is something that my mind has always been preoccupied with.
The Cranberriesworld blog has a brief clip of what is possibly O'Riordan's last public performance, at the Billboard Christmas party in New York City this past December. You can view that here.
The band broke up in 2002, but reunited with a tour in 2010. The album Roses followed in 2012. Below is their Tiny Desk Concert performance at NPR from that year.