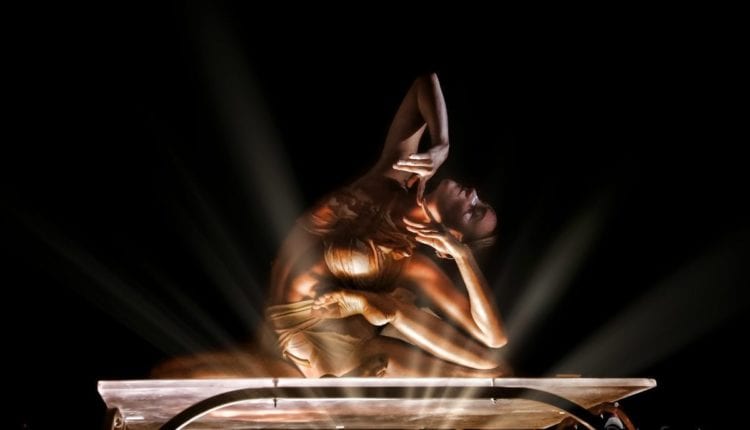 Quixotic and the Desert Dwellers Astonish the Ogden Theatre in Denver
A sense of wonder. It's that wide-eyed gleam that happens when any other breed of dog spots a poodle for the first time.  It is that sixth sense so rare in adulthood that it has been referred to as the superpower of children.  It is so potent a gift that marine biologist, Rachel Carson once exclaimed, "If I had influence with a good fairy, I would ask that her gift to each child be a sense of wonder so indestructible that it would last throughout life."
Luckily, I have found that such magic does exist. One reminder came last week in form of Quixotic, an innovative performance art collective that fuses mind boggling imagination with technology, dance, aerials, projection mapping and live music. Quixotic started an an experimental artistic collaboration in Kansas City, Missouri in the mid-2000s has exploded into a worldwide performance phenomenon.
Last week, Quixotic, along with world-beat electronic music group, the Desert Dwellers, transformed the Ogden Theatre into an awe-inspiring house of wonder imbued with fierce athleticism, grace, and lilting beauty. The performance, aptly titled, "Beyond", explored the boundaries of what is commonly thought possible in visual/music performances. The performers challenged the boundaries of human limitation in a show that featured risky aerial hoop performances and astonishing contortionist dance movements accompanied by dramatic live and electronic music.
If I had influence with a good fairy, I would ask that each adult have the opportunity to witness such a performance that possesses such an indestructible sense of wonder. Its effect would last a lifetime.
[ngg_images gallery_ids="2157″ display_type="photocrati-nextgen_pro_slideshow"]