On Wednesday July 26 at Madison Square Garden, Phish devised a plan to make hump day a great day.  Keeping in form with the powdered donut theme, the foursome launched into an acappella version of Fleet Foxes' "White Winter Hymnal" to get the party started.  The "white snow red as strawberries" lyric reprised the Saturday night donut theme to the delight of MSG regulars and set the tone for a cover-filled evening on Night 6 of their Baker's Dozen.
Fans entering the Garden after work could relate to the traffic -jammed "Cars Trucks Buses" that took the second spot in the rotation and saw Page McConnell work his magic on the boards.  The always welcomed "My Soul" kept the energy building before a "Roses Are Free" completed the back-to-back cover annihilation.  The Chilling Thrilling Sounds "Very Long Fuse" received some extended love as the powder keg audience realized they wouldn't be getting another five song first set.
Rarities like "Pebbles and Marbles" have been filling the donut holes in a magical way throughout this run and it has become so common to hear bust-outs that the audience didn't even detect how special it was. While speaking about special moments, the almost 15-minute "Tube" was explored by the band as if it was in a 1990's Discovery Zone.  The bouncy punch initiated by Mike Gordon was only outshined by Page's dirty synth orgy. Trey found his groove and dissected the jam into what will be known as the "Baker's Tube" for years to come.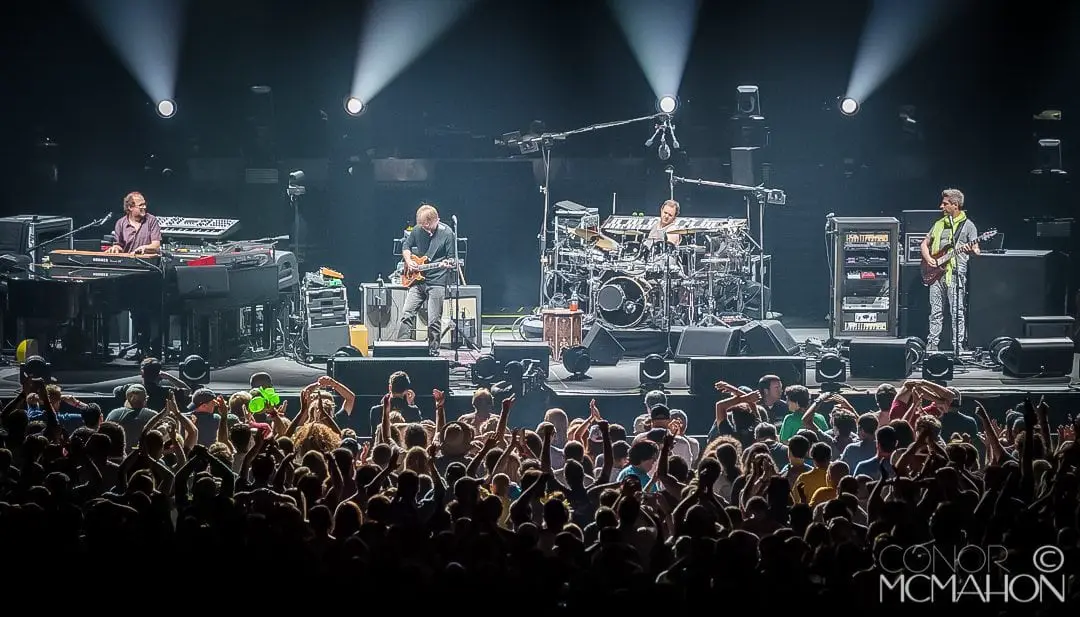 When second sets begin with hard-rocking machines like "Carini," Phish followers know they are in for a sweet treat.  The 16-minute lumpiness dug its feet into the ground and setup another rarity in "Mr. Completely."  The TAB classic has only been played a handful of times by the quartet, yet it made its second appearance this tour to the delight of die-hards.  Trey's ditty may or may not become a staple in the band's repertoire, but for now there is still much work to be done with the jam.
"The World's Most Famous Arena" experienced a flashback to 1998 as the Vermonters destroyed Price's "1999." The second set was familiarly baked with incredible choices but the highlight may have been the jam that ensued.  "Steam" rose out of the stage as a seamless and perfectly placed transition before Led Zepplin's "No Quarter" shocked and awed an already speechless crowd.  Page's well-executed vocal takedown mixed with the ferocious Jimmy Page-like guitar antics by Big Red solidified this version as possibly the best one ever played.  An overly ambitious "Character Zero" closed the set and proved that surprises come in all forms during this epic 13-show run.
Where is the powder?  There's the powder.  Phish never lets us down in terms of donut symbolism.  The encore debut of Neil Young's "Powderfinger" closed the night and permanently gave us a new motto to live by: "Never miss a Wednesday show."
Setlist via Phish.net
Set 1: White Winter Hymnal[1], Cars Trucks Buses, My Soul, Roses Are Free > The Very Long Fuse, Gumbo, Yarmouth Road, Pebbles and Marbles, Farmhouse, Tube
Set 2: Carini -> Mr. Completely > 1999 > Steam > No Quarter, Character Zero
Encore: Powderfinger[2]
[1] Phish debut; a cappella
[2] Phish debut