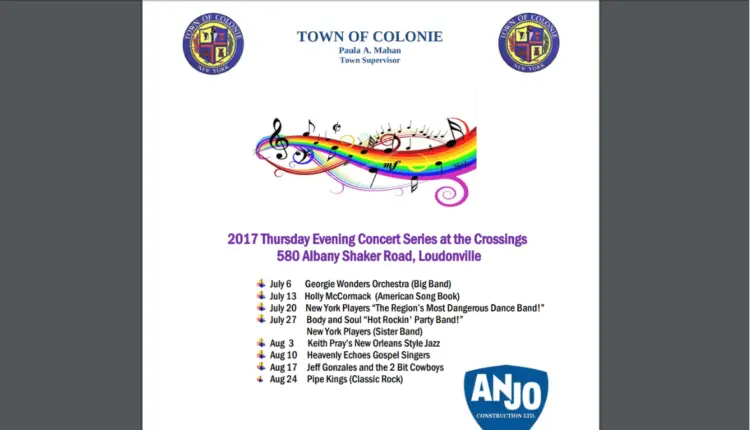 Free Concert Series in Loudonville's Crossings Park Every Thursday
The Town of Colonie and the Anjo Construction Company are presenting the inaugural free concert series every Thursday from 6:30 to 8:30 p.m. in the Crossings Park, Loudonville. When the weather cooperates, the event will be held in the park underneath the gazebo but in the event of rain it will be held in the meeting house.
Eight bands will join the series whose styles span across the musical spectrum. Some participating groups include: Georgie Wonders Orchestra (Big Band), Holly McCormack (American Song Book) and Keith Pray's New Orleans Style Jazz. Although there is some seating provided by the venue, patrons are encouraged to bring their own chairs and/or towels. Plenty of parking is available and is free.
July 6 – Georgie Wonders Orchestra
July 13 – Holly McCormack
July 20 – New York Players "The Region's Most Dangerous Dance Band!"
July 27 – Body and Soul "Hot Rockin' Party Band!" New York Players (Sister Band)
Aug 3 – Keith Pray's New Orleans Style Jazz
Aug 10 – Heavenly Echoes Gospel Singers
Aug 17 – Jeff Gonzales and the 2 Bit Cowboys
Aug 24 – Pipe Kings