Ithaca's Jimkata made a surprising hiatus announcement on its Facebook page Tuesday, announcing the band will be put on hold indefinitely.
After several years of touring and putting out albums we have decided to put Jimkata on hold indefinitely. We're not…

Posted by Jimkata on Tuesday, July 11, 2017
In the post, the band alluded to reaching a turning point in its career, leading to the decision to go on indefinite hiatus to focus on other projects and the members' individual lives.
Jimkata got its start at Ithaca College in 2005. Originally, the jamtronica band didn't take itself seriously, taking its name from the 1985 gymnastics-meets-karate movie Gymkata, starring Olympian Kurt Thomas, a movie so notoriously bad, it's a must-watch. Constant touring and a do-it-yourself work ethic earned the band a loyal fanbase as it transitioned from a jamband to a more electronic sound.
Founding members Evan Friedell (vocals/guitar), Aaron Gorsch (guitar/keys) and Packy Lunn (drums) grew up together in the Upstate college town of Oneonta. Bassist Dave Rossi joined after meeting the other members during his freshman year at Ithaca. Rossi was dismissed from the band in 2015.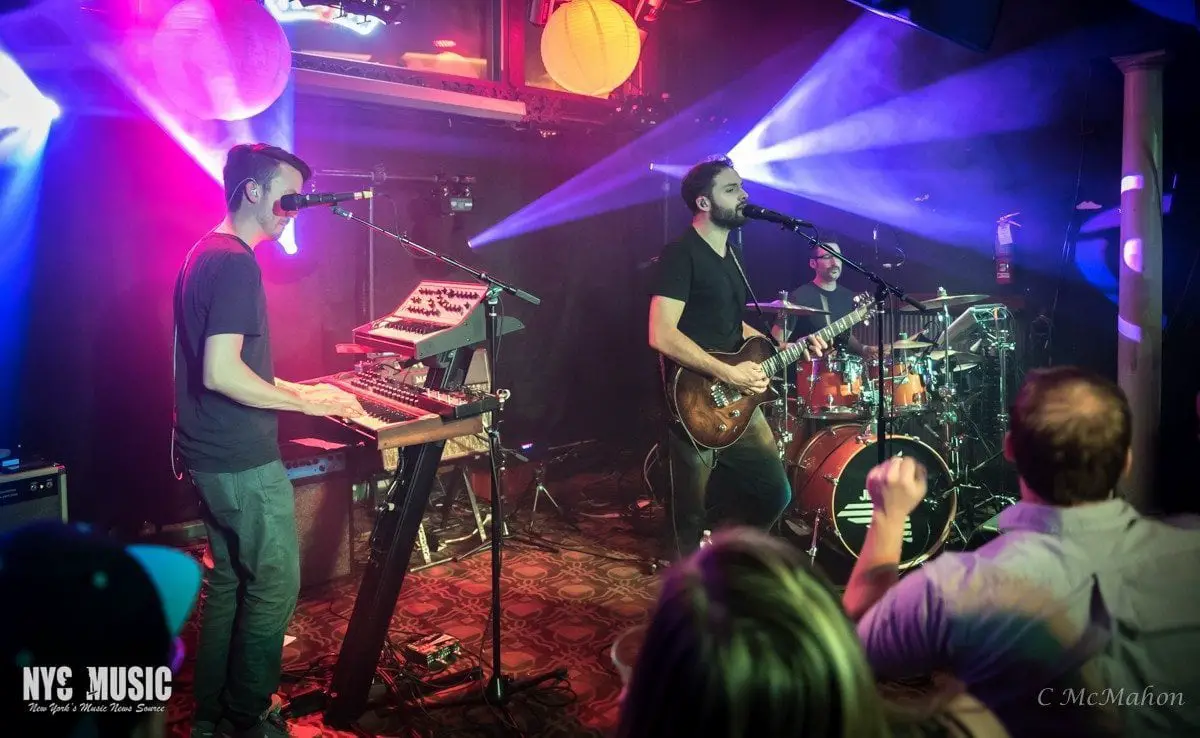 The band has had a largely DIY ethic since its formation, turning to fans in online campaigns to finance its albums and tourning non-stop. The band's latest album, 2016's In Motion was financed through a PledgeMusic campaign. Such techniques tend to endear a band's fans to the music as they feel a sense of ownership. Jimkata has felt a sense of pride in its DIY ethic and the relationship with its fans. Friedell says, "We just road dogged it. It's all DIY. Doing 150 shows a year, sleeping on floors, recording songs along the way. We built everything organically, all word of mouth. The advice we got when we started was 'Just go out and play. It'll pay off.'"
In its statement, the band stated:
Its a very vulnerable thing to create music and share it with the world, not knowing how it will be received. For it to have been received with love and passion all these years is an honor. And to have existed as an independent band supported by friends, fans, and family for ten years feels like a privilege regardless of any challenges we've faced. But in short, we've busted our ass, given it our all, and for now we're gonna take a step back and bust our ass in other directions. We look forward to staying connected with you and hope to hear from you as we pursue new projects. This is not the end of the music, but it is the end of this particular chapter of Jimkata.
The hiatus is not immediate, as the band still has several dates to perform, including a set at the Night Lights Music Festival in Sherman, south of Buffalo, Aug. 24-26 and October dates in Rochester, Buffalo, Syracuse, Albany and New York. Tickets for the October shows go on sale Friday, July 14 at 11 a.m.
Catch Jimkata in October:
Oct. 19 – Flour City Station – Rochester
Oct. 20 – Buffalo Iron Works – Buffalo
Oct. 21 – Westcott Theater – Syracuse
Oct. 26 – The Hollow Bar & Kitchen – Albany
Oct. 27 – The Main Pub – Manchester, CT
Oct. 28 – American Beauty NYC – New York