In a recent interview with The San Francisco Chronicle, former Van Halen frontman, Sammy Hagar, shared his feelings on performing, touring, and the everlasting rumors of a potential Van Halen reunion. Hagar just wrapped up his annual Acoustic-4-A-Cure, benefit concert, that  featured artists including Pat Benatar, Neil Giraldo, Don Felder, Mick Fleetwood, Vic Johnson, Sarah McLachlan, Steve Vai, Bob Weir, and Dave Grohl, who is sitting in for co-founder and Metallica frontman James Hetfield, due to touring obligations.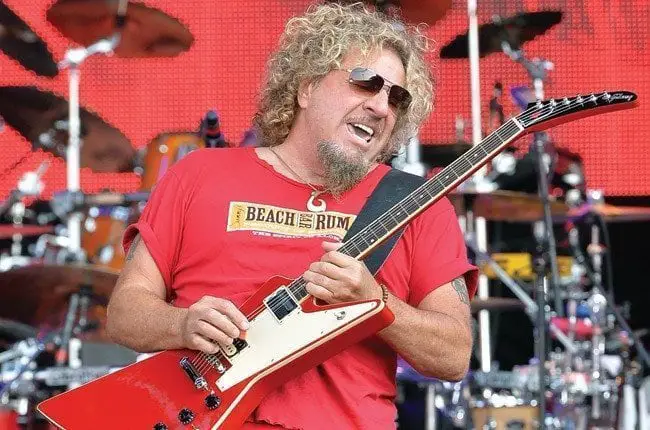 Asked if he missed performing regularly:
I always miss being onstage. But I don't miss being on tour. The way I've been doing it for about the last seven or eight years, I'll just take two shows — you know, Dallas and maybe Houston. But I got so old last year, I found myself having to go over to my studio five days a week and rehearse to get my voice into shape. Next thing I know, all I'm doing is getting ready for two shows. I wouldn't do more than 40 or 50 shows a year. I just can't. It's my body and my time. And in my heart, I get out there onstage and I go, "You know, I don't feel like doing it tonight."
After mentioning that fans are not only in love with his solo shows, but are demanding Hagar to perform with Chickenfoot and Van Halen. Hagar responded:
That whole Van Halen thing lurking in the woods out there, I feel there's a sniper out there — any minute the bullet is going to come flying in that says "VH" on it, "You're it!" We'll see what happens. I don't understand them. I haven't understood them in a long time. I would only do it with Sam and Dave anyway. I'd rather Dave (David Lee Roth) go out and sing his own songs. I'll sing my songs. That would be the ultimate show, I think. If we could do it that way, I would suck it up. It would be fun.
Hagar replaced David Lee Roth in Van Halen in 1985, and parted ways in 1996. In 2007, Hagar was inducted into the Rock and Roll Hall of Fame as a member of Van Halen. The singer also has his own line of spirits including Cabo Wabo Tequila, and Sammy's Beach rum. A Van Halen reunion still seems far off, if it happens at all.