A standing ovation welcomed Del McCoury and David Grisman to the stage shortly after 8pm on December 10. The duo best known as Del & Dawg began their 50th anniversary show on the same RPI campus with "Feast Here Tonight," a tune by the Monroe Brothers that nodded to Bill Monroe's connection to both Grisman and McCoury and the genre of which they are elder statesmen. Using only one microphone, the crisp sound made it seem as though you were standing next to them. Even the applause sounded remarkable.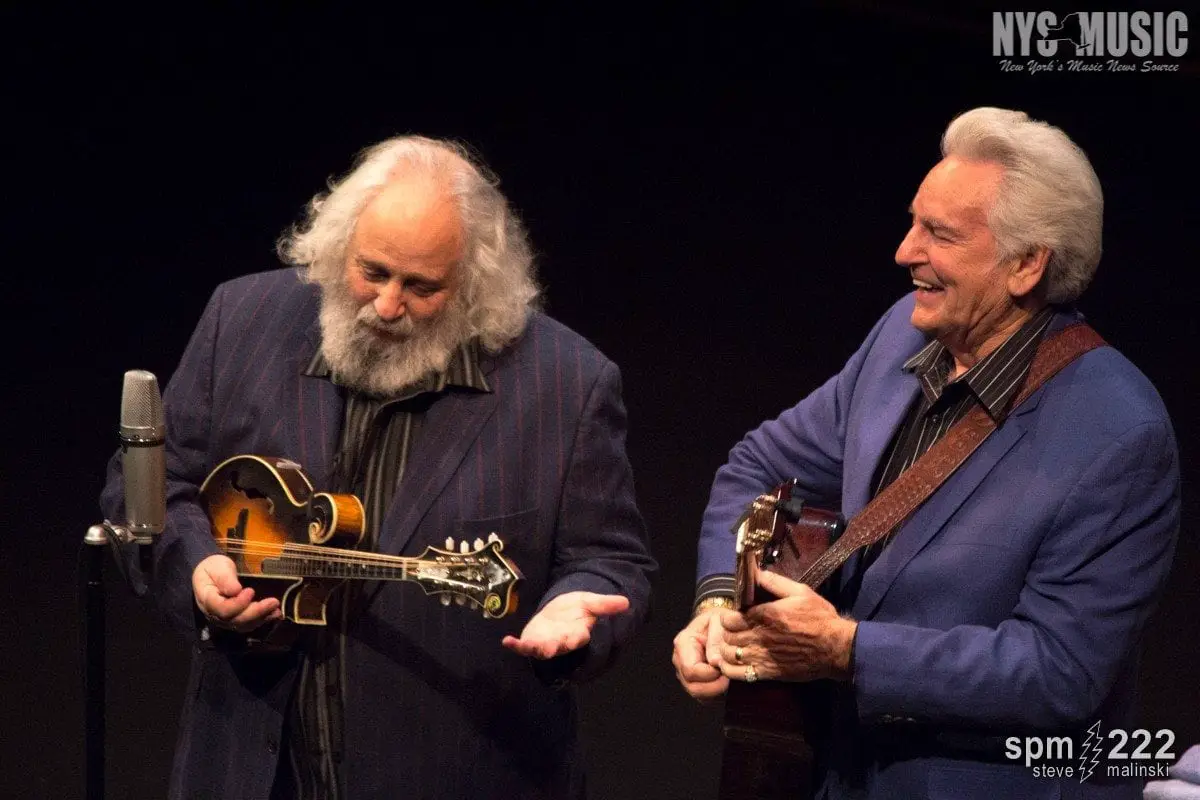 The Capital Region of New York is fortunate to have some of the best sounding venues in the country, where the audience and artist can mutually appreciate immaculate acoustics. The Experimental Media and Performing Arts Center (EMPAC) on the campus of Rensselaer Polytechnic Institute in Troy joins The Egg, Troy Music Hall and Picotte Recital Hall as premiere venues with impeccable sound which aids in bringing an exceptional variety of music to the Capital Region.
The pair took turns introducing the other. Grisman said it was "Great to be back in Troy with this young man," while McCoury presented his counterpart as "The founder of Dawg music." The reflection of their instruments bounced off the walls of the spacious room as they swayed and stepped back and forth to the microphone. "East Virginia Blues," a humorous song of longing sung by both the Carter Family and Stanley Brothers felt like stepping into 1940s Appalachia. "Toy Heart," a Bill Monroe original, elicited banter from Del and David who gave a free history lesson on the original Blue Grass Boys who first performed in 1946. A former Blue Grass boy himself, Del started out playing banjo, but Monroe got him to switch to acoustic and start singing, much to our delight 50 years later.
Some banjo humor preceded the instrumental "G-Run Blues," followed Ralph Stanley's "Man of Constant Sorrow," as did "Tennessee Waltz," considered by Grisman to be "a piece of musical substance" and also the state song of Tennessee that preceded the current title holder, "Rocky Top," somewhat to Grisman's dismay. To end the first set, the two performed "The Country Boy Rock n Roll," a song that was seen at the time as a push back to Elvis Presley and Jerry Lee Lewis.
Del and Dawg returned to the stage, discussing the circumstances of their first show in 1966. A 4-piece needed a guitar player, and Del McCoury drove up to play with Grisman, the late Winny Winston on banjo and his brother Jerry McCoury on bass. Jerry then joined the pair on stage, followed by Chris Warner on banjo, collectively referring to themselves as The Bluegrass Survivors. "I Wonder Where You Are Tonight," a Hank Snow song dating to the 1940s, began the set, followed by Del singing lead on "Dark Hollow," one of the most familiar tunes of the night. Jerry McCoury sang lead on "Send me Your Address From Heaven," with a voice akin to Del's, pun intended.
Prior to "We can't be Darlins Anymore," Grisman pointed out the duality of bluegrass music, describing lyrics as focusing on "them tragic things of life – unrequited love, death, incarceration, suicide" and the melodies as "very uplifting, the antidote to the lyrics." Grisman's summation of bluegrass: "If you don't listen to the words, it's very uplifting."
Dawg humor was on display with "I'm my own Grandpa," as was Del's 'High and Lonesome sound' on "The Prisoner's Song," followed by a somber and beautiful "White Dove." Del gave thanks to the crowd, saying "We enjoyed having a reunion," and wrapping up the night with Jimmy Martin's "Hit Parade of Love" and an encore of "Lonesome Road."
The history of the music performed this evening exceeded the 50 years the two have performed together. Music dating back to the 1920's provided a century of bluegrass from which to cull a celebratory performance for this pair of musicians whose influence and knowledge runs deep through the veins of bluegrass music.
Setlist:
Set 1: Feast Here Tonight, Shackles & Chains, East Virginia Blues, G-Run Blues, Toy Heart, Man of Constant Sorrow, Tennessee Waltz, Snow Dove, Del & Dawg, Country Boy Rock n Roll
Set 2: I Wonder Where You are Tonight, Send Me Your Address From Heaven, Dark Hollow, Shenandoah Breakdown, We Can't be Darlins Anymore, He's His Own Grandpa, The Prisoner's Song, Fanny Hill, Walk the Dog, The White Dove, Hit Parade of Love
Encore: Lonesome Road
Special thanks to Guthrie/Bell Productions for bringing an historic show to EMPAC, and Del and David, and their wives Jean and Tracy for chatting with fans at the merch table after the show.