We all know Kiefer Sutherland from his starring roles in major motion pictures and tenured television career and on August 12, he joined the singer-songwriter realm with the release of his debut album, Down in a Hole.  Owning an independent record label with his friend and fellow musician, Jude Cole, has allowed Kiefer to work at close range with up and coming L.A. musicians for years.  Combine that with his life-long passion for music and good old fashioned Western country culture, and you've got a formula that takes us straight to the proverbial promised land.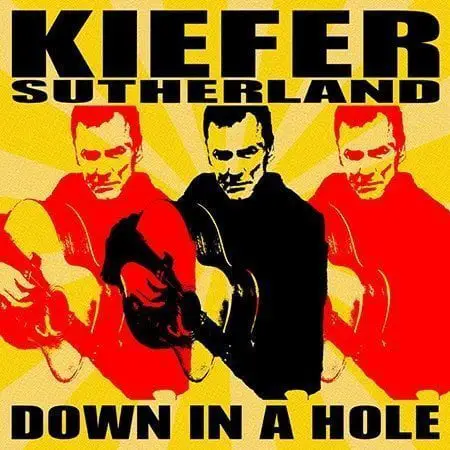 "Can't Stay Away" sees the album begin with a classic upbeat country theme that any lost boy can relate to; being hung up on another lover.  The female harmonization is immediately utilized, bringing a refreshing angle to a few of the 3 to 5 minute tracks that make up Hole.  Lugubrious slide guitar can be heard on "Not Enough Whiskey," taking us away from the hustle and bustle of our usual bright lights, big city drag. "Going Home" provides a defiant edge for any young guns listening.
"Shirley Jean" continues the ambulating pace of the album, perhaps referring to a past break up.  The production value is relatively high, and lyrically the songs manage to avoid some of the cliches that pigeonhole most popular country music today.  The title track leaves me personally with a true desire to cowboy up.  The coming weeks will tell whether or not Kiefer will be as big a hit in the studio as he is on the silver screen, but one thing is certain; he has staked a unique claim in the midst of desert saints, walking straight passed the phone booth and into the wild of country music.
Key Tracks: Not Enough Whiskey, All She Wrote, Down in a Hole
http://www.youtube.com/watch?v=BrHcMwKCtNw