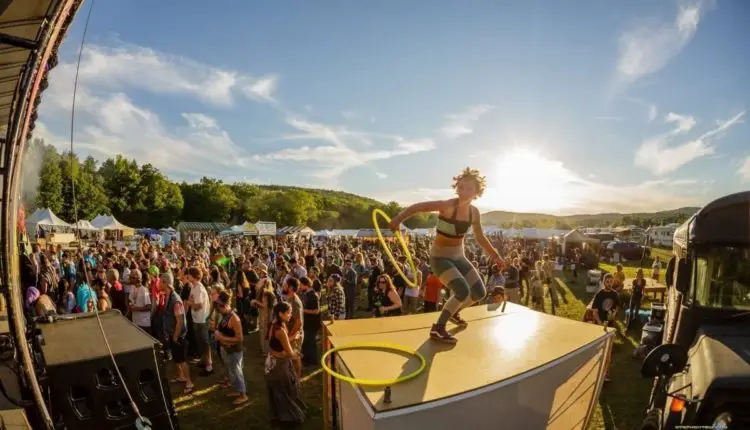 Disc Jam 2016 Outdoes Itself
Now in its sixth year and second at the current location in Stephentown, NY, Disc Jam Festival has established itself in every sense of the phrase. The bands are top caliber, the stage setups are the real deal, and the attendees make it feel like home away from home. Disc Jam 2016 has set the bar high for an overall festival experience in the Northeast.
Thursday night of the festival was spent by many setting up their home for the weekend. Those in VIP were granted access to prime real estate next to the creek, adjacent to the pond. Other campers with cars took up residency in the spacious fields surrounding the main stage area. The great thing about Disc Jam is that no matter where you camp, you're no more than a two-minute walk to the main stage. That also means that you can hear the music throughout the venue – a nice perk of small festivals.
The sounds of Strange Machines filled Gardner's Farm, setting the tone for the festival – heavy on the jams – though their set ended with a playful "Shake Your Body" cover by Michael Jackson. Next was everyone's favorite cover smash up, Pink Talking Fish, taking the main stage until midnight. Weaving in and out of Pink Floyd, Talking Heads and Phish brought them to a surprise lap dance for the soon-to-be-wed keyboardist Richard James. Set to Billy Idol's "White Wedding" Hayley Jane of Hayley Jane and the Primates, and her pack of back-up dancers, playfully teased the bashful bachelor only to have their spot taken over by Boston promoter and tutu sporting Benny Tucker aka "Woodies and Cream." Hayley Jane led the vocals through "This Must Be the Place (Naive Melody)" and "Suzy Greenberg to wrap up the evening on the main stage.
Thursday night – and really the whole festival – was unseasonably cold. With temperatures in the mid to low 40s with high winds, festival patrons were disappointed there was no community bonfire as promised. The bonfire did blaze on the next few nights which was a welcomed relief.
Friday was easily the best day weather wise. Although breezes still made for a slight chill, the sun was warm and skies were crystal clear. Chicago based rock group, Litz, kicked things off in the morning followed by Teddy Midnight who really picked up the pace. The Brooklyn natives added jam scene veteran Wiley Griffin as their guitarist last August. Since then the group has been gaining fans and notoriety with steady momentum. The blues guitar riffs and synthesized key strokes along with a fantastically funky bass line made for the get-out-of-bed energy disc jammers needed.
Hayley Jane and the Primates, along with original drummer Jesse Hayes, took the early afternoon main stage with a full David Bowie tribute set. As usual, Hayley Jane is theatrical in her stage presence. Although her voice is truly impeccable, the set was reminiscent of a high-level karaoke production.
Set in the Innova Tent Stage at 5 p.m., Tom Hamilton's American Babies overlapped Yo Mama's Big Fat Booty Band and part of Pigeons Playing Ping Pong. Guest bassist Jim Hamilton, Tom's brother, filled in for the set. Having grown up playing music together, this was something truly special for die hard fans and even those new to the Babies. The set included several songs off their new album, An Epic Battle Between Light and Dark, including "Fever Dreams" and "What Does it Mean." Covers included the Grateful Dead's "Shakedown Street" and The Band's "Atlantic City."
As the sun began to set Kung Fu powered through an incredible set welcoming Shira Elias of Turkuaz on vocals and Lowell Wurster of Lucid on percussion. The following 30 minutes was a complete change of pace. Cappadonna of the Wu Tang Clan and his posse pumped up the crowd with Craig Brodhead and the Turkuaz Horns as support. Free style rapper Honeycomb laid down a solid flow, even tossing shade to Jay-Z.
After a short break, headliners Electron took to the stage for a set many people attended the festival to see. Flow artists bordered the stage adding to the entertainment of it all, a psychedelic circus if you will, starting with "Plan B," "42," -> "Rock Candy" and later back to "42" after a solid rendition of Pink Floyd's "Another Brick in the Wall Part 2."  The set ended with fan favorite "Shelby Rose," and the crowd singing in unison, "every night is heaven sent!"
Friday night wasn't over yet as Dopapod packed the Innova Tent Stage with Disc Jammers. Opening with "Nuggy Jawson," a "Nerds" tease ultimately served as hint to one of Saturday night's picks during their second set with the Dopapod Orchestra. Ed Mann hopped on the vibraphone for "Dracula's Monk" and Frank Zappa's "Peaches en Regalia." Turkuaz's Craig Brodhead joined Dopapod for a heart pounding "8 Years Ended," before concluding with "Vol. 3 #86."
Saturday was a wet one, raining from 11 a.m. to nearly 1 p.m. which kept many campers from attending the daily set of Bearly Dead, as well as Elm, Funky Dawgz and Mister F. Congo Sanchez was the first dry set on the main stage which absolutely blew the crowd away. The trio features Thievery Corporation's drummer with a down-tempo, reggae, hip-hop mix. This will be a band not to miss in the future. Consider the Source did a full Radiohead set, that while was impressive in so far as pure skill, simply did not have the attraction a regular COS set has.
The Nth Power, a world, funk, jazz group featuring Nikki Glaspie on the drums, flexed their creative muscle during their Saturday afternoon set. With the sun shining and drying things out, fans got down with the funky yet sultry tunes. The Turkuaz Horns and Shira Elias played a few brand new songs to the delight of the smiling faces in front of them. Directly proceeding the Nth Power, prog rockers TAUK took the stage sounding better than ever. Craig Brodhead also jumps on for a nasty cover of Hendrix' "Voodoo Child."
The highlight of the entire festival was without a doubt the Dopapod Orchestra. Clouded in mystery for months since it was announced, fans gathered to the stage as the grounds became engulfed in a low, warm fog. Beginning with a straight forward "Turning Knobs," the Blend Horns of West End Blend were welcomed on stage laying down a new element to favorites like "Nerds," "Super Bowl," and a seriously sinister "Psycho Nature." Kung Fu drummer Adrian Tramontano hopped on the drums next to Scotty Zwang for a lengthy "FABA." The Turkuaz horns  then took a turn with a stunning "Ophelia" by The Band. Turkuaz drummer Michaelangeo Carubba also sat in for "Roid Rage," a song he helped write as he is Dopapod's original drummer. The Orchestra ended with Led Zeppelin's "Kashmir" before returning to the stage for the  encore of "Picture in Picture" in which Rob Compa's guitar student Greg King took over for the later half of the song. Compa hopped on bass for a few minutes as well so the two could jam. This was truly incredible to witness and a set not easily forgotten.
The Turkuaz Horns and Ryan Dempsey of Twiddle joined lespecial for some late night action. This is another band that seems to get better each time they play. Their stage setup was incredibly psychedelic. Unfortunately these guys rocked so hard a fuse was blown momentarily, but certainly did not take away from the overall set. A cover of Radiohead's "National Anthem" was absolutely incredible and the horns only added to the depth.
Sunday was a struggle for many Disc Jammers as the temperatures once again dropped and high winds made wearing a jacket completely necessary. Despite the cold, Formula 5 rocked out to a pretty substantial crowd. They welcomed Ryan Dempsey to the stage as he and Matt Richards played on keys together for Warren Zevon's "Nighttime in the Switching Yard."
After sitting in all weekend with various bands, the Blend Horns finally joined their full band, West End Blend, for an incredibly funky set, helping to warm up those shivering in front of them. Front woman and lead vocalist Erica Bryan got fans off their feet with her tambourine skills. The band welcomed The Turkuaz Horns, Shira Elias and Craig Brodhead on stage. With 15 people on stage, the Sunday-funday party had officially started.
Local bluegrass band Eastbound Jesus welcomed Lowell Wurster for some twangy fun before Aqueous hopped on stage for their harder rocking set. Soule Monde showed off their talents making it easy to see why the drum and organ duo has such an impressive résume including being members of Trey Anastasio's touring band.
Disc Jam 2016 came to an incredible close with Gubbulidis, or Mihali Savoulidis and Zdenek Gubb of Twiddle. By now, it should be clear from the events of the weekend that they'd be joined by guests including their own Ryan Dempsey who took a moment to crawl across the stage for a lick on Mihali's leg. The set was packed full of jams including Twiddle favorites "Lost in the Cold" and "Syncopated Healing, as well as Sublime's "What I Got," Blues Traveler's "Run Around" and Hendrix's "All Along the Watchtower." The amount of pure energy on stage was exactly what the frigid crown needed and the perfect period to the end of an incredible weekend.
[FinalTilesGallery id='827′]