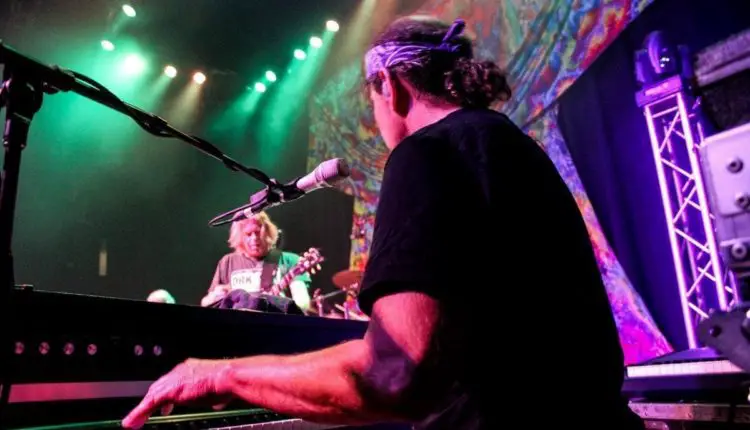 Back in 1972 the cost of a gallon of gas was 55 cents. Richard Nixon was our nation's president, soon to experience a fall from grace.  The Dallas Cowboys defeated the Miami Dolphins in Super Bowl VI.  "American Pie" by Don McLean was #1 on the music charts. March 25, 1972 was the date in Grateful Dead history that Dark Star Orchestra helped us relive. That original show took place at the Academy of Music in New York City.
DSO took the stage at the sold out Town Ballroom in Buffalo NY right after 8:00 p.m. They started the night off with the classic "How Sweet It Is (To Be Loved By You)."  They would close the first set with "Bertha." Throughout the night they teased the crowd saying they might play three sets.
By the start of the second set, DSO seemed to be feeding off the enormous amount of energy that the crowd was providing. "Mr. Charlie" got things started with set two. They would close this energetic second set with the sing a long classic "Casey Jones."
The third set did not directly correlate with this date in Grateful Dead history. It was a filler set but you couldn't ask for a better way to close out four hours of beautiful music. Songs like "Black Throated Wind" and "Tangled Up In Blue" really seemed to hit the sweet spot with the crowd. All in all it was a beautiful night of music. The crowd consisted of old school and new school Dead Heads. No matter what their age, every last one of them left the Town Ballroom with a huge smile on their face.
Set One: How Sweet It Is (To Be Loved By You), Are You Lonely For Me Baby, Next Time You See Me, Brown Eyed Women, Smokestack Lightnin', Sitting On Top Of The World, Sugaree, Looks Like Rain, Bertha
Set Two: Mr Charlie, Black Throated Wind, Deal, Playing In The Band, Turn On Your Lovelight, Casey Jones
Set Three (Filler): Chinatown Shuffle, Just Like Tom Thumb's Blues, Black-Throated Wind, Positively 4th Street, Tangled Up In Blue
[FinalTilesGallery id='802′]