You couldn't have dialed up a better evening to hold the first concert of the season at the Lakeview Amphitheater in Syracuse Friday night, kicking off the summer concert series was the perfect show for the perfect night with Ringo Starr and His All Star Band.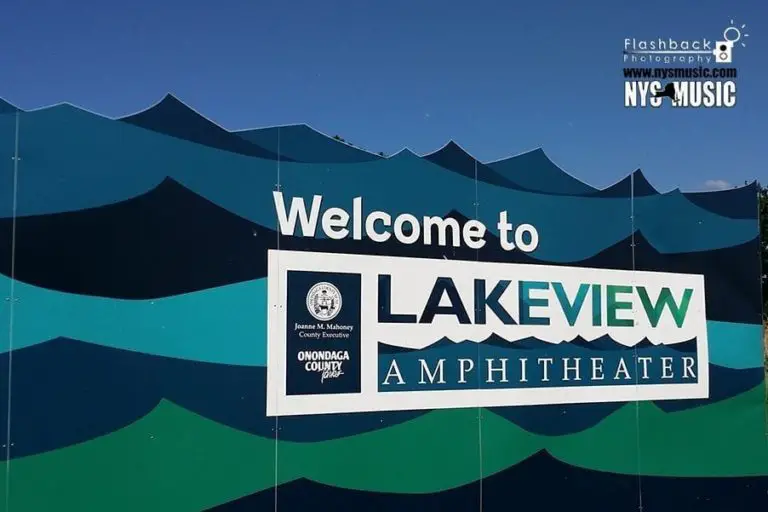 With 80-degree temperatures, a slight breeze off the water and a utopic atmosphere, Ringo and his bandmates took to the stage early in the day to speak with media and answer questions about the upcoming summer tour. Having a chance to speak with all the talent on the stage was a surreal moment for this photographer/journalist, especially having owned and played his "You're Sixteen" and "Photograph" 45's over and over again until they skipped from wear and tear, was definitely a highlight of my career, and a little nerve wrecking as you can imagine.
As the band took the stage one by one, they all settled in and we were treated to a teaser of music from the show to come that evening. The little snippets of music were tantalizing and as the question and answer session began afterward, I knew that I had to ask them all something relevant and memorable, wanting to gain insight into each of their personalities. Little did I know, that I would be able to make Ringo laugh as I shared my lovable, but blonde personality with him and the band during my turn at the mic. This peek into each musician's personality, and how Ringo had effected them on their musical journey, was insightful and exciting as they shared special moments of songs they first heard from Ringo. (in order as they speak on soundbite – Steve Lukather, Richard Page, Todd Rundgren, Warren Ham, Gregg Rolie, Gregg Bissonette and Ringo Starr)
As the press conference ended, the anticipation began to mount as the crowds made their way to the main gate. For those coming to future shows I highly recommend taking a look at this map and planning your trip accordingly.  There are still some kinks to work out, however, as the summer goes on, these will be addressed I am sure. This venue is spectacular, and the views of the water and sunset that occur are breathtaking.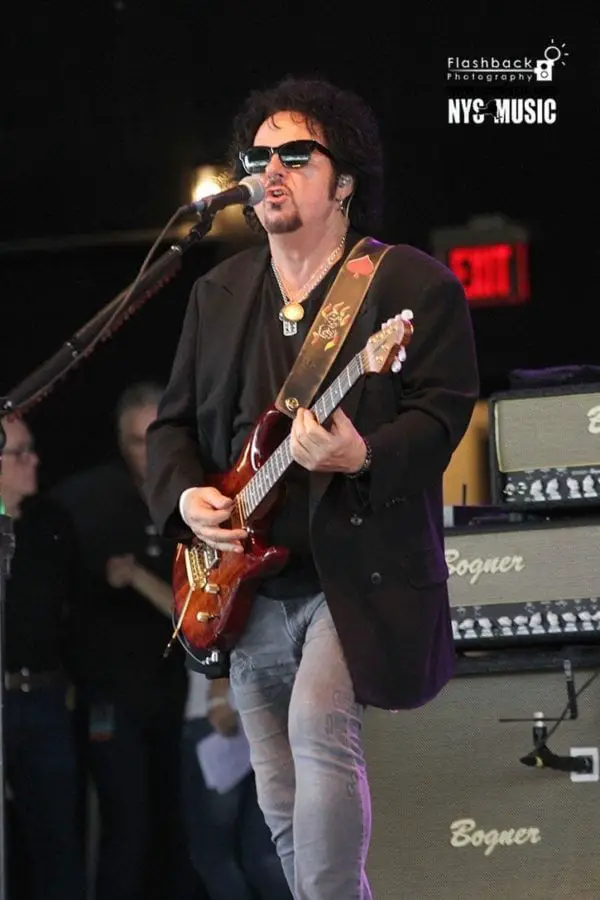 As the band took to the stage for the main event, Ringo's sense of humor shone through immediately as he thanked everyone for coming to the venue built for him to perform. He also let those arriving late know that he would happily begin again so that they didn't miss anything. It is this lovable and quirky personality that has endeared him to us for all these years. He was exactly as I imagined he would be; not pretentious at all, but down to earth, lovable, witty and fun to watch play and sing the entire night.

The entire evening of music was a trip down memory lane. Each band member shone through as they took their turn to sing their hits and play their parts. Gregg Rolie, who played with Santana at the original Woodstock, and some of my favorite albums as a member of Journey, was on keyboards and set a groove for the night as he played and sang hits such as "Black Magic Woman/Gypsy Queen" and "Oye Como Va." Definitely setting the mood and getting the crowd up and dancing, Rolie brought a Latin flavor to the evening with his additions to the setlist.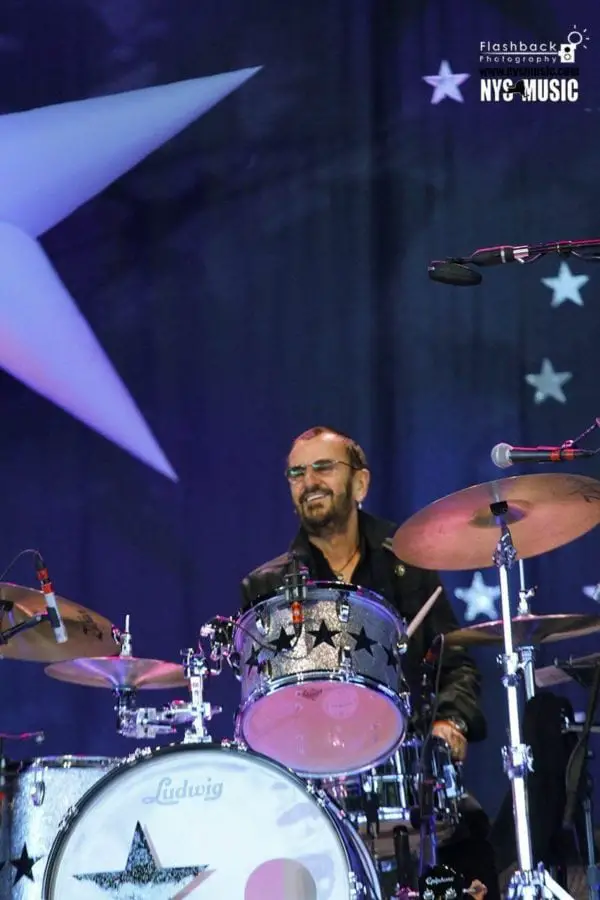 I was amused and impressed with my first time seeing Todd Rundgren perform. He had the audience up on their feet as he played "Bang the Drum All Day," and his ability to punctuate the end notes on "Rosanna" and other songs throughout the night with high kicks, totally endeared him to the audience as they looked on grinning.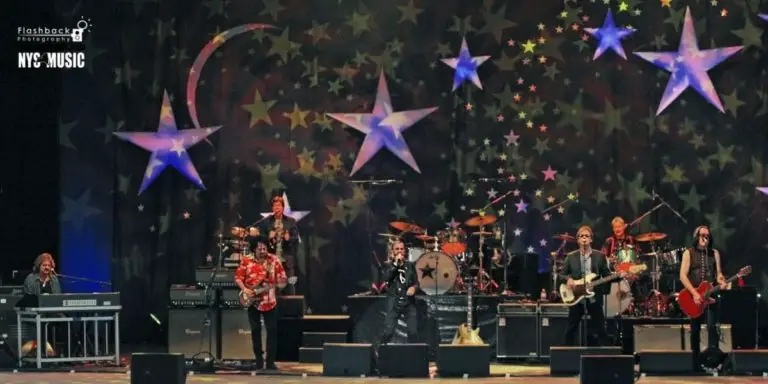 Warren Ham, who played in Bloodrock, Kansas, and AD, may have been high on the riser, but got down with his percussion, hit all of the high notes while up there, and rocked all wind instruments, especially on "Photograph," stirring up the crowd and jazzing up the stage.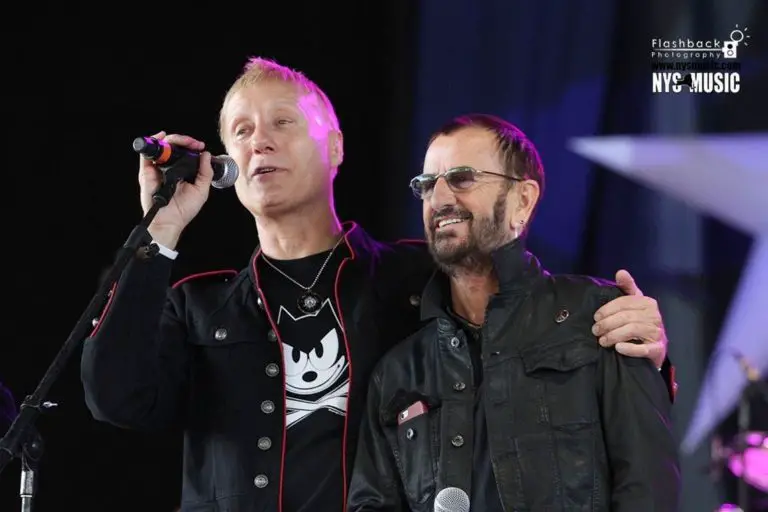 As I watched Gregg Bissonette play along side Ringo, their different styles were extremely complimentary. His energy and sideways smiles and glances toward Ringo sitting to the right have to be moments one could only dream of as a drummer.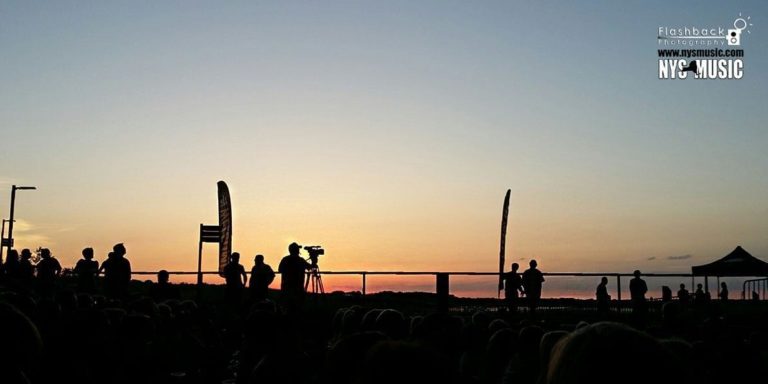 The crowd inciter of the evening was Steve Lukather, who got the crowd up off their seats and singing along to not only his songs from Toto such as "Hold the Line," "Rosanna" and "Africa," but his guitar riffs and solos all night long were spot on and blew away the audience with cheers and ovations upon completion.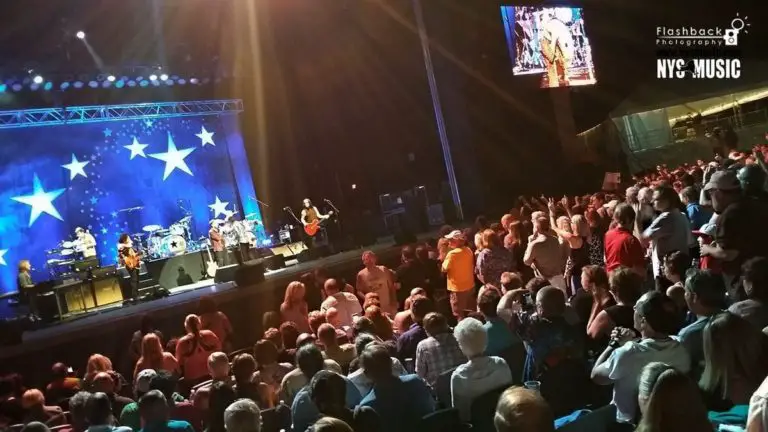 Richard Page from Mr. Mister delivered three of my favorite songs of the evening when he sang "Kyrie" and "Broken Wings," and a newer one called "You Are Mine." Between the background percussion from Ringo on the cajon, Steve Lukather's guitar and crystal clear vocals, this beautiful ballad had a Caribbean feel and blended in nicely with the two songs following with the same rhythm. You would think that having such diverse musicians with such diverse sounds on the setlist would not flow smoothly. However that was not the case at all. The music flowed effortlessly, delivering hit after hit.
Finally, to watch Ringo perform was magical and mystical for everyone. His fun loving delivery of his songs and lyrics, facial expressions, witty banter and laying down the beats for those around him on stage definitely shone the brightest and is what makes him the Starr. To say there was a favorite moment or song would be tough to pinpoint, however, "Act Naturally," a Buck Owens song found the crowd singing and dancing along.  As the night grew darker, the music grew brighter with "Yellow Submarine," "Photograph" and "A Little Help From My Friends," engaging the audience and having them sing and dance along.
It didn't matter what age you were, everyone knew the words, everyone knew the melody, and everyone sang along. All night long I found myself on my feet, hands clapping, and singing along as though I was back as a teenager once again listening to "She's Sixteen" on my turntable.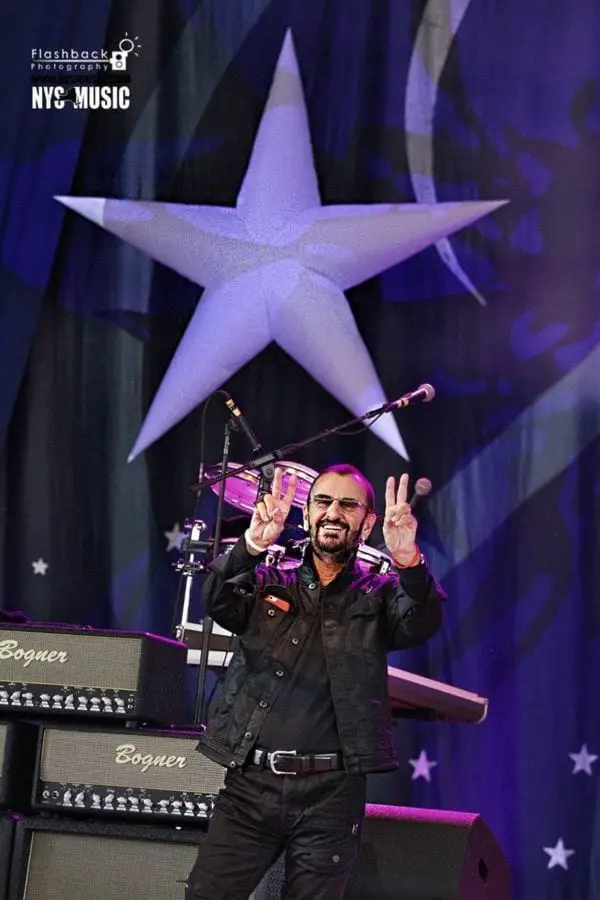 Setlist:  Matchbox (Carl Perkins cover), It Don't Come Easy (Ringo Starr song), What Goes On (The Beatles cover), I Saw the Light (Todd Rundgren cover), Evil Ways (Willie Bobo cover), Rosanna (Toto cover), Kyrie (Mr. Mister cover), Bang the Drum All Day (Todd Rundgren cover), Boys (The Shirelles cover), Don't Pass Me By (The Beatles cover), Yellow Submarine (The Beatles cover), Black Magic, Woman/Gypsy Queen (Santana cover), You're Sixteen (Johnny Burnette cover), I'm the Greatest (Ringo Starr song), You Are Mine (Richard Page cover), Africa (Toto cover), Oye Como Va (Tito Puente cover), I Wanna Be Your Man (The Beatles cover), Love Is the Answer (Utopia cover), Broken Wings (Mr. Mister cover), Hold the Line (Toto cover), Photograph (Ringo Starr song). Act Naturally (Buck Owens cover), With a Little Help From My Friends (The Beatles cover), Give Peace a Chance (Plastic Ono Band cover)
Ringo will be touring up until his birthday celebration on July 2 in Los Angeles. Below please find the shows near your area. On July 7, Ringo has invited everyone to join him in front of Capitol Records in LA for his annual Peace and Love birthday event. Having celebrated each year since 2008 in this manner, Ringo hopes to bring awareness and spread peace and love to all on this planet.
June 5 Capitol Theatre, Port Chester, NY
June 7 Bergen Performing Arts Center, Englewood, NJ
June 8 Cross Insurance Center, Bangor, ME
June 10 Bank of New Hampshire Pavilion, Gilford, NH
June 11 DCU Center, Worcester, MA
June 14 FM Kirby Center, Wilkes-Barre, PA
June 12 Santander Arena, Reading, PA
June 15 St. George Theatre, Staten Island, NY
June 18 Ryman Auditorium, Nashville, TN
June 17 Warner Theatre, Washington DC
June 19 Ryman Auditorium, Nashville, TN
June 21 Foellinger Theatre, Fort Wayne, IN
June 22 Riverbend Music Center, Cincinnati, OH
June 23 Fox Theatre, Detroit, MI
June 25 Pinewood Bowl Theater, Lincoln, NE
June 26 Hartman Arena, Wichita, KS
June 28 Paramount Theatre, Denver, CO
July 1 Humphreys Concerts, San Diego, CA
July 2 The Greek Theatre, Los Angeles, CA
[FinalTilesGallery id='815′]