Catskill Rock! Have you heard of it yet? If not, get ready! A hot new music event has been announced to take place at the Bearsville Theater in Woodstock on June 17.
The popular theater has teamed up with the "mad geniuses" at the White Dove Rockotel to present the first-ever evening of art and entertainment titled Catskill Rock. Sponsored by the Chatham Brewery, this event will not be without cold, tasty refreshments and will feature plenty of arts and music from local bands Burnell Pines and the Grape and the Grain.
The show is set to kick off at 8 p.m. and tickets are currently only $10.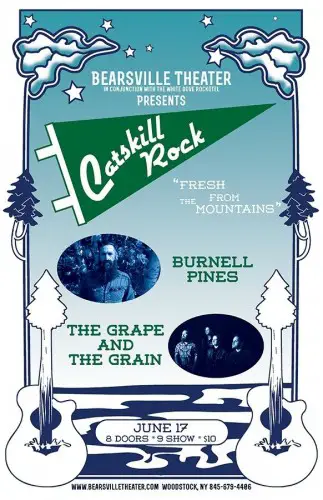 Burnell Pines is a bearded young artist with an old soul and guitar strapped to his back. Found meandering back roads of the Catskill mountains and creating music while visiting friends and other musicians alike. His latest album, Til the Day I Die, features the help of many great musicians like acclaimed keyboardist Marco Benevento, Rachael Yamagata, and drummers Joe Magistro (The Black Crowes) and Robert Burke (Toshi Reagon).
The Grape and the Grain is a four-piece rock group from Kingston. A reformation of itself from 2015 which includes three other original members, the band is setting forth a new beginning and already making strides. Their latest EP release is a collection of alternate versions of some of the original songs, titled At Home.
[embedyt] http://www.youtube.com/watch?v=oHQhPPUGJds[/embedyt]